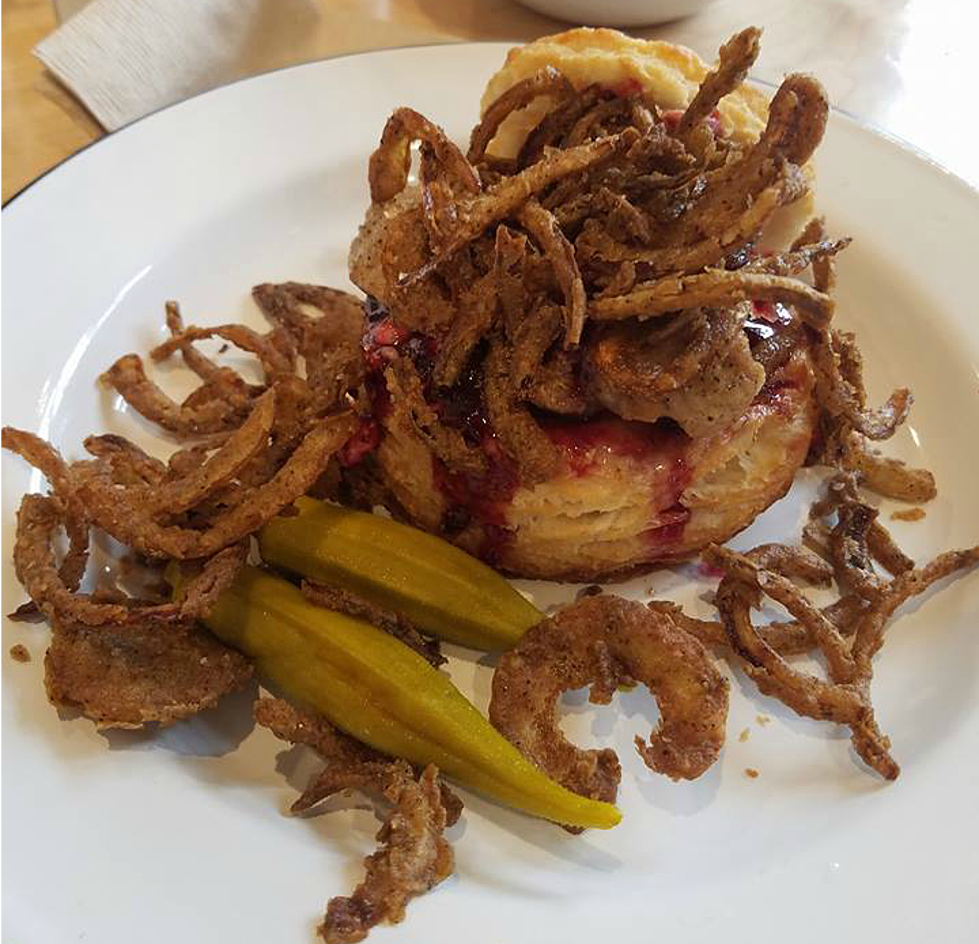 Holler & Dash Biscuit House Is Serving Up The Best Brunch in Tuscaloosa
Meg Summers/TSM
Tuscaloosa's new Holler & Dash Biscuit House created a ton of buzz when the restaurant opened its doors last month, and I finally had a chance to see why everyone I know is so crazy about this place. My family and I stopped by Holler & Dash for brunch yesterday; the restaurant is located off The Strip (in the former Coldstone Creamery spot), so we figured we needed to go before all the UA students came back and things got really crazy.
I wanted to dislike Holler & Dash. I remember reading about it and thinking, "Oh, another bougie brunch/lunch/breakfast place. That's the last thing we need." I was like, so prepared to hate what I was certain would be a gussied-up Cracker Barrel.
I was WRONG, okay? I am here now to TESTIFY about the pure power of Holler & Dash, because I have seen the light. Okay, tasted the light.
It was literally THE BEST brunch I have ever had in Tuscaloosa. I am basically obsessed with Holler & Dash now. The staff was super attentive from the moment we walked in the door, and the food is TO DIE FOR. That is not hyperbole. I would stab someone for another basket of their beignets.
JUST LOOK AT THEM. Just look at this basket of sweet fried goodness accompanied by a NOLA style coffee dipping sauce. Ugh. These beignets were stupid good. My husband and I also decided to split a tot bowl--peep this bad boy.
The tot bowl comes with tater tots, cheese, bacon, green onions, and a side of Hollerback sauce. It was delicious, and I am now a Hollerback Girl FOR LIFE. Let's get to the big guns now--I ordered one of Holler & Dash's Signature Biscuits, too. It was a challenge to pick just one, as they all looked amazing, but I finally selected a biscuit called "The Rambler."
OMG OMG OMG OMG OMG OMG OMG
I would legit sell my soul if it meant I got to eat this biscuit every morning. It comes with fried pork tenderloin, blackberry butter, and fried onion straws. It is EVERYTHING. It's the perfect mix of sweet and savory, and it's literally the best biscuit I've ever had in my entire life. It was so good I could have cried.
I didn't take a pic of my sweet tea, but WHOOOOO BOY. I had some of their specialty summer peach tea, and it was LEGENDARY. I require a keg of it immediately, so someone needs to make that happen ASAP.
Holler & Dash is such a cool place! The food is incredible, and the atmosphere is fun and funky. I love that they celebrate all the things that make the South unique, and trust me when I say I plan to go back ALL THE TIME.