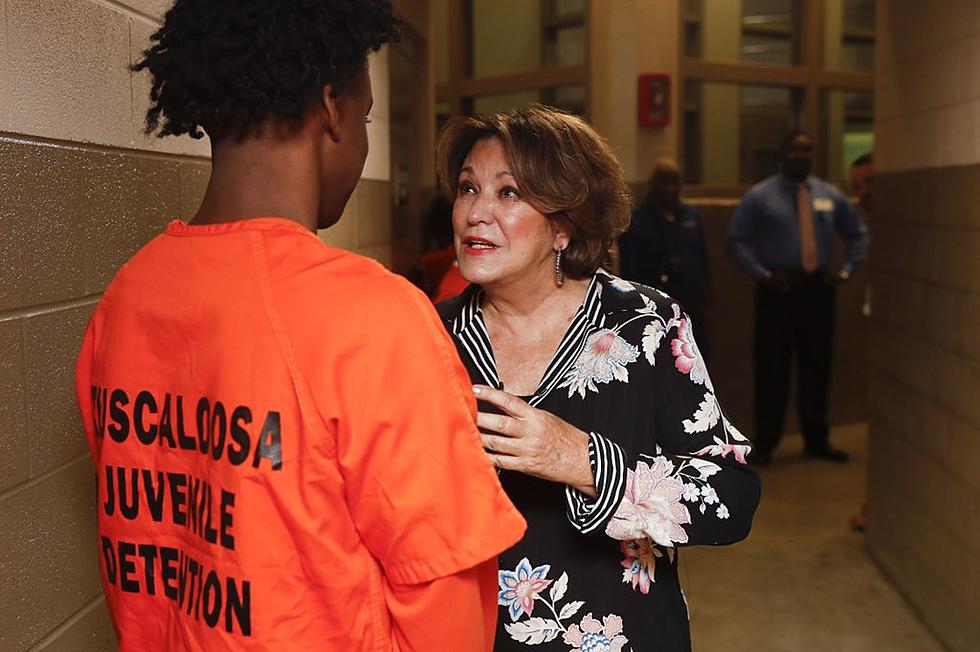 Terry Saban's Commitment to Building Better Futures Makes Her a Phenomenal Woman of West Alabama
via @NicksKidsFdn on Twitter
Townsquare Media Tuscaloosa and the Glow Up Leadership and Mentoring Nonprofit Organization are celebrating Women's History Month by honoring the Phenomenal Women of West Alabama. We have so many great women to recognize that we are continuing our highlights into April.
92.9 WTUG, Praise 93.3, 95.3 The Bear, ME-TV 97.5, Catfish 100.1, Tide 100.9, ALT 101.7, 105.1 The Block and our free digital news outlet the Tuscaloosa Thread is excited to recognize the empowered women of  Bibb, Fayette, Greene, Hale, Lamar, Perry, Pickens, Sumter, Tuscaloosa, and Walker counties.
Terry Saban is a Phenomenal Woman of West Alabama
"Don't TALK about your philosophy, EMBODY it! Make your WORDS become WORKS!" - Terry Saban
Many people know Terry Saban as the matriarch of Tuscaloosa's royal family and the wife of Alabama football coach Nick Saban. But first, and foremost, Terry is a philanthropist working for families, children, students, and teachers through the foundation she co-founded with her husband, Nick's Kids. She is the CEO and face of the foundation's charitable efforts. When Nick isn't available for events with his busy football schedule, Terry is flying solo out and about doing philanthropy work.  
Terry's background is as a school teacher, but just because she stopped teaching on a day-to-day basis, doesn't mean she's fully left the classroom. She posts videos to the foundation's Facebook page reading to children, holds a multitude of events for students and teachers, helps honor excellent teachers each year, etc. She is committed to helping children and families build better futures for themselves, and it is evident in all she's done with the foundation.
"If you have the means and knowledge to fix something, to help someone, then certainly you have the responsibility," - Terry Saban 
The work Terry has done for the Tuscaloosa community since moving here when coach Saban was hired in 2007 is immense in number, but Nick's Kids actually began in 1998 when the couple was at Michigan State. Notably, Nick's Kids hosts fundraisers, luncheons, scrimmages, and golf tournaments, which help fund the charitable work it does. Just to list a few things the foundation has done since it began...
Donating a total of 10 million to 300 causes and organizations
Clean up after the April 27, 2011 tornadoes in the Tuscaloosa area
Tuscaloosa All-Inclusive Playground
YMCA of Tuscaloosa
Career tech classrooms at the Tuscaloosa County Juvenile Detention Center
Tuscaloosa Riverwalk Playground
Renovations to the Short-Term Treatment and Evaluation Program Building at the Brewer Porch Children's Center
18 Habitat for Humanity Homes to match the number of national championships
Alberta School of Performing Arts playground
Miss Terry, as she's affectionately known by many, has many individual accolades in the Tuscaloosa community. She is the co-chair of fundraising efforts for the St. Francis of Assisi University Parrish and is on the board of trustees for both the Capstone Bank and Stillman College in Tuscaloosa, for which she was named in 2020.
"She has a vision, and an ability to convey that vision, and bring people on board. In the same way that coach Saban does for football, she does that for Nick's Kids." -Ellen Woodward Potts, executive director of Habitat for Humanity Tuscaloosa
Now, Nick's Kids has donated to a project named The Saban Center, a part of the new River District Park. The Saban Center is an interactive learning center that will offer STEM, theater, and outdoor recreation programs for children of Tuscaloosa.
Miss Terry was there for the groundbreaking of the River District Park project in November and also hosted the event through Nick's Kids which was renamed the downtown street it is on to "Nick's Kids Avenue".
"I picture children, families, classes, schools coming here for a day, for a weekend to view the traveling exhibition of mummies, to view the science/technology portion to learn how batteries are made, taking a break walking along the river, having a picnic, staying and watching the Children's Theatre production. No longer will we have to go to Birmingham or Atlanta to experience something like this." - Terry Saban
Although her husband's name is the one used in the name of their joint community efforts, Terry Saban's mark has been left in Tuscaloosa through all she has done as the CEO and face of Nick's Kids. The selflessness she displays and the needs she works to meet in the community make Miss Terry a Phenomenal Woman of West Alabama.
Sources: Click here for more information about Nicks Kids Foundation. Click here for more information on the Saban Center from the Tuscaloosa Thread. You can check out the Nick's Kids Foundation on Twitter or Facebook.
Power Through 2020 with These 8 Nick Saban Quotes
The 10 Greatest Athletes from Alabama
Alabama Athletes With NIL Deals
The biggest evolution in college athletics history is here. Check out which current Alabama athletes hold NIL deals in this ever-expanding and changing photo gallery.