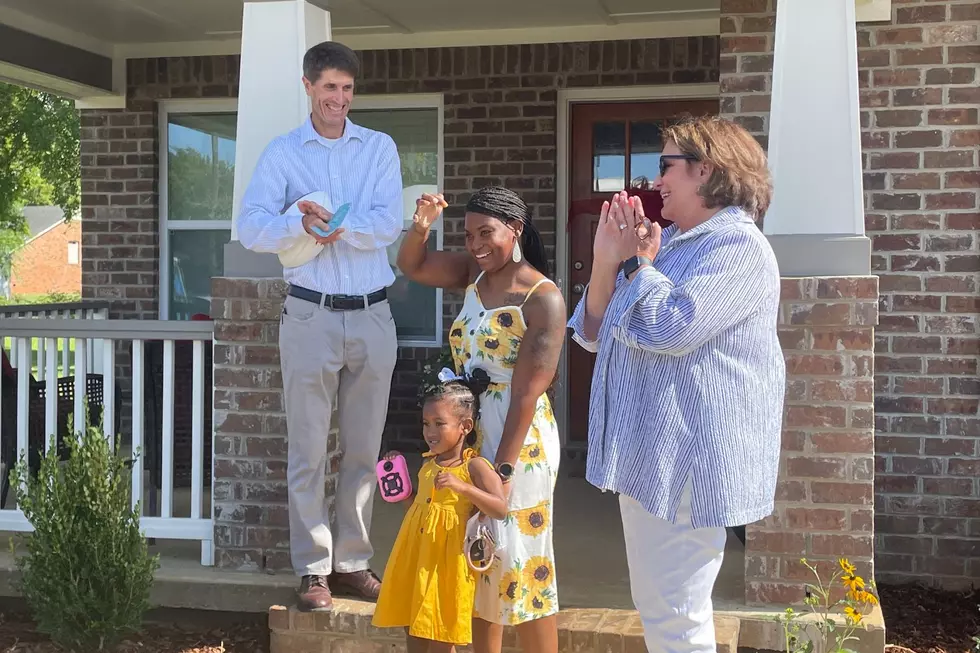 Nick's Kids Dedicates Organization's 19th Habitat for Humanity Championship House
(Brittany Marshall|Tuscaloosa Thread)
Terry Saban bent the rules for a good cause and dedicated the 19th "Championship" house her nonprofit organization has built in partnership with Habitat for Humanity in Tuscaloosa.
Kanika Cotton and her two children were the guests of honor at a ceremony Thursday morning at their new Habitat home on Ash Street in West Tuscaloosa. Cotton said she always dreamed of becoming a homeowner and is excited to be in their new house.
"I've been waiting for this moment for a while and to be in here, it's a blessing," Cotton said. "I am grateful for Habitat for Humanity and Nick's Kids because it took us out of a two bedroom and gives my kids a place to grow and play."
In the past, Nick's Kids has funded and helped build a house in honor of each National Championship the Alabama Crimson Tide football team has won, so it was unusual to see a new house dedicated Thursday considering the Tide came up just shy of another national title in January.
Mrs. Saban said she decided to have the Foundation build another house anyway to give a family in need the house they dreamed of -- after all, Bama had beaten the eventual championship-winning Georgia Bulldogs just a few weeks before the title game in the SEC Championship.
"We knew there was a family sitting at home who knew that if we win, they were going to get a home," Saban said. "Of course, it was disappointing to all of our fans to lose the game but partially for them, they knew their dream of having a home would have to wait a little longer. Our team worked so hard that they deserved the honor of having a house made for that year for all of their hard work."
Mrs. Saban came together with other Crimson Tide coaches' wives Wednesday to finish the final landscaping for Cotton's home, one of Saban's traditions for the partnership with Habitat.
Saban said the exception to this year's rule probably will not happen again, but she assured that a home will be funded and built for every championship to come.
Habitat homes are sold at low cost to qualifying families on a 30-year mortgage with zero percent interest. Participants are required to volunteer 250 hours to building their homes and homes for other families.
Top Stories from the Tuscaloosa Thread (8/1 - 8/7)
15 of the Top Stories published by the Tuscaloosa Thread during the week of August 1st, 2022.