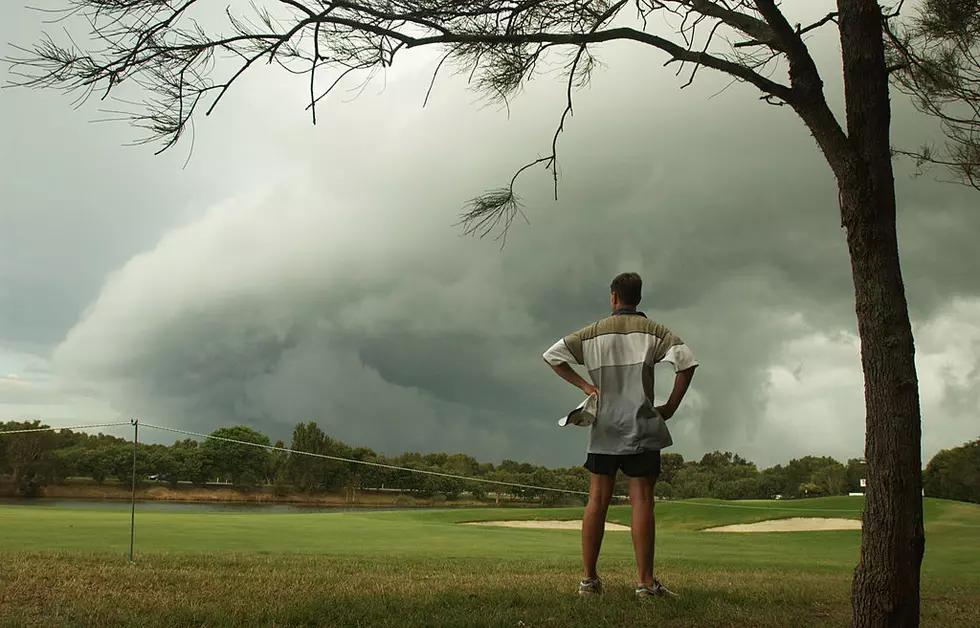 West Alabama Severe Weather: Find Your Nearest Storm Shelter
Getty Images
Alabama is expecting severe weather Monday, March 15 and Wednesday, March, 17.
The National Weather Service in Birmingham issued a significant weather advisory for Monday with an outlook of severe weather. Another stormy day is expected to take place the following Wednesday.
Citizens across the state are encouraged to begin preparation and planning now. Local storm shelters are available across the state to assist families and pets in need.
STORM SHELTERS LISTED BY COUNTY:
Tuscaloosa County
The University of Alabama 

2700 University Blvd. E Tuscaloosa, AL. 35404
(On/Off Campus Storm Shelters here)

McDonald Hughes Center

3101 Martin Luther King Jr Blvd. Tuscaloosa, Alabama 35401
Pet friendly

Salvation Army Shelter Safe Room

2902 Greensboro Ave. Tuscaloosa, AL. 35403

Coaling Fire Department

15150 Highway 11 N. Coaling, AL. 35453

Northside Park

13003 Northside Rd. Berry, AL. 35546

Wallace Tingle Park Shelter

17058 Tingle Tangle Rd. Vance, AL. 35490

Myrtlewood Elementary

14661 Gainsville Rd. Fosters, AL. 35463
For more information about available storm shelters in Tuscaloosa County, click here.
Jefferson County
Adamsville

419 Spring St. Adamsville, AL. 35005 (near the Senior Citizens Center)

Adger

7276 Johns Rd. Adger, AL. 35006

Bagley Fire Department

7175 Bankhead Hwy. Dora, AL. 35062
This shelter is for residents around the fire department only

Bessemer

657 9th Ave. Bessemer, AL. 35022

Jimmie Hudson Park

305 Pratt Highway, Birmingham, AL. 35214

Pratt City Park

1331 3rd St. Birmingham, AL. 35214
For more information about storm shelters located in Jefferson County, click here.
Perry
West Perry/East Hale Fire Department

Perry County Highway 48 Newbern, AL. 36765

Parnell Community Shelter
For more information about the new storm shelters located in Perry County, click here.
Fayette
Lawrence Mill Storm Shelter

Hwy. 43/171 N across from El Bethel Road, Fayette, AL. 35555

Oak Ridge Storm Shelter

10488 Hwy 159 Kennedy, AL. 35574

Newtonville Community Center Storm Shelter

490 Center Rd. Fayette, AL. 35555

Fowlers Crossroads Community Shelter #1

2555 Prospect Rd. Bankston, AL. 35542

Fayette County Courthouse Annex Shelter

103 1st Ave. NW Courthouse Annex Fayette, AL. 35555
To view a map of available storm shelters in Fayette County, click here.
Walker 
Nauvoo

647 Fourth Ave. Nauvoo, AL. 35578

McCollum Midway

16753 Hwy 69 Jasper, AL. 35579

Townley

2875 Wire Rd. Townley, AL. 35587

Eldridge

224 Smothers Ave. Eldridge, AL. 35554

Saragossa

2446 Saragossa Rd. Nauvoo, AL. 35578
To view a map of more storm shelters in Walker County, click here.
Hale County (List courtesy of WVTM13)
Greensboro Baptist Church

908 Main St. Greensboro, AL. 36744

Moundville Fire Department

410 Market St. Moundville, AL. 35474

Adjacent to City Hall

Newbern

A storm shelter is located adjacent to the Auburn Rural Studios Brown House on AL-61.
Shelby County
Westover City Storm Shelter

3312 Westover Rd. Sterrett, AL. 35147

West Shelby Community Shelter

4175 Hwy 22, Montevallo, AL. 35115

Vincent Community Storm Shelter

5384 Hwy 62, Vincent, AL. 35178

Columbiana Community Storm Shelter

107 Mildred St. Columbiana, AL. 35051
For more information about storm shelters in Shelby County, click here.
Pickens County 
Aliceville 

751 5th St. NW, Aliceville, AL. 35442

Near Joyful News Head Start

Forest

112 Bains Rd. Ethelsville, AL. 35461

Carrollton

41 Elliott St. Carrollton, AL. 35447
Next to the Post Office

Reform

104 3rd Ave. SW (Old Fire Dept.) Reform, AL. 35481

Pickensville

11 Jackson-Ferry Rd. (Hwy 14 before St. John Baptist Church) Pickensville, AL. 35447

Gordo

1st Ave. W Gordo, AL. 35446
Next to Gordo Flea Market
For more information on storm shelters in Pickens County, click here.
Greene County
Greene County High School

14221 US HWY 11 (just outside of Eutaw)
For more information on Greene County storm shelters, click here.
Bibb County (List courtesy of WBRC FOX6)
Brent/Centreville Senior Center & Emergency Storm Shelter

10445 Highway 5 Brent, AL. 35034

Eoline

6480 Hwy. 82, Eoline, AL. 35042

Randolph

7259 Hwy. 36, Randolph, AL. 36792

West Blocton

828 Cahaba River Dr. West Blocton, AL. 35184

Woodstock

19456 Eastern Valley Rd. Woodstock, AL. 35188
Follow the Tuscaloosa Thread for future weather updates and local coverage.
KEEP READING: What to do after a tornado strikes
TIPS: Here's how you can prepare for power outages
KEEP READING: Get answers to 51 of the most frequently asked weather questions...