Joe Burrow Says Beating Alabama is His Biggest Win
Getty Images
The Cincinnati Bengals defeated the Kansas City Chiefs on Sunday 27-24 in overtime to advance to the teams first Super Bowl since 1988. The Bengals were down 21-3 late in the second quarter before roaring back behind the spectacular play of Quarterback Joe Burrow.
Burrow started the game out slowly, only having 102 yards passing at halftime. He  made halftime adjustments, and thanks to a Patrick Mahomes interception in overtime Burrow led the Bengals down the field. Alabama native Evan McPherson from Fort Payne, Alabama made the game winning field goal to send the Bengals to the Super Bowl.
Burrow finished the game 23-of-38 passing, with 250 yards and two touchdowns. After the game Burrow was asked what the win meant to him he said, "Second biggest win I have been apart of. Only trails the Bama win in 2019."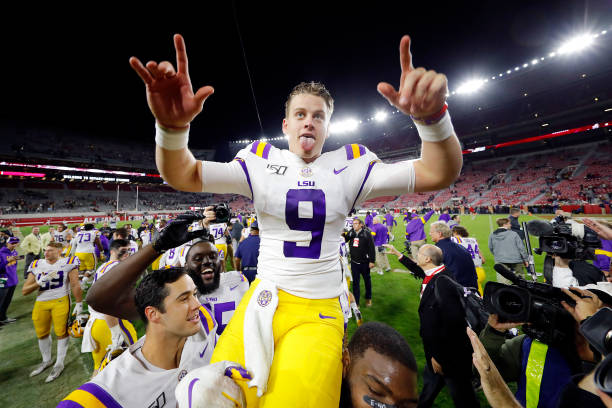 In 2019 Joe Burrow and the LSU Tigers came in to Bryant Denny stadium and defeated Alabama 46-41 in one of the better games of the season. This statement from Burrow comes as a surprise to most people considering LSU went on to win a national championship in 2019, and most recently beating a former MVP in Patrick Mahomes.
For most people playing in a Super Bowl is the biggest moment of ones career, unless you beat Alabama according to Burrow. Burrow isn't the only player to make these claims, Texas A&M defensive lineman DeMarvin Leal said after beating Alabama " So many kids dream of playing at Alabama. I dreamed of beating Alabama."
Photos: Alabama Steak and Beans Dinner and Rings Ceremony
The Alabama Crimson Tide received its rings for the 2020 season and the team ate the Steak and Beans Dinner. The White team celebrated its 13-10 victory over the Crimson team by having steak to the Crimson's beans.
Alabama vs. Mercer - Week 2 2021
The Alabama Crimson Tide hosted the Mercer Bears and won 48-14 in the home opener of the 2021 season. Alabama was in control from start to finish with Jase McClellan impressing the crowd scoring in three different ways.