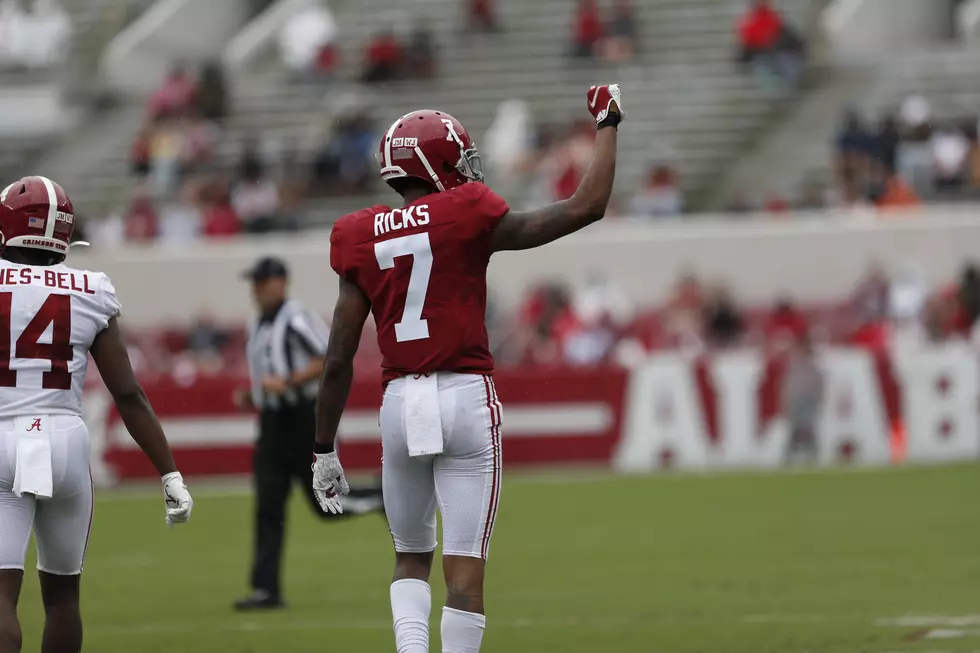 Eli Ricks' Case Dismissed by Mississippi Court
Crimson Tide Photos / UA Athletics
Per Mike Rodak of AL.com, a court in Mississippi has officially dismissed a marijuana charge against current Crimson Tide cornerback Eli Ricks.
Ricks was arrested in May after being pulled over by Mississippi Highway Patrol while traveling 91 mph in a 70 mph zone. Ricks was found to be in possession of a small amount of marijuana and his vehicle, a 2018 Mercedes Benz, was uninsured.
Read More: DETAILS: Crimson Tide Defensive Back Arrested in Mississippi
Rodak reported that Ricks' hearing was originally scheduled for Thursday, June 23 in Jones County Justice Court, but that a clerk with the court had chosen to dismiss the charge. As for the speeding infraction, Ricks pled guilty through his attorney and will pay a fine.
The former LSU Tiger transferred to Alabama in December of 2021 and has since quickly become one of the most exciting players on the roster heading into 2022.
A five-star recruit in 2020, Ricks spent his first two seasons in Baton Rouge where he appeared in 14 games. As a freshman, the Rancho Cucamonga native played in eight games and recorded 20 tackles, five pass deflections and four interceptions, two of which he returned for touchdowns.
In Ricks' sophomore season, the corner suffered an injury at the midway point of the year that would sideline him the rest of the season. Prior to his injury, Ricks compiled 11 tackles, an interception and a pass deflection in six games.
The junior is expected to compete for a starting role this fall as Alabama looks to replace two former starters in Josh Jobe and Jalyn Armour-Davis.
Crimson Tide's NFL Draft First-Rounders During Saban's Tenure
Take a look back on the Crimson Tide's first round selections under head coach Nick Saban.
Iconic Photos From Alabama's 18 National Championships
Claimed or recognized, no FBS football program has more national championships than the Tide. Look back on all 18 titles in Alabama history with these photos.
Here's Why Every SEC Team is Inferior to Alabama