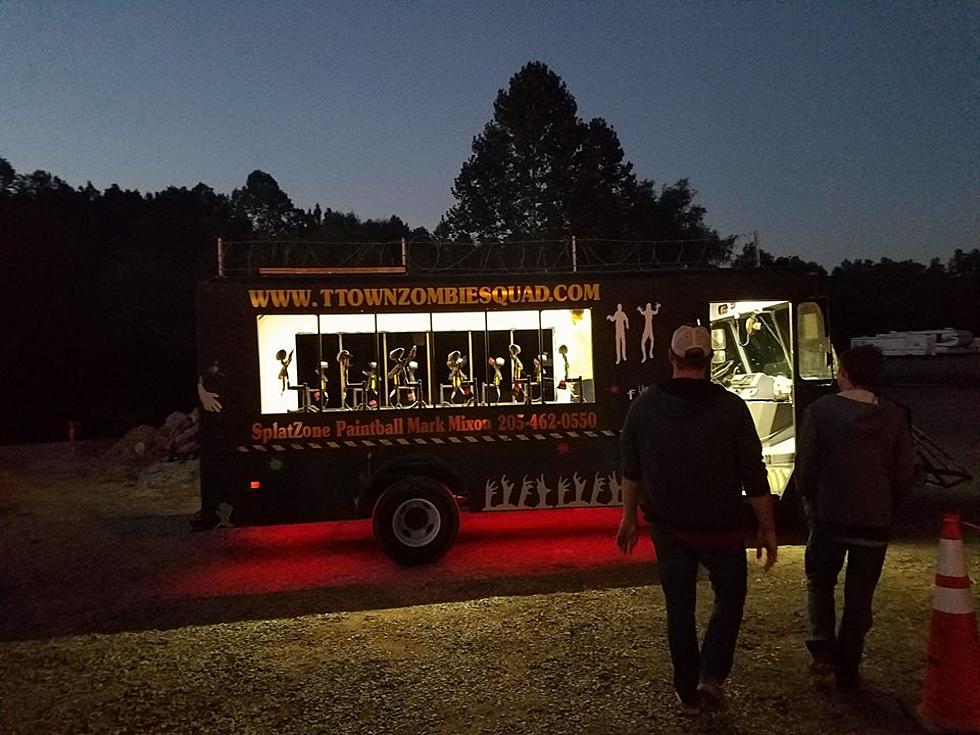 Are You Brave Enough to Go Zombie Hunting at Splatzone Paintball in Tuscaloosa?
Check out the Zombie Bus! (Meg Summers/TSM)
I went zombie hunting this weekend--literally--and it was AMAZING.I don't know what y'all did with your Friday night, but I got to ride through the wilderness and shoot zombies. It was the most fun I have had in a loooooong time!
Splatzone Paintball and the T-Town Zombie Squad (they're located off University Boulevard between Cottondale and Five Points, btw) are giving you a chance to hunt zombies throughout October--and I got to be one of the first to head off in the wilderness to cap some walkers. I still can't get over how much fun it was, y'all.
You can join the T-Town Zombie Squad at Splatzone Paintball for a real zombie hunt! Seriously--you get to ride on a tricked-out bus and blast zombies with glow-in-the-dark paintballs. It is CRAZY fun.
You board the bus and the staff explains the rules: you can shoot at the zombies, but they can't shoot back. Your paintball gun is fixed to the bus window, which makes it super easy to control, and it's easy to maneuver the gun around. Your paintball gun is loaded with glow-in-the-dark paintballs, and then you head out on your mission.
It is the most fun you'll have this month. I guarantee it. You get to blast zombies in the dark. It's creepy and fun, and I can't wait to do it again. Everyone on our zombie hunting mission LOVED IT.
We also got to play a few rounds of paintball at Splatzone, too. I got capped pretty early in the game (all three times LOL), but it was still a blast (pun intended). Our Account Executive Bradley was shot in a particularly awesome fashion. I told him I wouldn't post this pic, but JOKES'S ON YOU, BUDDY.
Are you brave enough to go zombie hunting at Splatzone? You can head off on your own mission throughout the month of October. They're offering zombie hunts from 5pm to 11pm on Friday and Saturday nights and from 5pm to 8pm on Sunday nights. For more info, check out the T-Town Zombie Squad on Facebook.