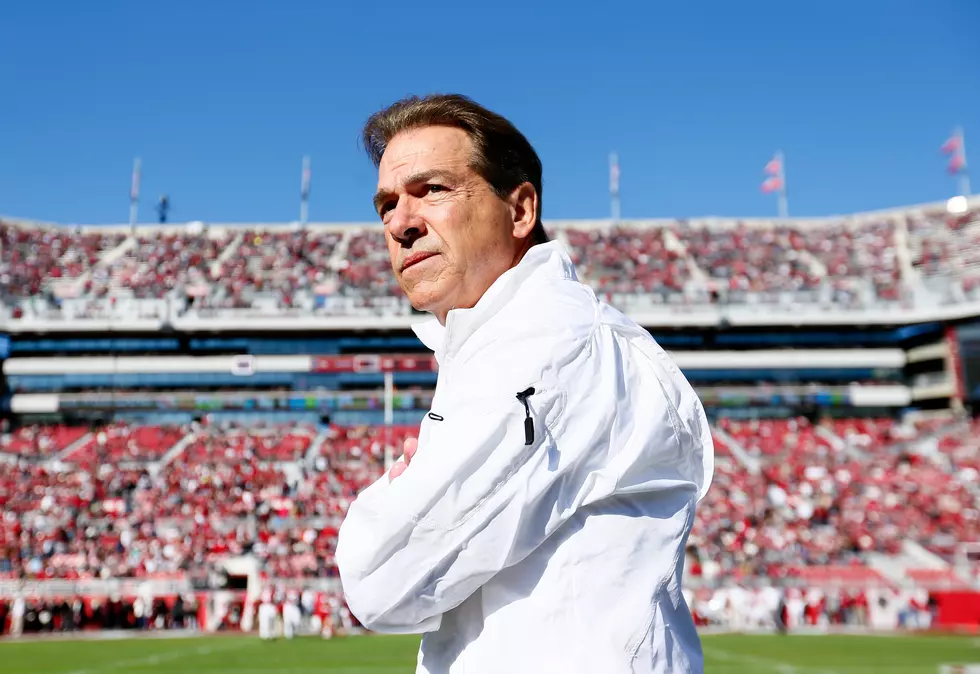 Alabama A-Day 2021: Here's Everything You Need to Know
Getty Images
The University of Alabama's annual 2021 Golden Flake A-Day football game is set to kick off this Saturday at noon after the COVID-19 pandemic caused the 2020 scrimmage to be canceled. Bryant-Denny Stadium has increased its capacity levels to 50% for the game and general admission tickets will only cost $5.
PARKING + TRANSPORTATION
According to a Wednesday press release, on-campus parking will be free throughout the day. Lots open at 8 a.m. However, Crimson Ride will not run throughout the day.
All parking and traffic information can be found at UAGameday.com.
WALK OF FAME
Gameday festivities will begin at 10:15 a.m. with the annual Walk of Fame Ceremony at Denny Chimes. Along with head coach Nick Saban, the 2019 and 2020 football team captains will leave prints of their cleats and hands next to other football frontrunners at the base of Denny Chimes.
Former team captains who will be in attendance include Miami Dolphins quarterback Tua Tagovailoa, 2020 Heisman Trophy winner DeVonta Smith, New England Patriots linebacker Anfernee Jennings, New York Giants safety Xavier McKinney, 2020 National Championship quarterback Mac Jones, offensive tackle Alex Leatherwood and linebacker Landon Dickerson.
"I think it's exciting for all of us to get some sense of normalcy back," said UA associate director of event management Nick Frenz. "The regular season, you know it happened, but instead of seven games it was five games and with 20% capacity it didn't feel like a normal season."
Frenz explained that with the now-widely available coronavirus vaccine, he expects Tuscaloosa to be more lively than last year. However, the university is still prohibiting tailgating on the quad and in-person gatherings on- and off-campus.
"Hopefully, with the vaccine, people feel more comfortable coming down here and attending," Frenz said. "It's one of the last weekends for students to be on campus so it's going to be big for them, and I think you're going to see a lot more people out and about."
TAILGATING + GAME ATTENDANCE
According to an email statement from UA Vice President for Student Life Myron Pope, in-person, organized social events, both on- and off-campus, are prohibited on A-Day. This includes tailgating.
There will be no food vendors on the Quad, but there will be some closer to Bryant-Denny Stadium. Fans are allowed to bring one full bottle of water into the stadium and are encouraged to grab posters on their way in and out.
Fans will be required to wear masks for entry, and all bags must follow the university's clear bag policy.
Those who will not be able to attend the game in person can watch it on television on ESPN. Kirk Herbstreit and Joey Galloway will be commentating on the field while Joe Tessitore is in the press box. Lauren Sisler will provide sideline commentary.
CELEBRATING THE CHAMPS
At 2 p.m. when the game ends, a congratulatory celebration will commence to honor the championship team bringing home Alabama's 18th national title. Saban and Jones will speak to the crowd as the 2020 national championship flag is raised in the stadium.
According to a press release from UA, this will be the program's 14th A-Day Game under the seven-time national championship coach Nick Saban. The release also said the Heisman Trophy and Maxwell Award winners will be honored during the game, so expect to see Smith take centerstage at midfield during halftime.
To secure your A-Day ticket, call the TIDE PRIDE office at (205) 348-2262, and go to rolltide.com for all Alabama sports information.
Top Offensive Lineman in Saban Era
The 2021 Alabama Football Schedule in Photos
PHOTOS: Alabama Celebrates #18