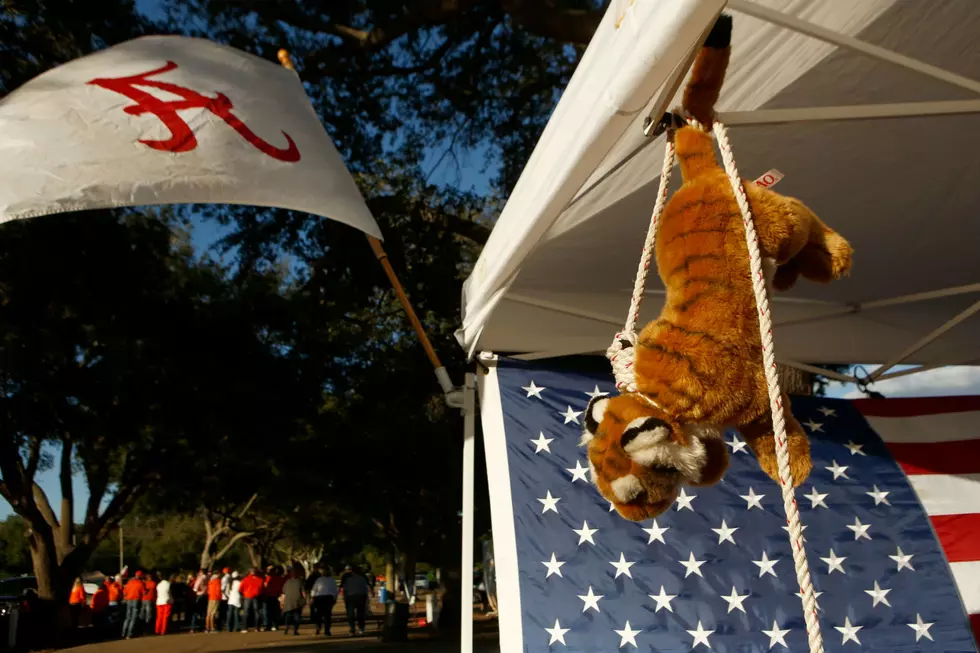 5 Things You Should Never Tailgate Without
(Brian Blanco/Getty Images)
As Amazon Associates, we earn on qualifying purchases.
Folks, it's that wonderful time of year once again where we're all making bad decisions every weekend, tailgating before, during and after the Crimson Tide rolls. Make this season just a little bit easier with these five items that Alt 101.7's own Tab hand picked for surviving even the wildest tailgate parties.
It may seem like a no-brainer, but with more and more of the University of Alabama's student body coming from out-of-state, it's totally plausible that you don't have a go-to Bama T-shirt to wear every week and senselessly declare to be "lucky" based on the team's performance. Why not start with this classic look? Click here to buy it now.
2.) The Wine Rack
Y'all, it's so important to stay hydrated, and but who can bother keeping up with a bottle or can during an all-day tailgate debacle? Get yourself a Wine Rack and fill that baby up with 25 ounces of WATER, the most adult beverage of them all. We are definitely NOT advocating that you fill 'er up with anything else and head to Bryant Denny Stadium. That'd be wrong! Click here to get your own Wine Rack now.
If current trends hold, the Tide is gonna get exactly one night game during the regular season. That means a lot of early kickoffs and even earlier tailgates, and when you're starting your day at 9 in the morning, you're gonna want something to help you keep on keeping on well into the night. Enter Pedialyte! Fueling rallies for more than 50 years! Get you a bottle or four right here.
4.) Just a whole bunch of ibuprofen
Do you need 1,000 tablets of ibuprofen? Well, you'd hate to run out, right? A nice pain reliever has tons of applications before, during and after your tailgate and if the aftermath of our parties at Alt 101.7 are any indication, you'll run through 1,000 of these bad boys much faster than you'd think. Click here to go ahead and stock up.
Phone, keys, wallet, Pedialyte, ibuprofen, -- you can't be asked to carry all this miscellany with your hands! If you're tailgating the right way, those hands are full -- one with a red and white shaker and the other with a nice cold beverage. Get this sensible see-through fanny pack to store all the stuff you need but can't hold to survive another glorious season of tailgating. Buy it on Amazon now.