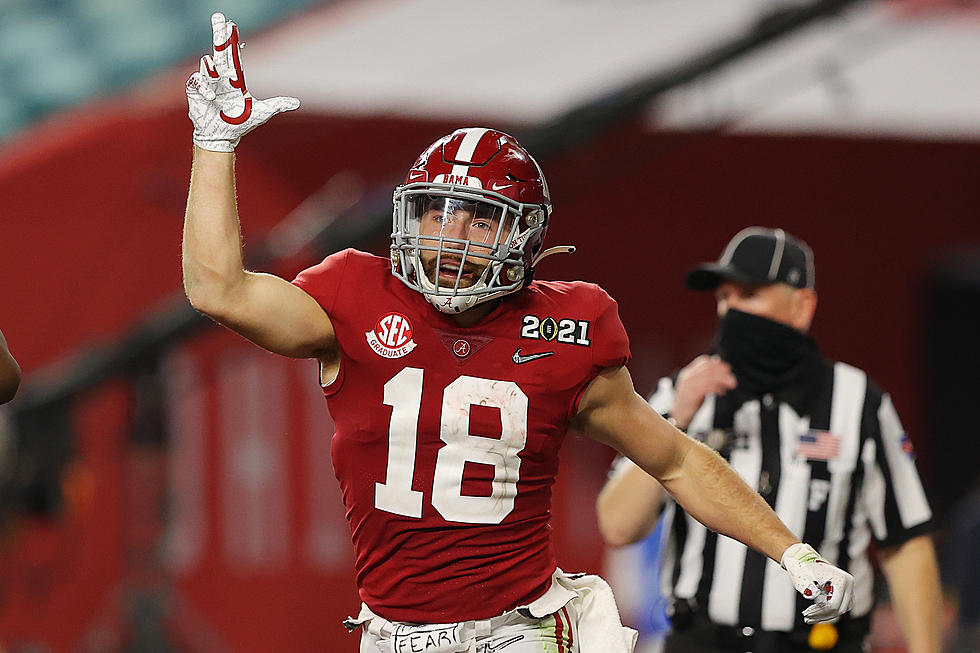 18 Days Away From Bama Kickoff: Slade Bolden
Getty Images
Each day counting down to Alabama's Week 1 matchup with Utah State, I will highlight a former player whose jersey number coincides with the amount of days until the game. The Tide kicks off in just 18 days, so let's look at recent Bama wideout Slade Bolden. 
Slade Bolden suited up at wide receiver for the Crimson Tide from 2018-21, and helped Bama secure two national titles in his time in Tuscaloosa. A somewhat underrated prospect, joining the team as just a three-star recruit, Bolden carved out a role for himself and became a key piece of the Tide offense.
Hailing from West Monroe, LA, Bolden competed against some of the nation's best high school athletes, but held his own in a bed of four and five-star recruits. He played quarterback, running back and wideout his junior and senior seasons, racking up over 5,000 all purpose yards and earning Louisiana's Gatorade Player of the Year for 2018.
After redshirting his first season with the Tide, Bolden saw time in all 13 games in 2019, mostly playing on special teams, but ending the year with two receptions for 34 yards.
In his third year, the former three-star continued to work his way up the depth chart, finishing with 24 receptions for nearly 300 yards. Finally, in Bolden's redshirt junior season, the experienced wideout got his chance to be a key piece of the offense.
Bolden appeared in all 15 of the Tide's games and hauled in 42 receptions for over 400 yards. While his numbers were certainly less than eye-popping, Bolden's consistency and reliability made him a prime target for Bryce Young.
He declared for the 2022 NFL Draft but went unselected, instead signing with the Baltimore Ravens as an undrafted free agent. As of now, Bolden is working to earn a spot on the final roster, and given his career at Alabama, he's likely familiar with the challenge.
Stay locked in to Tide1009.com for the countdown to Alabama football. Check out the rest of the list here.
Iconic Photos From Alabama's 18 National Championships
Claimed or recognized, no FBS football program has more national championships than the Tide. Look back on all 18 titles in Alabama history with these photos.
Highest Rated Recruits of the Saban Era By Year
Check out Alabama's highest-rated recruit from each Crimson Tide recruiting class during the Nick Saban era.