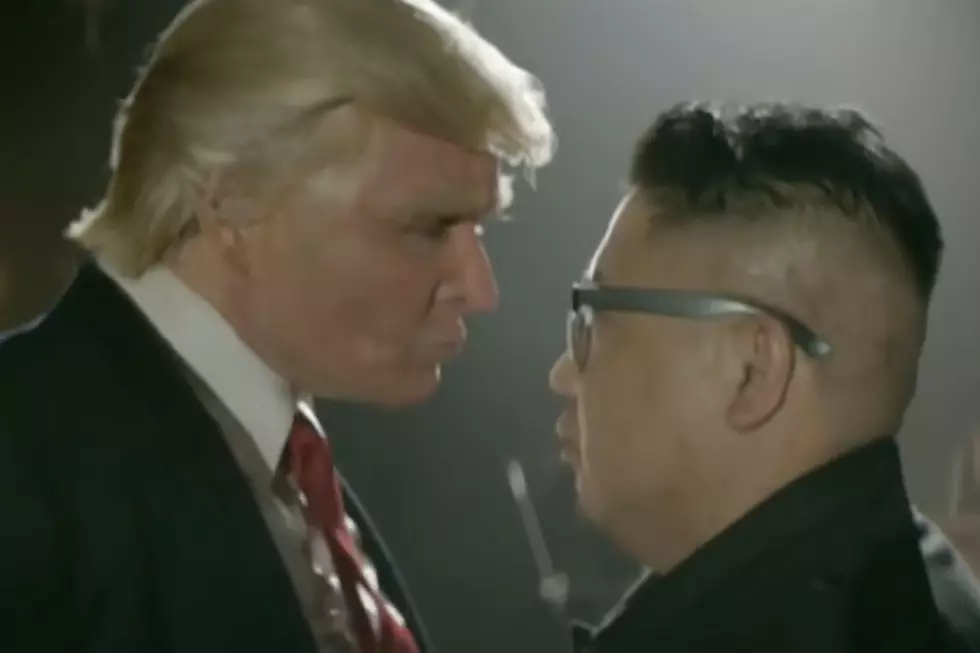 Thirty Seconds to Mars Employ Dancing Trump + Kim Jong-un for 'Late Late Show' Performance
YouTube
We've seen plenty of late night TV performances for bands and for the most part they're pretty antiseptic, often with the group typically stripped of any major production as they set up on the designated part of the stage to play one song without the traditional fanfare of one of their own concerts. So give it up to Thirty Seconds to Mars for breaking free of convention and delivering a more interpretive representation of their single "Dangerous Night" bringing out dancing Donald Trump and Kim Jong-un impersonators while appearing on The Late Late Show With James Corden.
The members of Thirty Seconds to Mars barely get any screen time during this performance. Jared Leto opens the song and occasionally pops up onscreen, while drummer Shannon Leto gets a little bit more screen time, but the two musicians are mostly in the background as a Donald Trump impersonator takes center stage.
The dimly lit performance features Trump in an Oval Office-like set, chomping on a cheetoh behind a podium and eventually being joined by the Kim Jong-un impersonator as they embrace hands and waltz around the space as Leto sings about it being a dangerous night to fall in love.
"Dangerous Night" is the second single from Thirty Seconds to Mars' America album, following on the heels of the 2017 Top 10 hit "Walk on Water." The performance comes a couple of weeks out from the start of the band's "Monolith" summer tour. Their extensive summer run kicks off June 6 in Toronto. See all of their scheduled dates here.
10 Powerful Songs That Smash Fascism