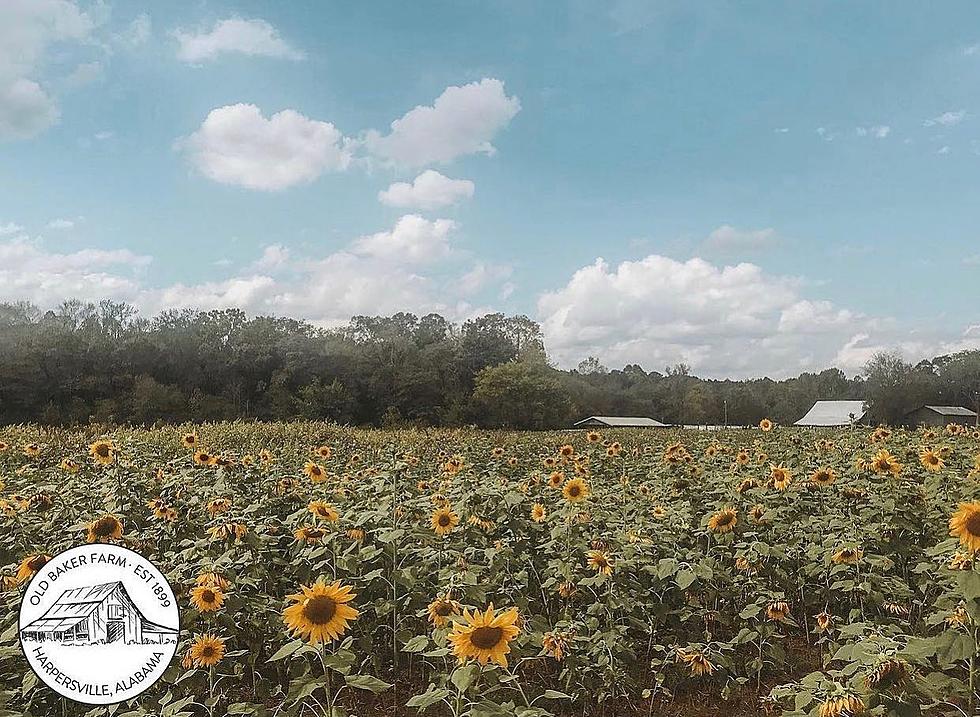 This Enchanting Sunflower Farm is Just 75 Miles from Tuscaloosa, Alabama
Old Baker Farm via Facebook
There's a beautiful family farm waiting for you in Harpersville, Alabama where you can take in the beauty of an Alabama summer.
It's been in the family for over 100 years, and it's a special spot where the Baker family grows everything from watermelons to pumpkins. And the best part?
It's sunflower season at Old Baker Farm.
You'll find Old Baker Farm at 1041 Farmingdale Road in Harpersville, a small town that's about 75 miles away from Tuscaloosa. This Saturday (June 19th), the farm is hosting a seasonal sunflower celebration.
Old Baker Farm will host vendors and food trucks for the special event. There will be train rides for the kids, and those who attend get to pick their own sunflowers!
This quaint little farm looks like the perfect spot to take a stunning selfie or fantastic family photos.
Old Baker Farm is a year-round destination, too! You can make plans to return this fall when the family transforms the farm into a pumpkin patch. They go all out for the holidays, too, as the family also grows some of the most beautiful Christmas trees you've ever seen.
You can get more information about Old Baker Farm by checking out their website HERE or logging on to their official Facebook page HERE.
You've Got to Check Out this Wild Water Park in Pelham, Alabama
You can wakeboard or climb over a crazy aqua obstacle course at this wild water park in Pelham, Alabama.
Check Out this Beautiful Barndominium in Gordo, Alabama
You can buy a barndominium in Gordo for less than the price of a home in Tuscaloosa--and life a life of luxury while surrounded by 39 acres of beautiful West Alabama countryside!