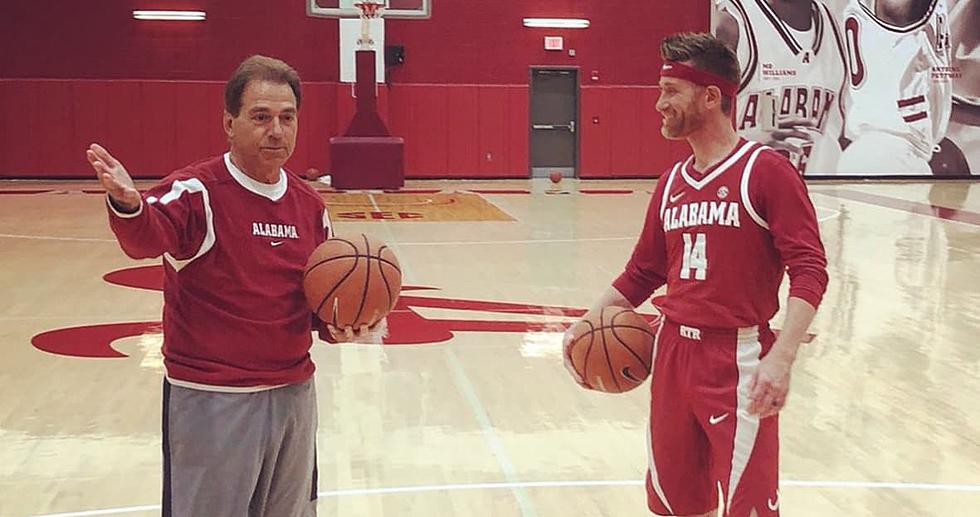 Nick Saban Contemplating the Return of Noontime Basketball
Photo Courtesy of @SECCountryBama
Alabama head football coach Nick Saban enjoyed a round a golf at the Regions Tradition Pro-Am in Hoover, Al today. Prior to his round he met with the media to discuss his program, name image and likeness and his approach to the game of golf.  While updating the media on his health, Saban announced his retirement from his afternoon pastime, noontime basketball.
"I sort of, when I got my hip done, I got, to be honest, a little afraid to play because they didn't want me to play. So I kind of retired. So, we haven't come out of retirement yet but there is a possibility that may happen in the near future," said Saban.
Saban has been transparent about his love for basketball and how much he enjoys playing in the afternoons with his staff and other members of the Alabama athletic department. Saban hinted that he may be ready to get back to the hardwood after undergoing a hip replacement in the spring of 2019.
The legendary coach famously joined Maria Taylor for a game of G-O-A-T and Marty Smith for a segment on the noontime basketball league.
Saban was joined today at Greystone by four-time major winner Ernie Els for his Wednesday round. The Crimson Tide head coach was joined on the course by basketball coach Nate Oats, former quarterback John Parker Wilson and former Alabama basketball coach Wimp Sanderson.
Here are 50 of your favorite retail chains that no longer exist.