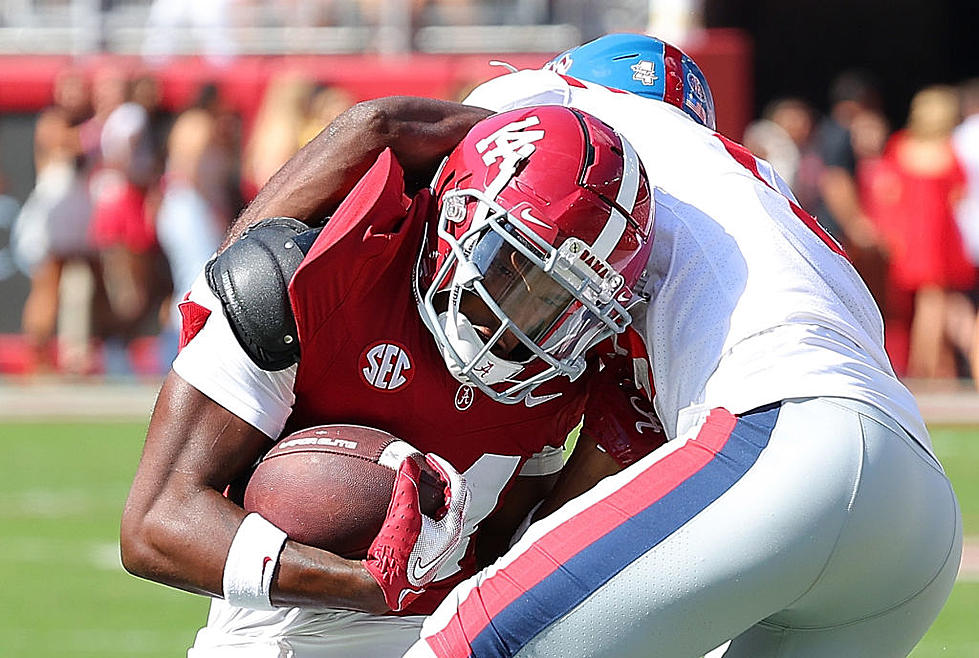 Jalen Hale Could He Be the Next Big Thing for Alabama
Getty Images
When it comes to Alabama's elite receivers under Nick Saban, we could probably come up with quite the long list. From Julio Jones, Calvin Ridley, Amari Cooper and more recently, to Devonta Smith, they all have one thing in common. Each one of these young men made an impact during their freshman year for the Crimson Tide.
As a freshman, Amari Cooper had 1,000 yards and 11 touchdowns.
Could Jalen Hale be the next name to be added to the list of those who had a sensational freshman year? Hale is making a strong case for it, catching two passes for over 60 yards during the game against Ole Miss.
Hale, a Texas native who stands 6-foot-1 and weighs 190 pounds, got great praise from Jalen Milroe and Nick Saban for his performance.
"He did a good job. He made some big plays," Nick Saban said according to tdalabamamag.com this past Monday.
"I think the big thing with Jalen being a young player is you have to know what to do on every play so you can do your job. We need to work hard with him to try to get him to where he needs to be and make sure he's playing with confidence."
"The biggest thing about Hale is how hungry he has been," Jalen Milroe added.
"He is a great component to our offense. I'm looking forward to seeing what he does for our offense."
Hale was the first freshman in over a decade to play on the varsity team at Longview High School. Hale gets another opportunity this weekend to make a name for himself as the Crimson Tide travels to Starkville to take on Mississippi State at 8 p.m.
Iconic Photos From Alabama's 18 National Championships
Claimed or recognized, no FBS football program has more national championships than the Tide. Look back on all 18 titles in Alabama history with these photos.
Alabama Football's Record Against the SEC & Other Major Opponents
The Alabama Crimson Tide is 929-331-43 all-time in college football. See how the records fall against the Tide's SEC rivals and other top programs in the nation.
Starting Alabama Quarterbacks Under Nick Saban
Here is every quarterback that has started for the Crimson Tide under Nick Saban.