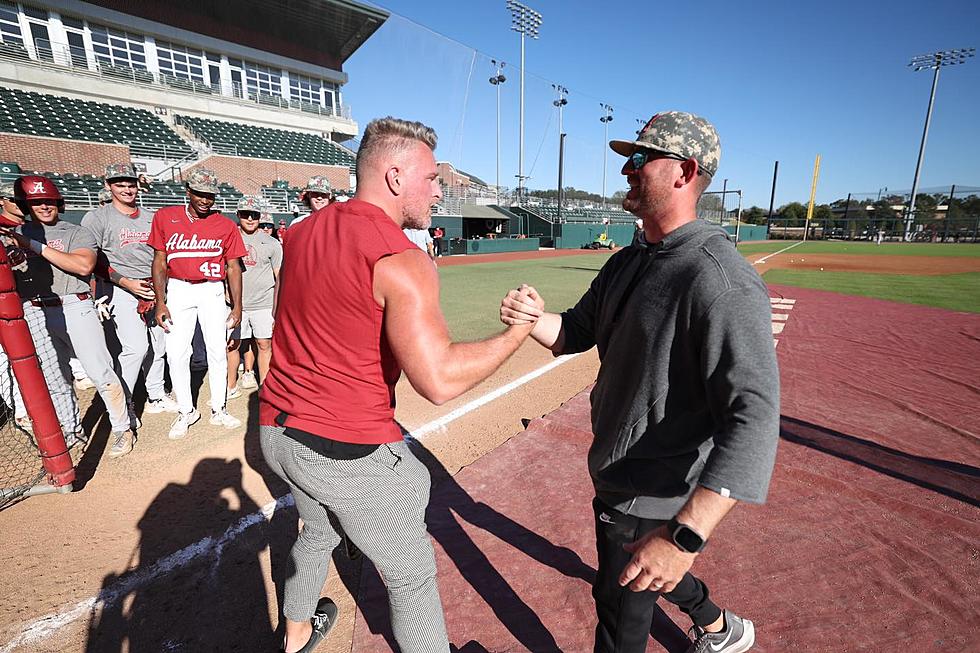 Rob Vaughn Is Making Alabama Baseball Fun
Courtesy of Alabama Baseball via Facebook
Crimson Tide Baseball has been putting on a show for fans throughout the Fall World Series.
Alabama Baseball coach Rob Vaughn talked about the state of the team Tuesday morning with Gary Harris on Tide 100.9.
"You know, the fall game of baseball," said Vaughn, "there's so much monotony. It can get long, it can get kind of boring at times." But the coach has been proud of his team's performance.
"This group's come out, they've had energy every day," recounted Vaughn. "Those Fall World Series games have been electric."
Gary Harris agreed with Coach Vaughn, "You've still got to do the fundamentals, but from a fan standpoint...fans want to see the ball flying out of the ballpark and pitchers throwing with high velocity." And it seems like this team can both win games and provide that brand of exciting baseball.
"No question," said Vaughn. "I think you just see this stuff getting better and better." He recalled that when he played, a 90-mph pitch was fast. "Now if you're not 95+ you're just a normal dude," Vaughn said. "We have guys bumping 100, we've got two of our starters who are 97 and 99."
The hitters aren't bad either. Vaughn mentioned their match against Auburn which featured three homers right in the first inning. "Man, I thought we might be the best of all time," laughed Vaughn, "and then finally it balanced out for a little there."
Vaughn predicted this year's team will play a fun brand of baseball. "We're gonna strike guys out. We're gonna play hard. We're gonna hit some balls out of the yard," said Vaughn. "It's been a heck of a fall for these kids."
Even still, Vaughn makes sure not to sacrifice entertainment for strategy. "We can't be a slave to the long ball," he said. "There's gonna be days when you have a cold day and the wind's blowing right in your face...if you can't manufacture runs, if you can't move runners...it's gonna be hard to score."
"Teams that win the post-season, teams that win the league: that's what they do," said Vaughn. "This group's done a really good job of growing into more than a team that can just slug the baseball."
The excitement continues this evening, with the last game of the Fall World Series featuring the Crimson Team vs the Gray Team. They'll play tonight at 6:30 p.m.
Listen to the full interview with Rob Vaughn:
Alabama MBB vs Morehead St.
Gallery Credit: SEC Media Portal
TCHS vs Brookwood
Gallery Credit: Photo by: Joseph Field/Field & Reed Photography