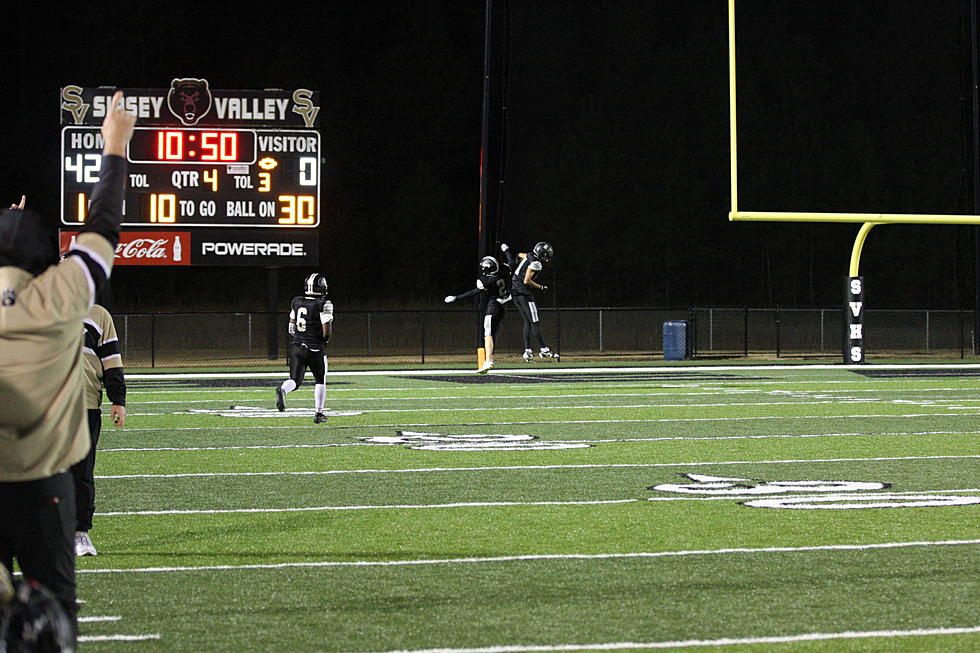 LOOK: Sipsey Clinches Playoff Spot With Win Over Rival Northside
J. R. Moore | Townsquare Media
---
Second-year Sipsey Valley head coach Joey Milligan led his Bears team to its second-straight playoff birth Friday with a 49-14 win over the visiting Northside Rams. It marked the Bears' first victory over the Rams since 2011. (Photo gallery below)
The tone of the game was set by halftime as the Bears offense and special teams combined for a 35-0 lead on a brisk evening in Buhl, Ala. Junior quarterback LJ Cormier continued to show his playmaking ability he's been known for in 2023 with a rushing score in the second quarter.
Before halftime, fellow Sipsey junior Ayden Abernathy scored his first of two rushing scores with senior Carter Renn's two-point conversion making up for a missed field goal.
It was announced to the crowd in the second half that Sipsey senior Wyatt Bailey had secured his second-straight season with over 1,000 receiving yards. He collected three touchdowns on the night, all in the first half, with one coming from a dazzling 50-plus yard punt return.
After the Bears put together a 49-0 lead at home, the Rams capitalized on mistakes to secure two scores in the fourth quarter, one coming with less than two minutes of the game.
The all-time record for the rivalry that started with Sipsey Valley's inception now sits at 2-12 in favor of the Rams.
Coming up
While Friday was the end of the road for Northside (4-6) in 2023, Sipsey (6-4) is set to make the three-hour trip south for a first-round 4A playoff matchup with Andalusia (9-1) on November 10.
Tide 100.9 | WTBC 1230 AM's coverage of the 2023 high school football season is proudly presented by Freddy's Frozen Custard and Steakburgers. Photo gallery below
Sipsey Clinches Playoff Birth in Home Win
Gallery Credit: (J. R. Moore | Townsquare Media)
Previous weeks in 2023
Sipsey Valley Goes on 48-6 Run in Comeback
Tuscaloosa Academy Puts a Damper on Sulligent's Unbeaten 2023
The Tuscaloosa Academy Knights move to 6-2 for 2023 after beating Sulligent, 21-14.
Gallery Credit: (J. R. Moore | Townsquare Media)