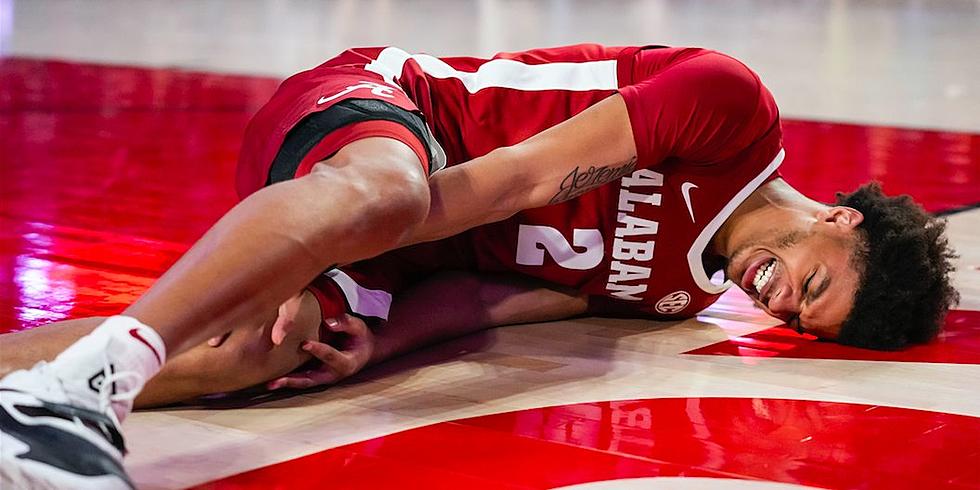 Darius Miles Injured in Upset Loss at Georgia
Photo courtesy of @BamaOnline247 on Twitter
Not only did Alabama suffer a terrible upset loss in Athens 82-76 but the Tide also had two injuries during the game which included sophomore forward Darius Miles, along with senior guard Keon Ellis. Ellis later returned and finished out the rest of the game.
Miles was hurt towards the beginning of the second half, and was helped off by two trainers which looked like an apparent knee injury.
In the postgame interview Coach Nate Oats said "Their doctors said that everything felt solid, so I think maybe he hyperextended his knee, I think we are calling it a knee sprain. Not sure what the time frame is going to be." Oats did not seem concerned that Miles will miss that much time with this injury.
Miles came off the bench this game after starting the previous game vs Missouri. On Tuesday, he went 0-4 shooting and only had two points which came from the free-throw line, and also shot 0-3 from three point land.
He has been a good spark plug, 3-and-D player for Alabama this season, averaging around 7 points and 4 rebounds a night. Oats is pretty optimistic about his injury because the doctors said there is no ligament damage, they will find out more on Wednesday morning when they do a MRI scan in Tuscaloosa.
The Crimson Tide's next three games are against Baylor, Auburn, and Kentucky and they will need all the help they can get playing these elite teams.
Bama All Time Steals
Alabama Basketball All-Time Scoring Leaders
Powerful Photos of Dr. Martin Luther King Jr.