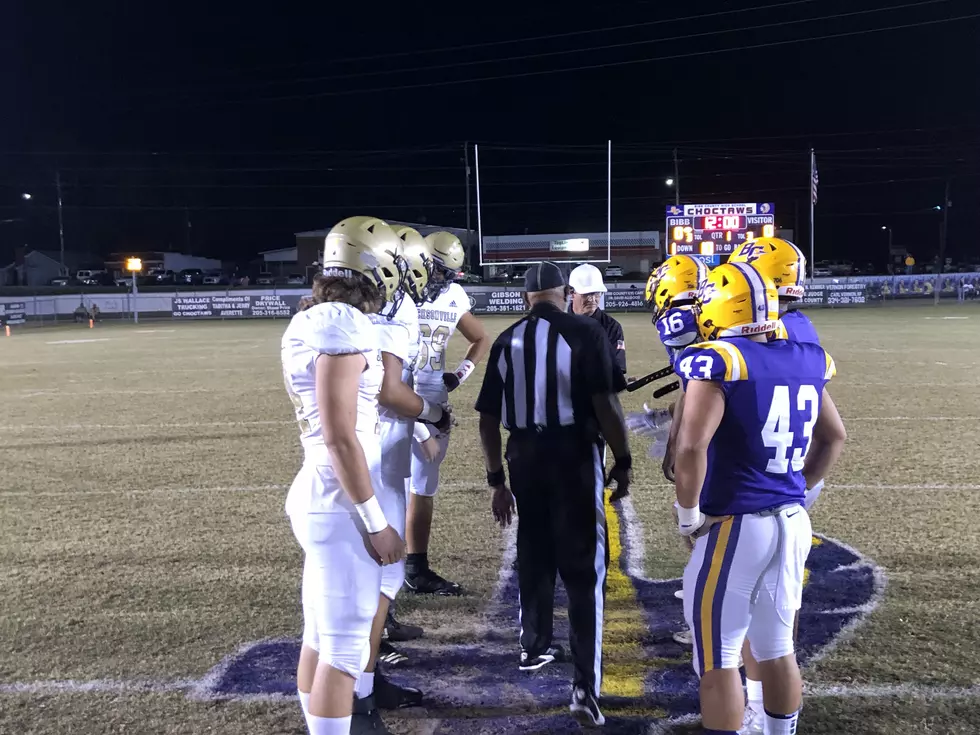 Bibb County Upset By Jacksonville 35-28 In First Round
Photo Courtesy of Nathan Reed
---
Tide 100.9's local high school football coverage is powered by The University of Alabama Online, "Where Legends Log In."
The Bibb County Choctaws (7-4, 6-1) season came to an end in disappointing fashion on Friday night as they were defeated by the Jacksonville Golden Eagles on the last play of the game.
G Turner ran it in from two yards out for his third touchdown of the night, giving Jacksonville their first lead in the game.
"We ain't ready to go home yet, it's my senior season and we trying to finish strong," Turner said after the game.
Bibb County took an early 7-0 lead when quarterback John Downs capped off a 47 yard touchdown drive with a 2-yard sneak.
The Golden Eagles responded with a 21-yard touchdown pass from Jim Ogle to wide receiver Kydric Fisher to tie the game at 7-7
Bibb County added a touchdown late in the second quarter by fullback Tyler Fielding to give the Choctaws a 13-7 lead at the half.
The Choctaws received to start the second half kickoff and Jacob Simmons took the second half kick to the house for an 80-yard return to put Bibb County up 21-7 after 2-point conversion.
The Golden Eagles defense then made a huge play to give Jacksonville the momentum they needed on a scoop and score fumble recovery by Lewis Bitticks to make the score 21-14.
John Downs was benched on the ensuing drive as Jordan Leverette replaced the senior quarterback who made a huge play, finding Antonius Steele for a 21-yard touchdown.
G Turner would put the team on his back scoring all three of his touchdowns in the second half. Turners first would be a 34-yard pass reception followed by a 24-yard touchdown run and finally a 2-yard run that would be the nail in the coffin for Bibb County.
"We've been fighting all year and we've been in this situation all year, we challenged them at halftime and I'm proud of the way we competed in the second half and we cleaned some things up at halftime and any playoff win is a great win," coach Clint Smith said after the game.
Bibb County's season comes to an end they finish the year (7-4) whereas Jacksonville will host round two against Catholic Montgomery.
Jacksonville at Bibb County Playoffs Round One
The Jacksonville Golden Eagles take on the Bibb County Choctaws in the first round of the playoffs. Jacksonville defeats Bibb County 35-28 to advance to the next round.
Bibb County vs Holt 2022
Bibb County Blows out Hale County 49-6
Week 3: American Christian Academy vs Bibb County
American Christian Academy beat Bibb County 20-13 in Week 3 of high school football.
West Blocton vs. Bibb County 9-2
Bibb County defeats West Blocton 35-0. In a physical matchup, Bibb County dictated the pace of the game.
Bibb County vs Gordo 8/26/2022
Bibb County defeats Gordo on the road.