5 Things Made Here in Alabama
Conecuh Sausage
Family owned and operated business began in 1947 in our small town of Evergreen, Alabama. Although they've grown over the last 70 years, their commitment to producing the finest hickory smoked sausage hasn't changed. Their tradition of selecting only the highest quality meats, preparing them with our patented blend of seasonings, and smoking them over a pure hickory fire continues today. The result is that unmistakable Conecuh flavor that will keep you coming back time and time again.
Hot Damn Jelly Company
This small Auburn, AL business creates a line of pepper jellies, and if you've never heard of pepper jelly, well, you're not from Alabama …
A southern specialty, pepper jelly is just what it sounds like – a fruit based jelly or jam mixed with peppers, usually habaneros or jalapenos. The end result is an irresistible combination of sweet and hot, just perfect to spread on toast, sandwiches, or as a glaze for ham, pork roast, or grilled chicken …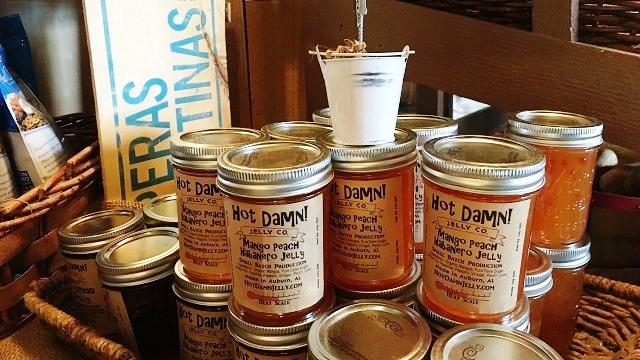 Big Bob Gibson White BBQ sauce
In 1925, Bob Gibson from Decatur, served barbecue from a makeshift table made of oak planks nailed to a large sycamore tree in his backyard.  Fresh out of his hand-dug pit came smoke and smells that drew people from miles away.  Weighing 300 pounds with a 6'4" frame, it was easy to see why friends and other railway workers called him Big Bob.  "Your future is not in the railroad, but in Bar-B-Q", said Roslyn Mitchell.  It was with that, Big Bob Gibson started a family barbecue restaurant tradition that has lasted has lasted over 80 years and 4 generations.
Mardi Gras
The annual Carnival celebration in Mobile, Alabama. It is the oldest annual Carnival celebration in the United States, started by Frenchman Nicholas Langlois in 1703 when Mobile was the capital of Louisiana.
John Emerald Distilling is a small batch craft distillery located in beautiful downtown Opelika, Alabama.
They are proud of their local heritage. From the original three Sharp brothers who ventured to America from Scotland to the name sake of the company, John Emerald Sharp, the Sharp's have lived lives of integrity, honoring God, their fellow man and their family. So when it came time to name the distillery the idea to honor our forefathers in name and spirit rang true.