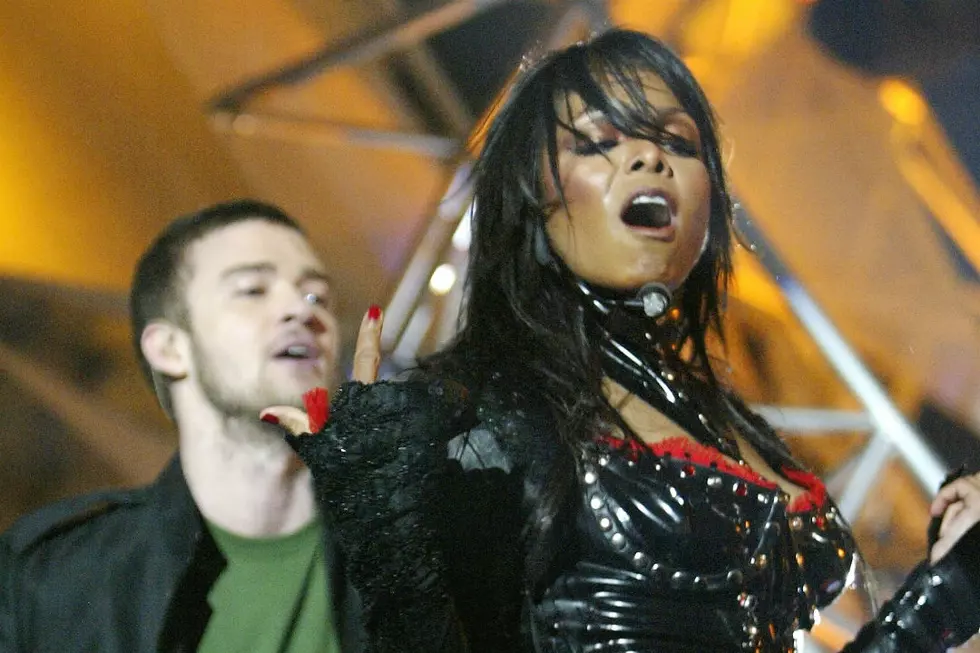 Don't Forget: Janet Jackson Put on a Hell of a Super Bowl Show Pre-Nipplegate
Frank Micelotta, Getty Images
Fourteen years ago, as Timberlake's "Rock Your Body" signaled the set's end, the former *NSYNC member reached across Jackson's chest, yanked backwards on her garment like he was firing up a ripcord and set into motion an FCC firestorm that could never be reversed.
The moment resulted in mandatory time delays in live broadcasts across most broadcast networks; incited outcry from concerned parents who couldn't shield their children's eyes quickly enough; and reduced Jackson to a scapegoat who would have to single-handedly answer to 150 million viewers.
And it's a shame, because SHE PUT ON A HELL OF A SHOW.
Not only was Jackson wrongfully persecuted for her role in the moment (many pop culture fanatics and entertainment analysts have since come to her defense, and insisted she deserves public apology for her treatment), but accusations of impropriety have eclipsed what was otherwise a solid production.
Both Jackson and Timberlake were riding high on the success of recent albums — Justified was still delivering singles like an eager pop-postman and All for You was fresh in the minds of fans even as it approached its third birthday — and the stars' collision at Houston's Reliant Stadium was colorful, upbeat and offered the type of measured dynamism that could keep old and young football fans amused as the chips and salsa bowls slowly emptied.
At the top of the set, Jackson emerged from a diaphanous curtain as "All for You" echoed into the crowd. She proceeded to funnel down a hollow silo like a Hunger Games tribute who'd been groomed for a career in entertainment, and when she finally joined a collection of dancers, the troupe exacted choreography that was tight enough to keep a cruise ship tethered to docks. By the time Timberlake joined Jackson later in the broadcast (Kid Rock, Diddy, Jessica Simpson and more pop acts also performed between Jackson's appearances, many forget), the crowd had already been sufficiently hyped.
And when Jackson reemerged for "Rhythm Nation," she successfully scrubbed the crowd's memory that anyone else had been on stage at all — she put on the type of show that breeds young performers, and inspires young girls to turn to their mothers and beg for spots in ballet classes or jazz ensembles. It was electric, and by the time Timberlake joined to end the show, it was too late to dig in his heels; at his best — at least in terms of talent and production — he was an accessory.
The accessory, sadly, just so happened to be a grenade.
Timberlake has finally publicly apologized (kind of) for staying silent on Jackson's persecution, and there are even rumors part of his 2018 Super Bowl set will include a mea culpa, or an appearance by Jackson. Either way — and completely independently of the 2004 controversy — he's got a long road ahead, because the Super Bowl XXXVIII show will be a tough one to beat, thanks almost exclusively to Jackson.
Celebs Who Are Huge Football Fans: