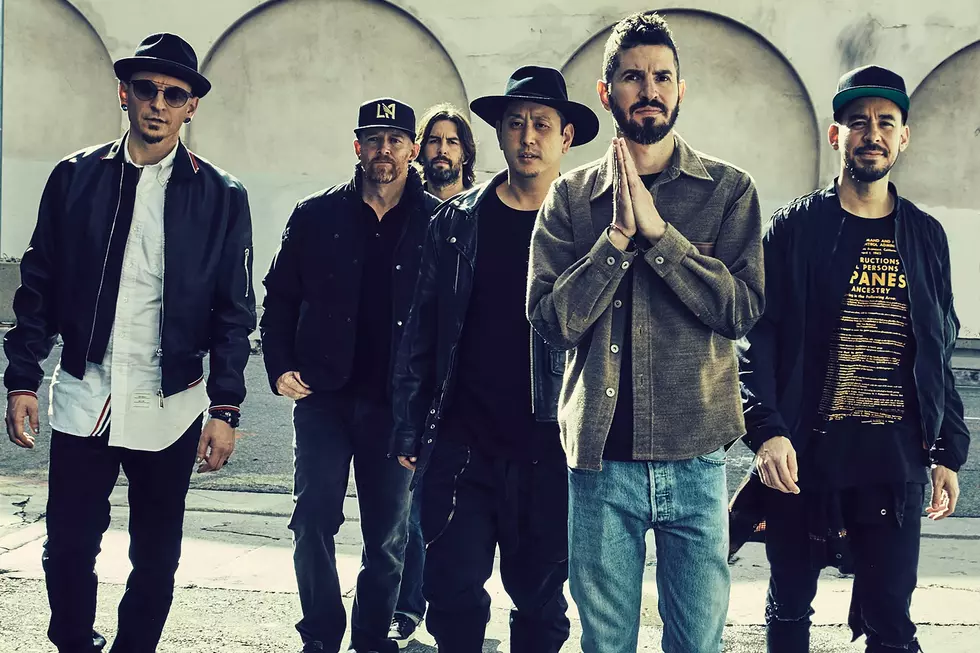 Linkin Park Auctioning Studio + Concert Gear, Plus News on Thirty Seconds to Mars, Vomitory + More
Photo by James Minchin
In addition to the big stories we covered today, Wire-to-Wire provides you with some of the other key rock and metal news items from April 2, 2018:
- Reverb are teaming up with Linkin Park to auction off nearly 200 pieces of gear that have been retired from regular use to raise funds for Music for Relief. Everything from sticker-filled road cases to vocoder pedals, a remix station, a Yamaha keytar, a backstage banner and a Moog controller will go on the block. The auction starts this Wednesday (April 4) through Reverb.
- Thirty Seconds to Mars' Jared Leto took to the streets of New York, performing an impromptu sing-along of "Walk on Water" with a choir and fans who showed up that can be seen right here. According to Billboard, Leto is planning a week-long trek across America, leaving New York and taking Lyft rides, hitchhiking, bicycling and running, to showcase destinations meaningful to the band's America album. The trip ends April 6 in Los Angeles coinciding with the album's release.
- Vomitory will reunite for their 30th anniversary. The band issued a statement announcing their return, crediting a 2017 one-off reunion show for spurring their return. Read their full statement as they make plans for 2019 here.
- Blessthefall have unleashed a conceptual new video for "Sleepless in Phoenix" from their Hard Feelings album. "The whole concept is about a dude who buys a possessed TV and he can't get rid of it! We wanted sort of a Black Mirror/Twilight Zone vibe. Since the narrative and the performance are happening at the same time, you'll have to watch this multiple times to catch it all! This is one of the coolest videos we've ever made," says vocalist Beau Bokan. Watch the clip here.
- Feel the fury. Righteous Vendetta are back with a new video for "War Is Killing Us All" from their Cursed album. The clip finds Ryan Hayes attempting to free himself from a run down prison. Watch the clip here.
- Linkin Park's Mike Shinoda has added an appearance at the 2018 LoveLoud Festival to his itinerary. He'll play alongside Imagine Dragons, Zedd, Grace Vanderwaal and others at the event, which helps out LGBTQ+ charitable organizations. The event will take place July 28 at Rice Eccles Stadium in Salt Lake City, Utah. Get more details here.
- Get to know Downpour. The band features Shadows Fall vocalist Brian Fair, Unearth and Seemless drummer Derek Kerswill, guitarist Matt LeBreton and bassist Pete Gelles. The group recorded their self-titled album in 2015, but sat on it until the timing was right scheduling-wise to move forward.  Listen to the song "Without the Fear" here and check out their Pledgemusic pre-order site to pick up their self-titled set.
- Speaking of new bands, former Letlive and current Fever 333 singer Jason Butler has another new offering in the works. Get a teaser of Pressure Cracks, a hardcore band featuring Butler, Dan Bieranowski, Ryan Doria, Kevin Fifield and Bill Gavin, that features a pretty impressive scream right here.
- Something wicked this way comes. Take a listen and see the lyric video for the new Impending Doom song, "The Wretched and Godless," right here. The song will appear on The Sin and Doom, Vol. II, which is due June 22.
- Everybody put your hands up! Attila are back with a new video. Watch the performance-based piece for "Blackout" right here.
- Soundgarden's Kim Thayil recently spent some time in the studio with Barrett Martin, working on music for Martin's self-titled band. Get more details on the studio time here.
- With Earthless having a new album to promote, it's time to get out and play shows in support of Black Heaven. Their next North American leg of tour dates will kick off May 31 at Detroit's El Club with dated booked into mid-June. See their stops here.