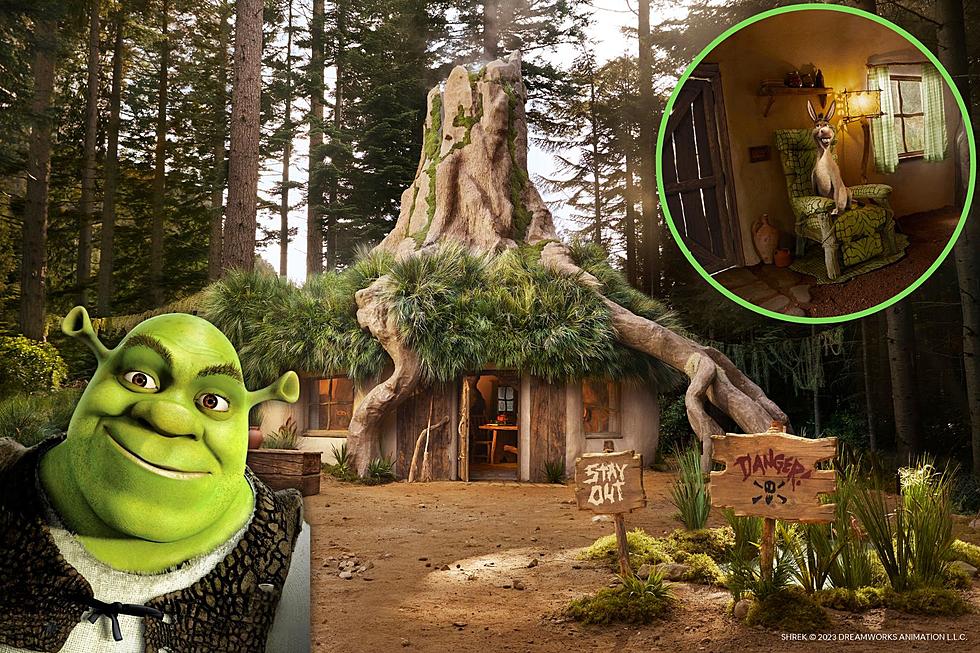 Unleash Your Inner Ogre: Spend the Night in Shrek's Swamp (PHOTOS)
SHREK 2023 Dreamworks Animation LLC, Airbnb
Get your ogre on this Halloween with a sleepover in Shrek's stumpy, secluded swamp haven.
In a land far, far away (also known as Scotland) there lies the secluded swamp of our favorite Ogre, Shrek. And for the first time EVER you can stay there! Airbnb teamed up with Donkey (yep, you know the one) to open up the swamp for one weekend this October. Donkey is always inviting people to the swamp, but this time it's with Shrek's approval.
Where is Shrek's Swamp?
The swamp is tucked away in Highland Council, Scotland in the United Kingdom. It's truly a fairytale getaway, so get your passport ready.
What Amenities are at Shrek's Swamp?
The swamp has all of the essentials, but it is still a swamp house. There's no Wi-Fi, AC, television, washer, or kitchen. Also, the toilet, sink and showers are a short walk from Shrek's Swamp. BUT, you'll get the fairytale swamp experience. You can:
Relax by the "earwax candlelight"
Enjoy a nice parfait (because everybody likes a parfait!)
Swap stories around the fire
Chow down on some complimentary freshly made waffles in the morning
Get exclusive use of Shrek's outhouse.
There are also a ton of outdoor activities. You can explore trails around the area, picnic under picture-perfect conifer trees, and enjoy the magical feel of being emersed in the land of Shrek.
We should also mention that there's an on-site concierge that will show you around and arrange meals.
LOOK: You Can Sleepover in Shrek's Iconic Swamp
This place is fit for any solitude-seeking Ogre.
Gallery Credit: Danielle Kootman
Pretty sweet, right!? Now let's peel back the layers of this onion and tell you how you can experience the magic.
How to Stay at Shrek's Swamp?
Mark your calendar for Friday, October 13 at 1 p.m. EST. That's when booking opens. You'll be able to book a two-night stay for up to three guests for the weekend of October 27-29. That's the only time this place will be available so first come, first served! Also, since you'd be staying around Halloween, it's the perfect excuse to dress up as your favorite fairytale character. Just sayin'.
How Much Does it Cost to Stay in Shrek's Swamp?
While the swamp stay is completely free, you will have to pay for your own travel. Get more information and booking rules here.
To honor good childhood memories that last a lifetime, Airbnb will make a one-time donation to HopScotch Children's Charity, which provides some of Scotland's most vulnerable and disadvantaged children with respite breaks through nurturing and dynamic holiday trips.

 
LOOK: 'Muppets' Artist's Magical Woodland Home Could Be Yours
READ MORE: 25 Companies You Might Not Know Are Owned by Disney