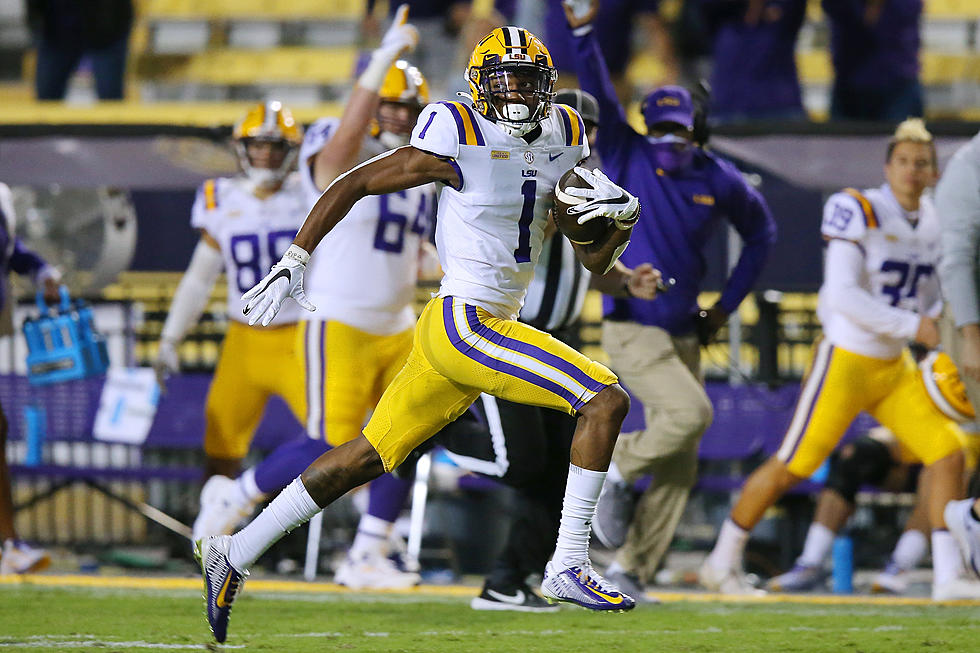 Alabama Lands 5-Star Transfer Corner From LSU
Getty Images
The Alabama Crimson Tide hauled in a top tier 2022 recruiting class on Wednesday's Early Signing Day but arguably Alabama's biggest acquisition came after the dust settled.
Former LSU starting cornerback and former 5-star recruit, Eli Ricks announced on Twitter his intentions to transfer to Tuscaloosa and join the Crimson Tide.
Ricks was a FWAA Freshman All-American and was named to the SEC All-Freshman team as well as the Second Team All-SEC in 2020. In a COVID-19 shortened season he made 20 tackles and had four interceptions, returning two for touchdowns.
The 6-foot-2, 192 pound corner only six games in 2021 but was sidelined with a shoulder injury that prevented him from finishing the year with the Tigers.
Ricks already has several connections to the Alabama program, he hails out of Rancho Cucamonga, California and is former high school teammates with Heisman Trophy winner Bryce Young. Ricks left Mater Dei and transferred to IMG Academy for his final year of high school.
Leaving high school, Ricks was considered the No. 2 cornerback and the No. 14 overall player in the country as a 5-star recruit.
The Crimson Tide looks loaded at the cornerback position for the 2022 season. Kool-Aid McKinstry, Khyree Jackson are already on the roster and the Tide signed Earl Little Jr. and Tre'Quon Fegans on Wednesday.
Alabama may not be finished poaching from the LSU program, the Tide is rumored to be in consideration for former 5-star wide receiver Kayshon Boutte as well. Boutte entered the transfer portal following the conclusion of the 2021 season.
Alabama Crimson Tide All-Time Receiving Leaderboard
The Anti- Alabama Team
Alabama has lost 23 games while Nick Saban has been in charge. These athletes were pivotal in helping to secure a rare victory for their teams.
2021 SEC Championship Game Alabama vs. Georgia
The Alabama Crimson Tide defeated the No. 1 ranked Georgia Bulldogs 41-24 to win the 2021 SEC Championship.