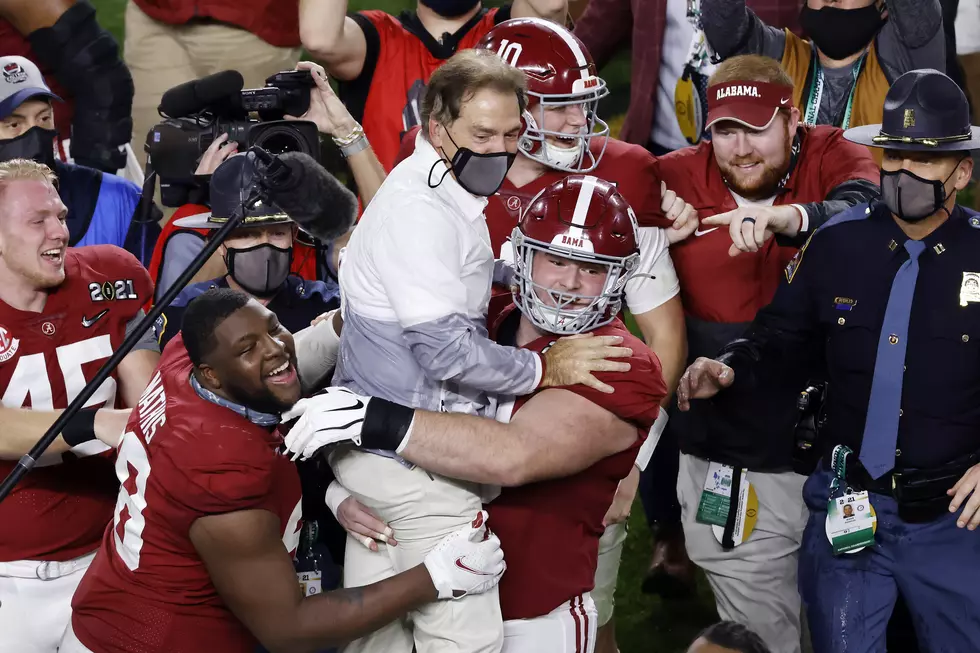 You Need This Sticker of Coach Saban and Landon Dickerson ASAP
Getty Images
We're all still reveling in the warm afterglow of another National Championship for the Alabama Crimson Tide, and now you have a chance to immortalize one of the best moment's of Bama's epic win over the THE Ohio State Buckeyes.
I don't know about y'all, but my little crimson heart was broken with Alabama Center Landon Dickerson was injured in the SEC Championship game. Landon was a team leader, and although I have never met him, I can tell he has a great sense of humor.
You can see why his teammates adore him, and when Landon was injured in the Florida game, they all came to be by his side.
After surgery, Landon was able to dress out for the natty. He had lobbied Coach Saban to allow him to take the final snap of the game and Coach acquiesced, giving us what may be my favorite moment in all of Alabama football history.
Y'ALL. When I tell you I cried, I cried. I was straight up sobbing like a preteen watching a marriage proposal in a romcom. I didn't think it could get better, BUT THEN Landon carried Coach onto the field to celebrate the win. It was PERFECT, and now you can remember this wonderful moment with a kickass sticker.
Available on RedBubble, this sticker would look great on your laptop or water bottle--and you can even order one on a mug.
I'm clicking 'add to cart' faster than you can say 'ROLL TIDE!'
Enter your number to get our free mobile app
PHOTOS: Alabama Celebrates #18