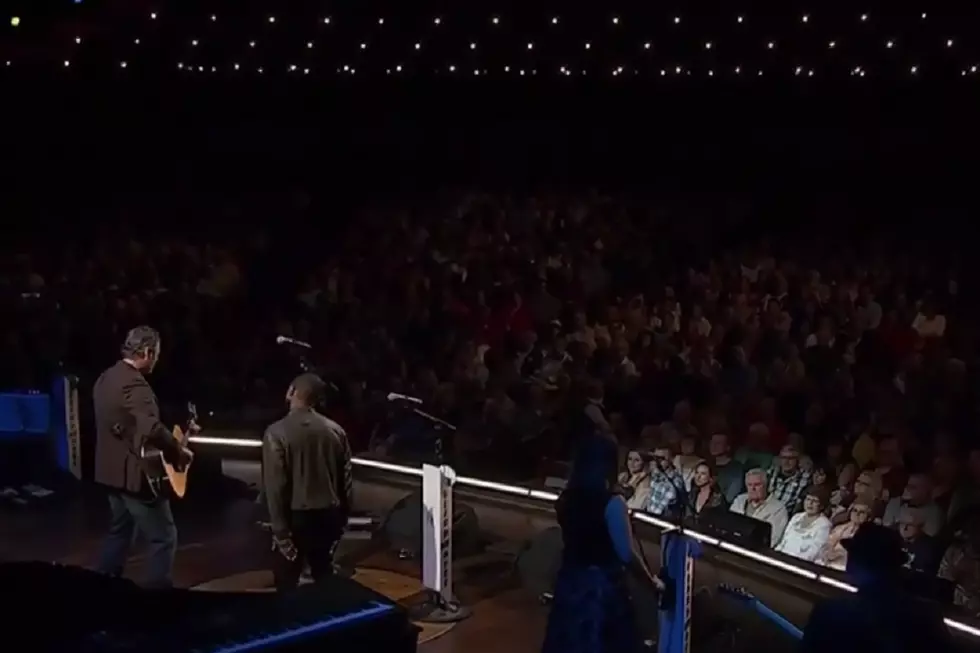 Watch Blake Shelton and Usher Duet During 'Hand in Hand' Benefit
YouTube
Readers can press play above to watch Shelton and Usher's performance. At the end, they had the whole crowd singing along.
Shelton and Usher performed for Hand in Hand live from the Grand Ole Opry in Nashville. Shelton was co-hosting the Music City portion of the telethon, which was also taking place in California and New York. Brad Paisley, Darius Rucker, Demi Lovato and CeCe Winans also performed at the Opry for the event.
Who Was Answering Phones at the Hand in Hand Benefit?
In addition to the aforementioned celebrities, the Hand in Hand fundraiser also featured appearances by Beyoncé, Justin Bieber, George Clooney, Andy Cohen, Stephen Colbert, Sean "Diddy" Combs, Billy Crystal, Ellen DeGeneres, Robert De Niro, Drake, Hilary Duff, Jourdan Dunn, Jimmy Fallon, Jamie Foxx, Richard Gere, Tom Hanks, Marcia Gay Harden, Kate Hudson, Dwayne Johnson, Joe Jonas, Catherine Zeta-Jones, Karlie Kloss, Matt Lauer, Jay Leno, Zion & Lennox, Jared Leto, Eva Longoria, Rob Lowe, Matthew McConaughey, Tracy Morgan, Norah O'Donnell, Gerardo Ortiz, Chris Paul, Tyler Perry, Dennis Quaid, Questlove, Jeremy Renner, Julia Roberts, Kelly Rowland, Adam Sandler, Ryan Seacrest, David Spade, Michael Strahan, Barbra Streisand, Sofia Vergara, Kerry Washington, Chandra Wilson, Oprah Winfrey, Rita Wilson, Reese Witherspoon and more.
Country Stars Share Thoughts and Prayers for Hurricane Harvey Victims