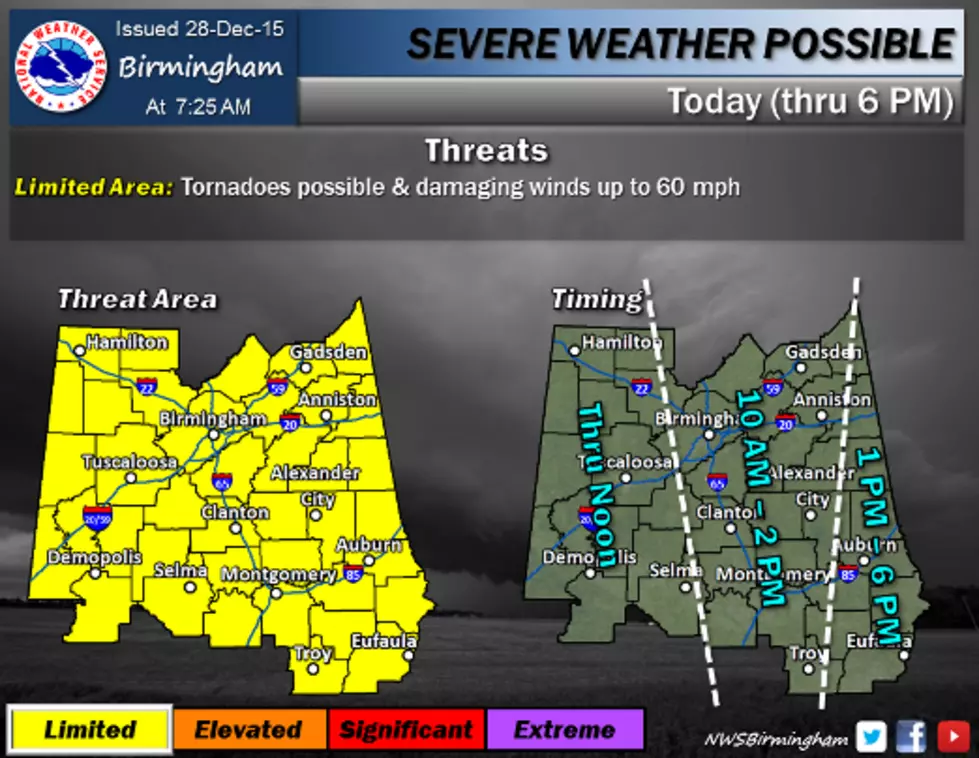 Tornado Watch in Effect Until 12 Noon Monday, December 28, 2015; University of Alabama Opens Storm Shelters Ahead of Severe Weather Event
NWS Birmingham
The National Weather Service in Birmingham has issued a Tornado Watch in effect for most of our listening area until 12 p.m. today.
A line of strong to severe thunderstorms is forecast to impact our area this morning. Storms will be capable of producing damaging winds, hail, heavy rain, and isolated tornadoes.
Counties in the Tornado Watch include:
TORNADO WATCH 575 REMAINS VALID UNTIL NOON CST TODAY FOR THE
FOLLOWING AREAS

IN ALABAMA THIS WATCH INCLUDES 13 COUNTIES

IN CENTRAL ALABAMA

AUTAUGA               BIBB                  CHILTON
DALLAS                ELMORE                JEFFERSON
LOWNDES               MONTGOMERY            PERRY
SHELBY

IN WEST CENTRAL ALABAMA

HALE                  MARENGO               TUSCALOOSA

THIS INCLUDES THE CITIES OF...ALABASTER...BIRMINGHAM...BRENT...
CENTREVILLE...CLANTON...COLUMBIANA...DEMOPOLIS...FORT DEPOSIT...
GREENSBORO...HOOVER...LINDEN...LOWNDESBORO...MARION...MILLBROOK...
MONTGOMERY...MOUNDVILLE...PELHAM...PRATTVILLE...SELMA...
TUSCALOOSA...UNIONTOWN AND WETUMPKA.
Ahead of the approaching storms, the University of Alabama has opened three shelter locations on its campus. FOX 6 reports that the East and North Campus Storm Shelters and Magnolia Parking Deck Best Available Area of Refuge are available to students, faculty, and staff until the severe weather threat has passed.