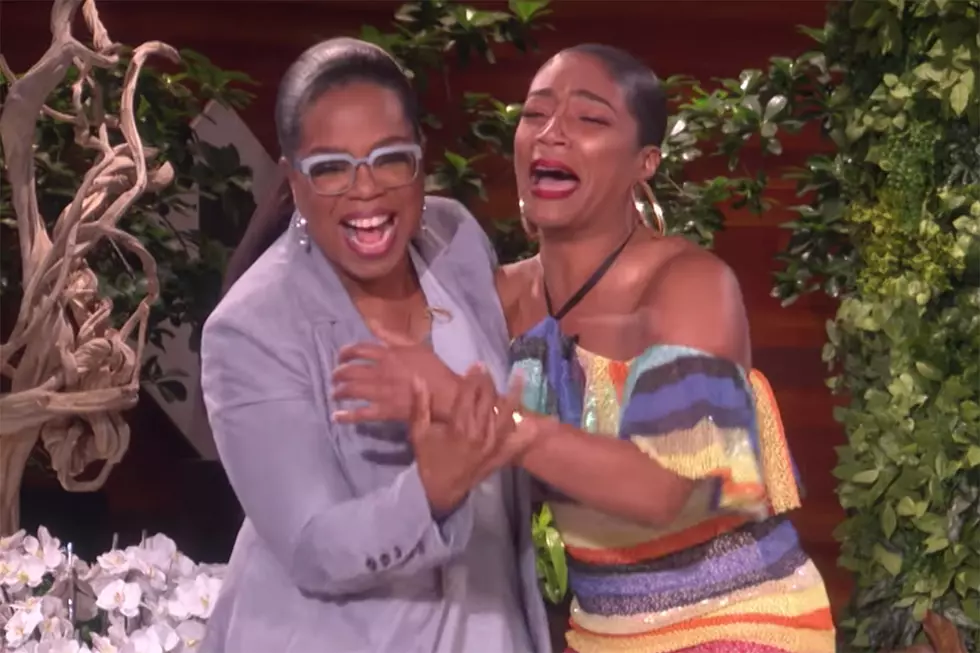 Tiffany Haddish Cries After Meeting Oprah Winfrey on 'Ellen'
The Ellen Show via YouTube
The media mogul surprised Haddish after the comedian explained how she met Winfrey earlier in her career when she was an extra on Their Eyes Were Watching God, a film Winfrey produced.
"She had walked by and I was making all the other extras laugh. ... She said, 'You're a very funny young lady.' I was like [eeeee!] and she said, 'What's your name?' I said, 'My name is Tiffany Haddish, and I'm a stand-up comedian,'" Haddish said of her encounter, which ended with Winfrey offering the 38-year-old to write letters to her.
"She never wrote back," Haddish continued, before DeGeneres brought Winfrey out to explain her reasoning. As the pair greeted each other, Haddish got emotional and began crying. "I love you," Haddish said to Winfrey with tears in her eyes.
"You're so good," Winfrey said, to which Haddish replied, "You told me that before in a dream." Haddish was then invited to show off her culinary skills to Winfrey and DeGeneres by making her recipe for collard greens.
Haddish, on Instagram, posted a photo she took with Winfrey backstage three times. "So just so yall know I posted it three times because I am that damn happy! Yes! Yes! Yes! I cried and yes I asked her to be my auntie! So all thanks to god for always coming thru you hear my prayers and answer accordingly amen!" she said.
Haddish was recently named as one of the lead voice actors for an upcoming, 10-episode Netflix animated comedy titled Tuca and Bertie. The series comes from the team behind Bojack Horseman and centers around a toucan and a songbird who live together in the same apartment building.
By Wade Sheridan, UPI.com
Copyright © 2018 United Press International, Inc. All Rights Reserved