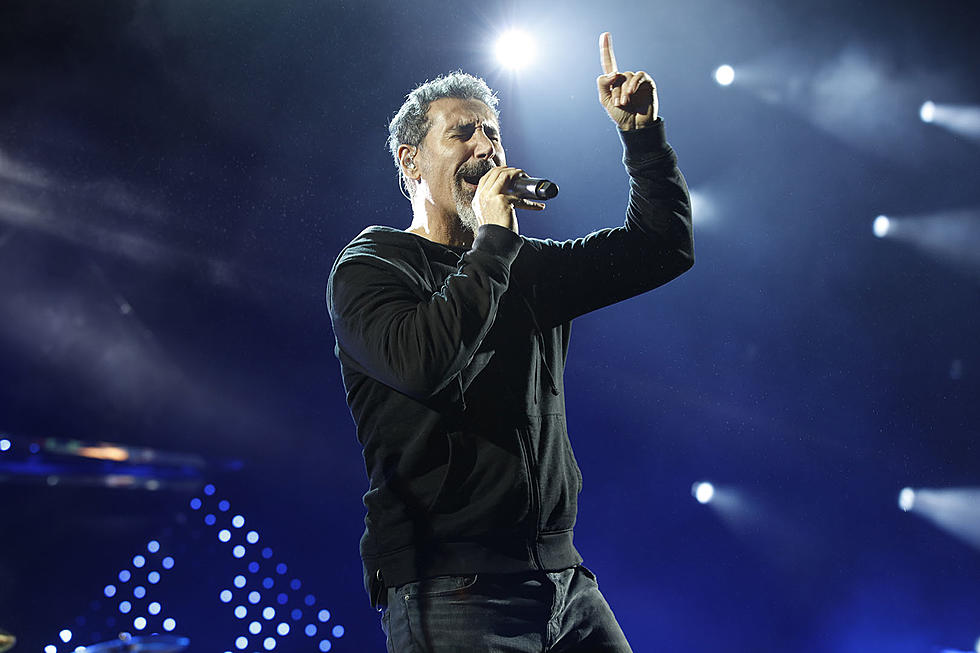 System of a Down Make First U.S. Appearance in Three Years in San Bernardino
Alex Kluft Photography
Welcome back, System of a Down. The veteran lineup made the most of their first U.S. show in three years, booking what essentially turned into a six-band festival at the Glen Helen Amphitheater in San Bernardino, Calif. on Saturday (Oct. 13).
The show, along with an Oct. 6 performance at Force Fest in Mexico, served as a bit of a warm-up for their headlining set at the Aftershock Festival in Sacramento today (Oct. 14). With a strong SoCal following, System made sure they didn't shortchange the crowd, performing a 30-song set to finish out the night.
Opening the performance, the band began the evening with "Innervision" from the Steal This Album disc, keeping the energy high with "Prison Song," "I-E-A-I-A-I-O," the "Soldier Side" intro and "B.Y.O.B." to follow.
Weather loomed over the festival for a good portion of the day, with a slight rain coming early in System's performance, but then holding off for the rest of the night. The raindrops didn't dampen the band's spirits however, as they appeared to be having fun onstage. At one point, guitarist Daron Malakian sang the first few verses of "Cigaro," before stopping and commenting to the crowd what a stupid song it was, eliciting some laughter from the crowd as well.
Other highlights included "Toxicity," "Chop Suey," "Lost In Hollywood," "Hypnotize," and "Spiders," with the band finishing out the night with the contrasting styles of the major hits "Toxicity" and "Sugar."
In addition to System of a Down, other acts on the bill included Calabasas' favorite sons, Incubus, the raucous rockers Clutch, the feverish energy of Texas-bred At the Drive-In, and something a little heavier to start the day with sets from Skeletonwitch and Pallbearer. Check out our photos from System of a Down and their musical friends playing San Bernardino's Glen Helen Amphitheater below.
System of a Down / Incubus / At the Drive-In / Clutch Photo Gallery
Watch System of a Down Perform "Chop Suey" in San Bernardino
Watch System of a Down Perform "Hypnotize" in San Bernardino
Where Does Serj Tankian Rank Among the Top 66 Hard Rock + Metal Frontmen of All Time?
Top 10 Weirdest System of a Down Lyrics