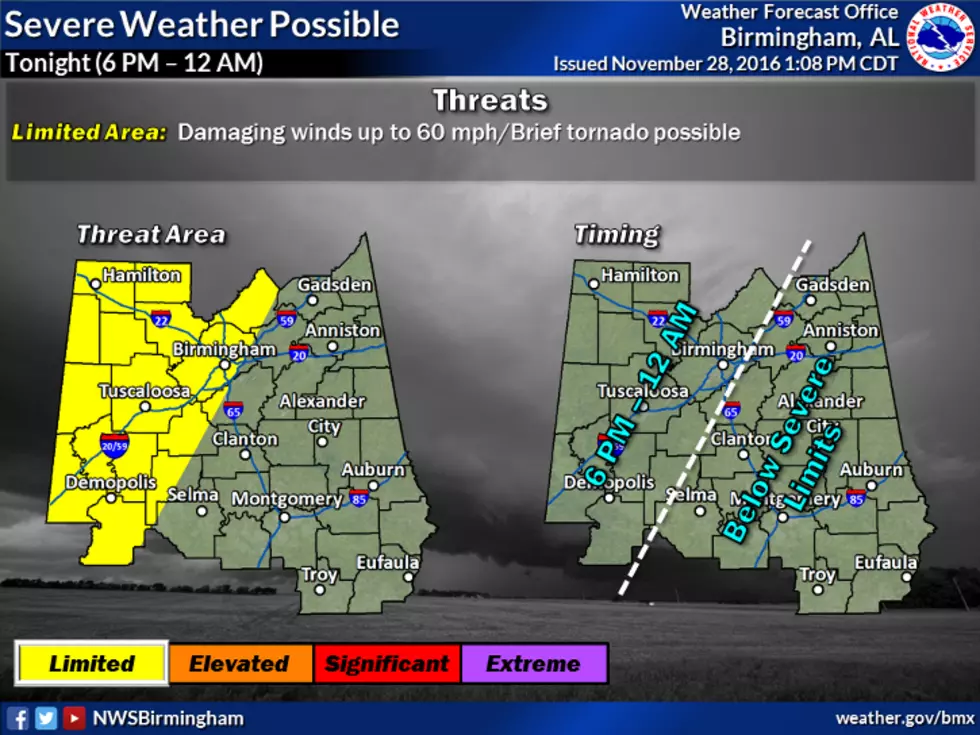 Severe Storms Likely This Evening and Tuesday Night [UPDATED]
NWS Birmingham
Storms will bring much-needed rain to West Alabama early this week; however, along with the rain comes the chance for all modes of severe weather--including tornadoes. 
The National Weather Service in Birmingham believes the first band of storms is expected to move through our listening area tonight between 6 p.m. and midnight. Primary threats from this line of severe storms will be damaging winds up to 60 m.p.h and tornadoes.
Round two will impact most of the State of Alabama, with the core threat for our listening area coming between 6 p.m. Tuesday and 6 a.m. Wednesday. This secondary storm system is believed to be a greater threat than the first; tornadoes will be possible along with damaging winds up to 60 m.p.h. and quarter-size hail.
ABC 33/40 Chief Meteorologist James Spann notes that this round of severe storms does carry a higher risk for tornadoes, writing on the Alabama Weather Blog:
"We note the STP (Significant Tornado Parameter) values rise to 2 units or higher over parts of North and West Alabama at midnight tomorrow night, so a few tornadoes are possible as well."
These storms are expected to bring heavy rainfall to our area, with portions of West Alabama receiving some of the highest rainfall totals. The National Weather Service in Birmingham currently believes Tuscaloosa could see over 3.5 inches of rainfall in the next three days.
A Wind Advisory is currently in effect for our area until 9 p.m. tonight; you can read the full text of that advisory HERE.