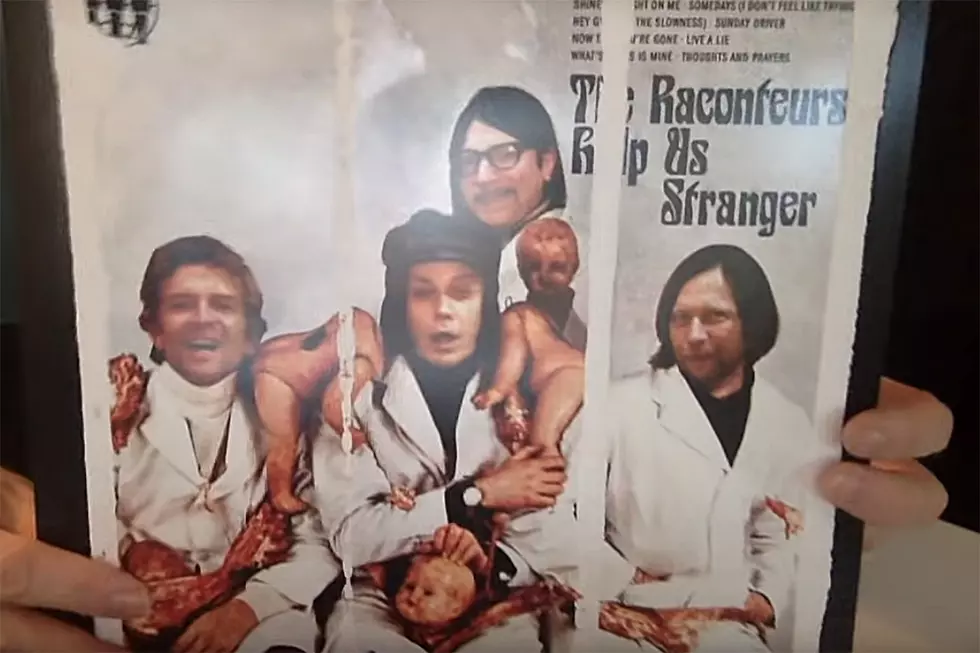 Raconteurs Pay Tribute to Beatles With Hidden Album Cover
YouTube
Fans have discovered that the limited-edition versions of the Raconteurs' latest album includes a hidden tribute to the Beatles.
The special vinyl edition of Help Us Stranger comes with a lenticular sleeve, which, when removed, reveals a spoof of the Fab Four's notorious Yesterday and Today "butcher cover" from 1966.
The heads of Jack White, Brendan Benson, Patrick Keeler and Jack Lawrence replace those of the Beatles on the cover, with White's Third Man Records logo replacing the Capitol brand and the new album's title rendered in the original typeface.
You can watch one fan tearing off the glued lenticular cover below.
"Raconteurs fans who thought they heard a hint of the Beatles embedded within the group's new album, Help Us Stranger, may have been more intuitive than they realized," Variety noted. "If you've always wondered whether White considers himself the Lennon or McCartney of the group, this pose may provide a clue: In this recreation, at least, he's Paul, and Brendan Benson is John. That positioning, though, may have more to do with White as the likely ringleader of this particular prank, just as McCartney was the motivating force behind the avant-garde Yesterday and Today art."
"Paul is my favorite Beatle," White told MTV in 2009. "He's been a big influence on me — especially the way that he sings. I heard a cover song they did early on called 'Hippy Hippy Shake' that Paul sang, and I loved how high he sang it. My voice isn't comfortable in that higher range, but that song was a big influence on me trying to get my voice somewhere like that."
Jack White Albums Ranked