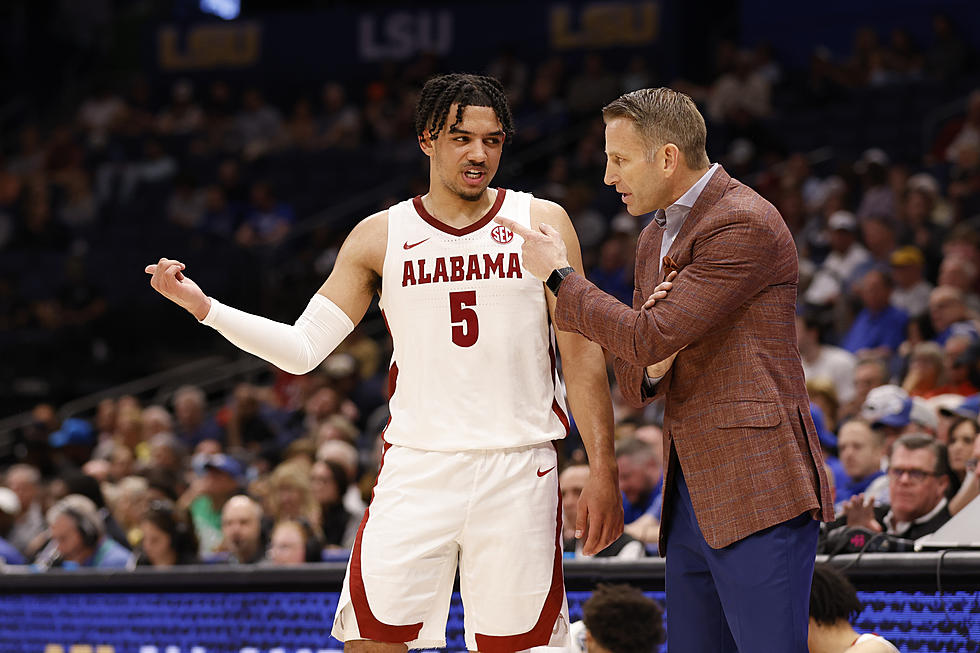 No. 6 Alabama Set For No. 11 Notre Dame in NCAA First Round
Jonathan Palmer
The No. 6 Alabama Crimson Tide now knows it will take on the No. 11 Notre Dame Fighting Irish in the NCAA Tournament first round. The Irish defeated No. 11 Rutgers 89-97 in 2OT in their First Four matchup in Dayton, Ohio on Wednesday night.
Alabama and Notre Dame will play at 3:15 p.m. CT on TNT in San Diego California. The Crimson Tide arrived in California on Tuesday, while the Irish flew in after their victory on Wednesday night.
The Crimson Tide enter the game as a 4-point favorite and features wins over No. 1 seeds Gonzaga and Baylor on the season, however Alabama is currently on a three-game losing streak.
Notre Dame finished the season tied for second in the ACC and boasted a home court victory over Kentucky in non-conference play. The Irish finished with 23 wins on the season but played the No. 67 strength of schedule according to KenPom.
The Irish's offensive efficiency rating through the season is 112.6, good for 27th in the nation, however Notre Dame's defensive efficiency is a different story. The Irish are allowing 98.9 good enough for 97th in the country.
Sound familiar? It should.
Alabama's offensive efficiency this year is 116.1, good for 15th best in the nation, but similarly to the Irish, Alabama's defensive rating is 98.7, just ahead of Notre Dame at 94th in the nation.
Basketball fans should expect a wide open game on Friday afternoon in Viejas Arena with both teams loving to utilize the 3-point shot. The victor will likely be decided by which team can make shots when the opportunities present themselves and who can get more stops defensively.
Alabama and Notre Dame are 2-2 all-time in basketball with the Crimson Tide winning the last matchup by one point in 2015.
The game will be live on TNT or can be heard locally on 95.3 The Bear and Tide 100.9 FM beginning at 2:15 p.m. CT.
Alabama Basketball All-Time Scoring Leaders
10 Underrated Soul Food Restaurants in Tuscaloosa, Alabama
PHOTOS: Alabama Celebrates #18