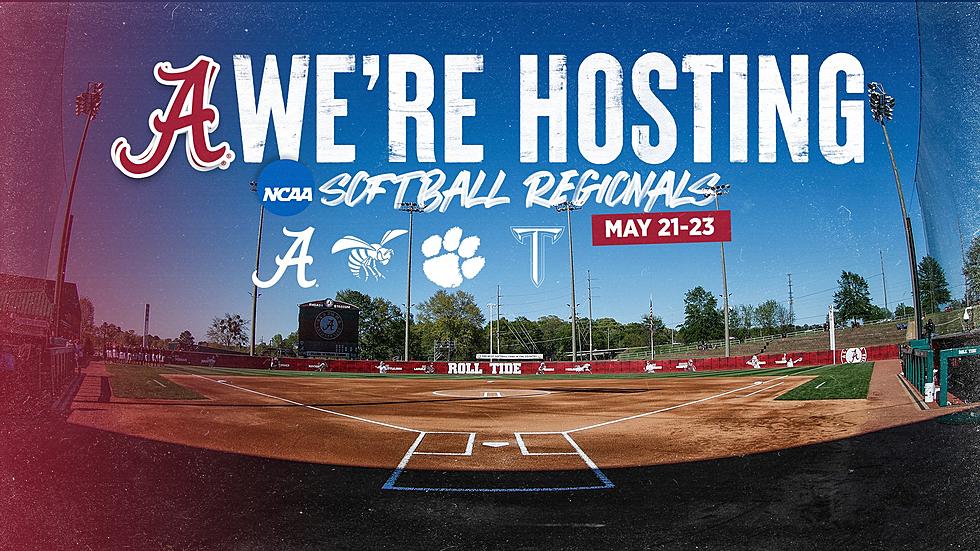 No. 3 Alabama Softball Prepares for Tuscaloosa Regional
(Photo credit to Alabama Softball via Twitter)
Rhoads Stadium will play host to the Tuscaloosa Regional this weekend as the No. 3 seed Alabama Crimson Tide (45-7) prepares to take on the first of it's NCAA Softball Tournament opponents.
The reigning SEC tournament champs will take on the Alabama State Hornets (19-27), who earned an automatic bid after winning the Southwestern Athletic Conference tournament. The other teams selected for the regional include the Troy Trojans (36-15), and the ACC regular season champion Clemson Tigers (42-6). 
Alabama already has wins over Alabama State and Troy from earlier this season. The Crimson Tide run-ruled the Hornets twice during the regular season by scores of 10-0 and 11-3. The Trojans kept it closer in their matchup with Alabama in the preseason, losing 2-0. 
Alabama's seeding marks 22-straight postseason invitations for the program, dating back to 1999. Additionally, the Crimson Tide have been a top-16 seeded team every year since 2005, winning every regional they have been in since then. The Crimson Tide have also recorded a 40-game win streak in the regionals since 2007. 
The winner of the Tuscaloosa Regional will take on the winner of the Lexington Regional, which features the likes of No. 14 Kentucky, Notre Dame, Miami (OH), and Northwestern. The team that emerges victorious from the Super Regional advances to the Women's College World Series. The Crimson Tide and the Wildcats are two of 12 SEC teams featured in the NCAA Tournament, the best of any conference in NCAA Softball. 
Catch Alabama's first regional game against the Hornets on Friday, May 21 at 5 p.m. CT on the SEC Network, or listen in on Praise 93.3.
Men's Basketball's Career Leaders in Made 3-Pointers
7 Fast Food Restaurants We Need in Tuscaloosa