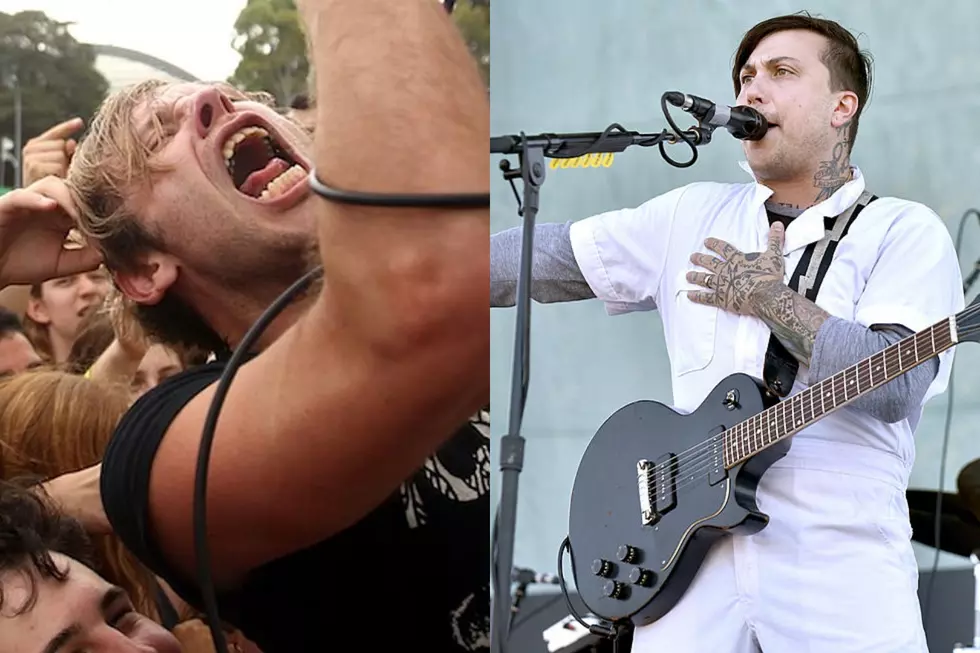 My Chemical Romance Guitarist to Perform With Thursday for Livestream
Mark Metcalfe, Getty Images; Tim Mosenfelder, Getty Images
As part of the Signals V1 virtual festival, Iero will fill in for Thursday guitarist Tom Keeley, with And So I Watch You From Afar and Cursive also set to appear.
"I am honored and beyond excited to have been asked to play with my extended family, @thursdayband , and fill in for the very talented @tom_keeleyiii," Iero said on Instagram.
"Tom is unfortunately not able to travel in from out of state due to the mandatory quarantine restrictions put in place by NY and NJ," he continued. "I will do my best to honor Tom's incredible guitar playing and do these songs the justice they deserve in his absence. Getting to play songs that I have been a fan of for years, some of which I even got to witness being written at our shared practice space in Passaic Park, is surreal and a total dream come true. I can't wait to play with my friends and beam it all to you in your homes around the globe."
Signals V1 replaces a previously canceled tour that was set to feature Thursday, And So I Watch You From Afar and Cursive, before the coronavirus pandemic intervened.
Tickets and related merch items can be purchased via livefrom.events/thursday, but Thursday have also made a limited number of tickets and even some merch available for fans who are currently struggling financially.
"We do realize that times are tough right now and with that in mind, we are offering up a number of complimentary tickets and complementary merch items for the unemployed," the band says. "Your boys will even cover the postage! We would ask that you abide by the honor system and keep the free tickets and the free merch for those that need them most. Be excellent to each other."
Signals V1 takes place place Aug. 19 at 4PM EST.
13 Emo Albums With No Bad Songs
Emo Albums With No Bad Songs