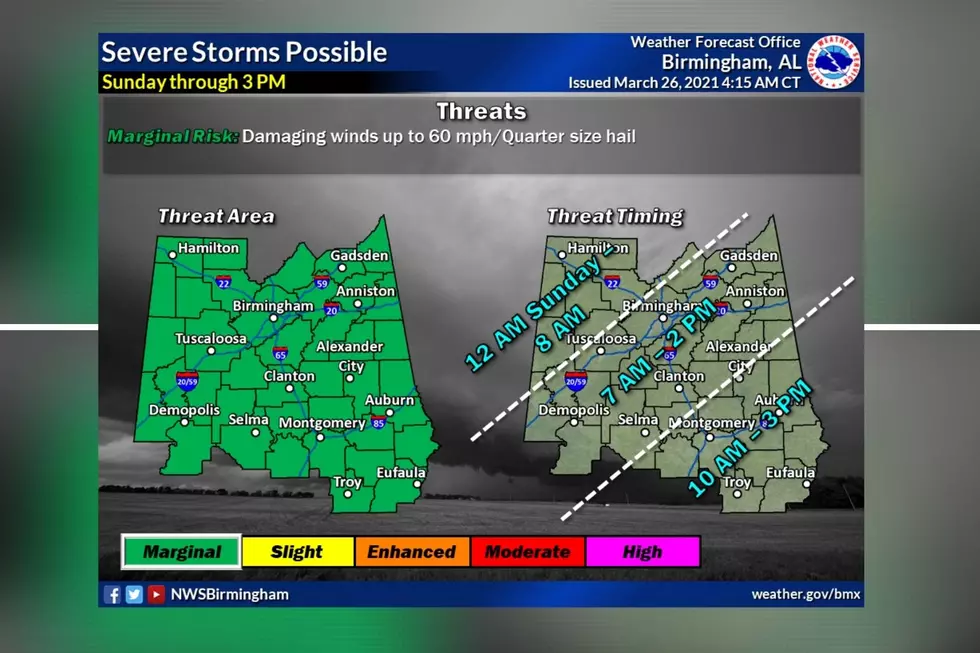 Likely Severe Weather for Central Alabama Saturday Night, Sunday
National Weather Service
Alabama was struck with a deadly and destructive severe weather outbreak on Thursday, March 25, 2021. The previous week, the Yellowhammer state was hit with a tornado outbreak on Wednesday, March 17, 2021. The 2021 Severe Weather season, which runs from March until May, has caused much impact in its first month.
Now, we are monitoring a system that can bring severe weather on late Saturday night (March 27, 2021) during the overnight hours, and through Sunday afternoon (March 28, 2021). This system will be moving northwest to the southeast. The primary threat will be large hail and damaging straight-line winds.
As always, I like to stress that weather information does change. Also, we will bring you any updates as information develops. The weather has many variables. It is always to stay weather alert, especially during severe weather season.
In Birmingham, the National Weather Service notes that a "cold front will move through Central AL late Saturday night through Sunday afternoon. Conditions appear marginally conducive for a few severe storms during that time."
Area
All of Central Alabama
Marginal Risk
Damaging winds up to 60 miles per hour
Quarter size hail
Timeframe for our coverage area
Midnight until 2 pm
James Spann, ABC 33/40, and Townsquare Media Tuscaloosa Chief Meteorologist noted on Facebook that the "Thunderstorms Saturday night and Sunday will be capable of producing some hail and strong, possibly damaging winds. Based on the forecast wind fields, the tornado threat is low. Rain amounts over the weekend will be around one inch for most places the ground is saturated, and a few isolated flooding issues can't be totally ruled out."
(Source) Click here to follow the Facebook Page for James Spann. For more from the National Weather Service Birmingham, click here.
Ways to Receive Severe Weather Information
KEEP READING: Get answers to 51 of the most frequently asked weather questions...