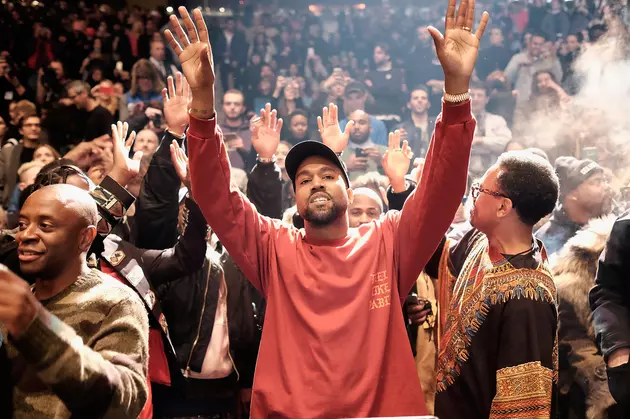 Kanye West Is No Longer in Debt
Dimitrios Kambouris, Getty Images
Kim Kardashian took another stab at sending the Internet off its orbit Monday (Mar. 8) when she posted a fully nude (and censored) selfie to Instagram. Naturally, there was a mixed reaction to Kim's full frontal share, with some viewing the post as another attention grab and an unnecessarily provocative one at that. But Kim is no novice in the game of flexing and throwing shade, and after some of the dust settled, she jumped on Twitter to offer an additional salvo, dispelling any notion that Kanye West is a financial hole in the process.
"Sorry I'm late to the party guys I was busy cashing my 80 million video game check & transferring 53 million into our joint account," she wrote, referencing the $53 million debt Kanye allegedly had from pursuing his music making and fashion-oriented dreams over the years.
But, adopting some of her husbands Twitter habits of late, Kim continued to tweet in response to the many responses her selfie received, going at actresses Bette Midler and Chloe Grace Moretz in the process. Midler initially took a shot at Kim, writing, "Kim Kardashian tweeted a nude selfie today. If Kim wants us to see a part of her we've never seen, she's gonna have to swallow the camera." None too amused by the joke, Kim let this two piece ring off: "hey @BetteMidler I know it's past your bedtime but if you're still up and reading this send nudes #justkidding" and "hey @BetteMidler I really didn't want to bring up how you sent me a gift awhile back trying to be a fake friend then come at me #dejavu."
She didn't stop there, though, writing to Moretz, "let's all welcome @ChloeGMoretz to Twitter, since no one knows who she is. your nylon cover is cute boo." For the record, Moretz joined Twitter in November of 2009, though her 2.11 million followers may be a days work for Kim.
Check out all of Kim's Twitter activity below.
See 40 Hip-Hop Albums Turning 20 in 2016