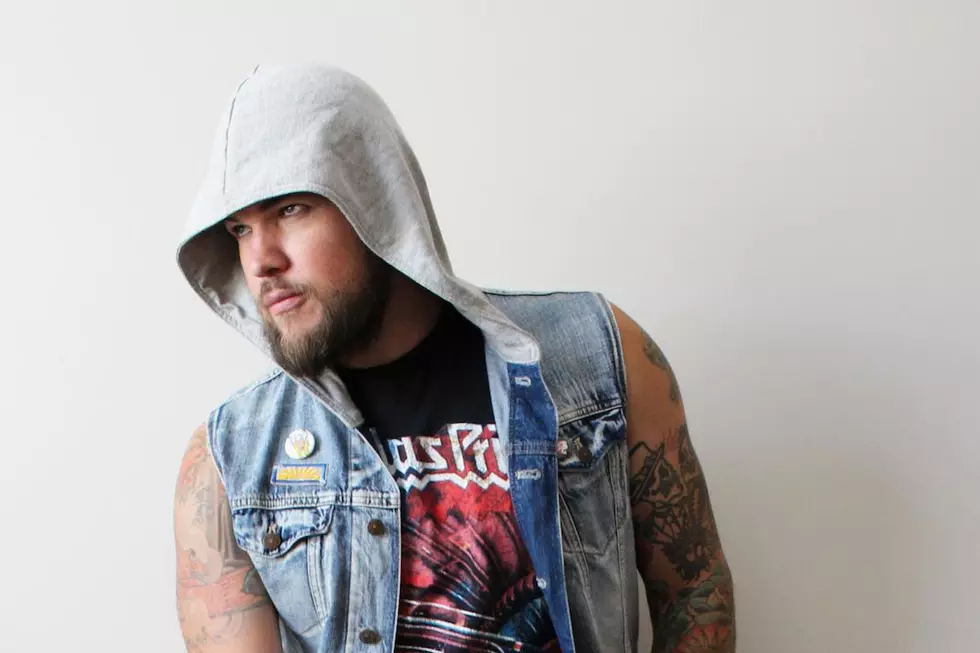 James Durbin's 10 Favorite Rock + Metal TV Performances
Frontiers Music SRL
Heavy metal singer and one-time 'American Idol' contestant James Durbin has formed a brand new band, simply dubbed Durbin. The debut album, 'The Beast Awakens,' is an ironclad homage to metal's classic New Wave of British Heavy Metal era, which finds the frontman in peak form and will leave you convinced this must be some long lost gem that was inexplicably left in the vaults of a long-defunct indie metal label from nearly 40 years ago. We'll always appreciate Durbin's willingness to bring metal to the mainstream on 'American Idol' and have invited him to share his favorite rock and metal performances on television.
Greetings, rock & metal fans!
Those who are familiar with me know that I came to prominence on 2011's Season 10 of the reality singing competition show, American Idol, where I unabashedly waved the flag for metal and performed with the likes of Zakk Wylde and Judas Priest.
In the 10 years since my fourth place finish, I've released four solo albums, multiple side projects and singles, performed alongside my heroes and am on the verge of releasing my latest album of classic heavy metal, The Beast Awakens, with my new band Durbin.
So, let's get this thing kicked off — and in no particular order because they're all amazing!
'The Beast Awakens' comes out on Feb. 12 on Frontiers Music SRL. Get your copy here and follow James on Facebook, Twitter, Instagram and Spotify.
Singing Sammy Hagar's "Heavy Metal" with Zakk Wylde

'American Idol' Season 10

I have so many great memories of this performance.

The theme that week was "Songs From Movies," and I chose Sammy Hagar's "Heavy Metal" from the 1984 cult cartoon of the same name.

I had recently become friends with Chris Jericho who was on Dancing With The Stars and happened to film in the adjacent studio. Knowing Chris and Zakk were close, I asked the Idol producers if they would allow Zakk Wylde to accompany me on guitar on the condition that I handled booking him. They said yes, and I did the work to make it happen — thanks to Jericho and Zakk's wife Barbaranne.

To make things more memorable, that same week I got the honor of being someone's Wish through the Make A Wish Foundation. In the video you'll see me high-five and dedicate the performance to my buddy Cole.

Aerosmith on Wayne's World

SNL - Feb. 17, 1990

If Wayne and Garth aren't enough, you've got the almighty Aerosmith (with Joey Kramer playing tambourine to Garth's drums lol). And if that is not enough, you've got Tom Hanks as Aerosmith's roadie — aka Garth's cousin Barry!

Since seeing this video, I don't think I've done a single sound check without saying, "Check, check one, sibilance, sibilance. Check 2, sibilance..." Still not worthy.

Caleb Johnson Slays Whitesnake's "Still Of The Night"

'American Idol' Season 13

I first got to know Caleb during "Hollywood Week" of Season 10 when we were in the same group during Group Rounds before he was cut.

He would continue to audition every season for the next three years, each year getting a little farther until he hit his stride on the show's 13th season and rode it all the way to the finish line. A killer vocalist and an even better dude who I've been a fan and champion of ever since.

Singing With Judas Priest at the American Idol Finale

Not only was this a dream come true, making American Idol history and bringing heavy metal to the masses, this was also guitarist Richie Faulkner's debut performance with the band.

Earlier in the day, I got to play dress-up and try on Rob Halford's stage coat when Jack Black happened to walk in (he would perform later that night with my fellow contestant Casey Abrams). I asked Jables if he'd like to try it on next and of course he did!

Two of my favorite pictures I have are of me crowning Jack Black in this moment with my own Halford-esque military hat and one of Rob Halford, Glenn Tipton, Richie Faulkner, Ian Hill, Scott Travis, Jack Black and myself all posing in the sacred name of heavy metal.

Green Day at the iHeart Radio Music Festival

2012

I put this one in here because it's just legendary.

Some bands wouldn't care to have their set cut short, because they're still getting paid the same either way. The fact that Billy Joe genuinely gives a shit enough to use that last minute to let the people know, shows exactly how much they care.

I am glad that Billy Joe got the help he needed following this raw display of drunken anger and pure punk rock adrenaline.

Ghost Perform "Cirice"

'The Late Show with Stephen Colbert'

The commitment that Tobias Forge gives to Ghost always shows in everything they do. This isn't just a band playing on TV — it's a theatrical performance piece that just so happens to be wrapped in a shiny, Satanic outer shell.

Iron Maiden's "Run To The Hills" by Erik Grönwall

'Swedish Idol' - 2009

Before I had auditioned for American Idol in 2010, I'd wondered if anyone had brought metal to any of the other Idol franchises around the world and that's when I found Erik Grönwall.

His run and eventual win on Swedish Idol was a huge influence on me and what I brought to the American Idol stage. Since 2012 Erik has fronted the Swedish rock band H.E.A.T.

Eric Church Disturbs the Peace With "The Outsiders"

2013 CMA Awards

I vividly remember sitting in the living room watching this performance with my jaw dropped. First off, I am a big fan of Mr. Church and rank his live show as one of very best in the business. This performance shows why. Smoke, fire and raw rock 'n' roll energy from start to finish.

Imagine Dragons Play "Demons" and "Radioactive"

2013 American Music Awards

My wife Heidi and I were in the audience for this performance after I walked the red carpet, did press and debuted a new single that day. These guys elevated the bar so high that night, that no performance before or after them was anywhere near their passion and energy.

Judas Priest "Dreamer Deceiver" and "Deceiver"

Live On BBC's 'Old Grey Whistle Test'

I'll finish of this list of favorites with a more recent favorite of mine, from 1976, where Judas Priest perform this perfect rendition of "Dreamer Deceiver / Deceiver" from their album Sad Wings Of Destiny. Summer of 2020, the year of our Lord, Voldemort, I realized the complete power that is this album and it has taken its rightful place as my favorite album, front to back.

Here, we are able to witness one of my favorite bands at such an early stage. This performance inspired me to listen to the whole album, which inspired me to write my own album — Long Live Heavy Metal!