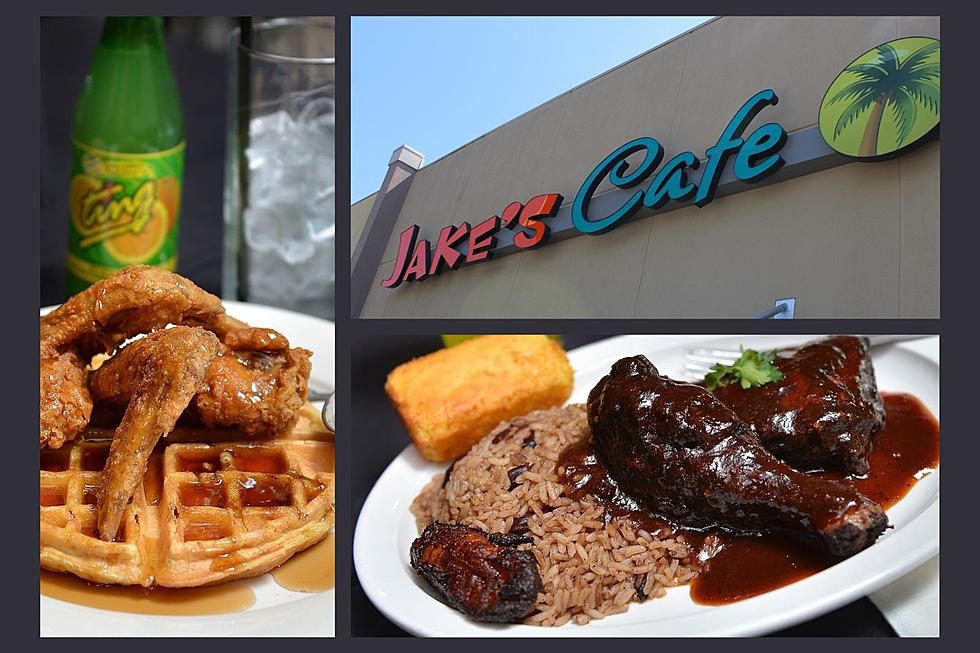 Hoover Favorite Jake's Café Bringing Soul Food & Caribbean Cuisine to Tuscaloosa
(Stephen Dethrage | Tuscaloosa Thread and Photos from Facebook)
A Hoover restaurant specializing in soul food and Caribbean cuisine will soon offer their made-from-scratch oxtails, Jamaican jerk chicken and more here in Tuscaloosa.
New signage heralding the arrival of Jake's Café is up on McFarland Boulevard above the former Hwy 55 Burgers, Shakes & Fries, which opened in Tuscaloosa in 2016 but closed after its owner allegedly set fire to it deliberately in 2018. The strip mall there also includes a Dunkin' coffee shop and a T-Mobile store.
Teresa "Ree Ree" McLaughlin, the executive chef, general manager and co-founder of Jake's Café, told the Thread Monday that she and her brother Sean Simmons partnered up almost 10 years ago to launch the brand at a small shop in Pelham, which they named after his father Jake.
Around a year later, they moved into the Hoover location, where Jake's has been in business and growing in popularity for nearly a decade.
Now, management is moving to open their second location here in the Druid City.
"For years, we've had a lot of people that actually drive from Tuscaloosa to come to our Hoover location just to try Jake's out, and they have always asked us about coming up that way," McLaughlin said. "With the University and schools up there, we just decided to venture out and try this area out, so that's what we're doing."
McLaughlin said management had to gut a lot of the fire-damaged Hwy 55 space and build it out again to fit their needs, but said the new restaurant ought to be open sometime between July and August.
She said newcomers to Jake's should try the Kingston Combo, which comes with Jerk Chicken, Curry Chicken, three Oxtails, rice and peas, a plantain and a piece of cornbread -- a true sampling of their Caribbean cuisine.
Alternatively, Jake's also offers a mouth-watering menu of southern soul food classics including fried chicken wings, catfish, pork chops, macaroni & cheese, collard greens and much more.
McLaughlin said she spent 14 years working at Chick-fil-A in North Carolina before her family launched Jake's almost a decade ago and that the learning curve was steep as she learned the difference between a fast food franchise and a locally owned scratch kitchen. Now, though, things are humming.
"It took me a while but I think I've got it now!" she laughed. "I came from fast food, where all I had to do was say 'Put me down some chicken filets, I need 14, right now, drop 'em in the grease!' This is really different. We've got to clean and chop the chicken and marinate the chicken, we're actually cooking collard greens, we're making mac and cheese from real noodles and cheese! Really putting all the recipes together and making it work has been mind-blowing for me because I had never done anything like this before."
To taste the difference yourself, make plans to check out Jake's Cafe at 3615 McFarland Boulevard East when they open later this summer.
For more as they get closer to opening here and for tons of other exclusive stories on restaurant and retail development in the area, stay connected to the Tuscaloosa Thread.
Restaurants and Retailers Who Opened, Announced or Moved in 2023
A running list from the Tuscaloosa Thread of all restaurants and retailers who have opened, announced plans to come to the area or relocated so far in 2023.
Top Stories from the Tuscaloosa Thread (5/15 - 5/22)
11 of the Top Stories published by the Tuscaloosa Thread during the week of May 15th, 2023.