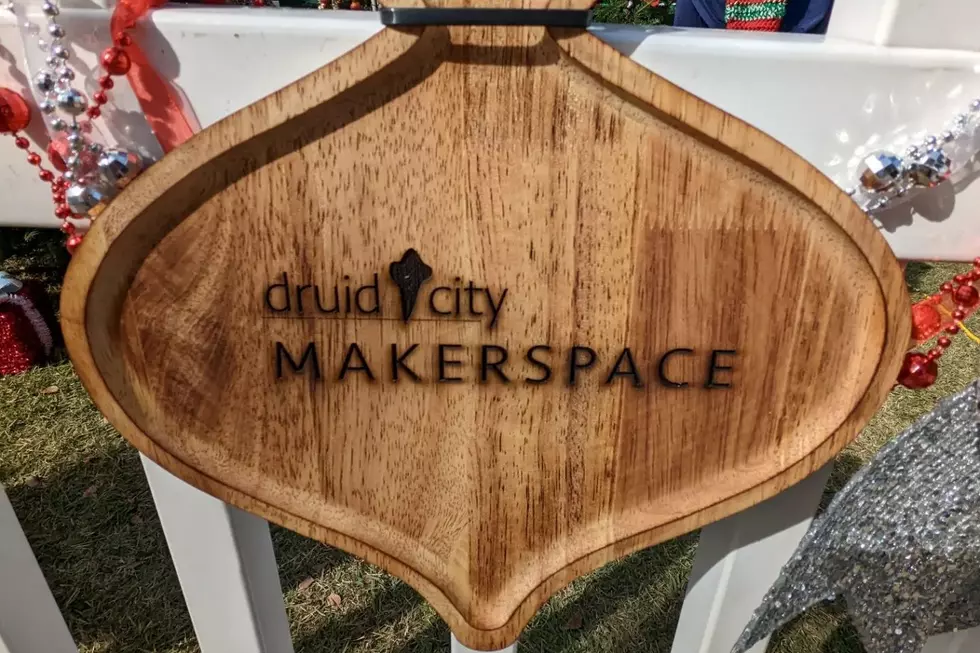 Druid City Makerspace, A Hobbyist's Heaven, Coming Soon to Downtown Tuscaloosa
(Druid City Makerspace)
A haven for hobbyists looking for the tools, material and space to create unique things will open in downtown Tuscaloosa next month.
The Druid City Makerspace is the brainchild of Tiffany Amirkhanian and her husband Armen, who moved to Tuscaloosa five years ago to teach civil engineering at the University of Alabama.
In an interview with the Thread Friday morning, Tiffany Amirkhanian said she has been a stay-at-home mom for years, raising the couple's three children. With the youngest soon to start Kindergarten, though, Tiffany started thinking about getting back into the workforce.
When she met Armen, she was a middle school teacher in Illinois but said she didn't see herself getting back into education. Instead, the couple decided to turn what began as a "late-night pandemic conversation" into an entrepreneurial experiment unlike anything the Tuscaloosa area has seen in recent memory.
"Armen said he was concerned that some of his students at UA are just in class and in their dorms and there is really no creative outlet for them," Amirkhanian said. "I've crocheted since college and that's kind of my stress reliever, my hobby, and I said we need to get these students a place to do hobbies, too, and we decided we wanted to create that place and decided it would be a good fit for the community, too."
Oversimplified, the Druid City Makerspace looks to create an almost gym-style space where patrons can work their creative muscles. With a day pass or a monthly or annual membership, folks will be able to get access to dozens of tools to which they may not otherwise have access.
"We have 3D printers, we have two laser-cutting engravers," she said. "We have everything you need to do stained glass.[...] We have a bunch of sewing machines, we have small-scale work working tools -- a scrollsaw, bandsaw, a mini-lathe that would be good for making pens or smaller bowls. We're working on getting two pottery wheels and a kiln."
The funding for the pottery wheels was actually secured when Amirkhanian impressed at last month's River Pitch, a Tuscaloosa-area Shark Tank-style competition where dozens of entrepreneurs pitched ideas and 10 received cash prizes to move those ideas forward.
"We have a heat press for mugs, t-shirts and hats, vinyl cutters for silhouettes and button presses to make your own pins," she continued. "We'll have everything you need to print a picture then make a frame, including matting, and frame up your own pictures and work."
The Makerspace will also feature a loft area lined with coaches for a quiet but public area for studying, knitting, crocheting and more.
"It's a little intimidating at first and overwhelming because there are so many options, but if you tell me a hobby, I can kind of direct you on how to use these tools and technology for that hobby," Amirkhanian said.
Some consumable materials, like plastic filament for the printers, glass and wood supplies will be available on-site and sold nearly at cost for those who need them, but makers are also welcome to bring their own materials if they are compatible with the tools in the shop.
The Makerspace is being set up now at 409 23rd Avenue in the heart of downtown Tuscaloosa between Gnemi's Top Shelf Tavern and the Filling Station, where Momma Goldberg's Deli used to be.
The Amirkhanians expect to open in the second week of January, Tiffany said.
"We're really, really getting excited to open up and see what the community can come in and make and do, and we will definitely listen and respond to what they want," she said. "We want to hear what people want to do, find a way to offer that and just see what they can create here."
For more exclusive stories on the restaurant and retail beat in West Alabama, stay connected to the Tuscaloosa Thread.
Tuscaloosa Restaurants and Businesses That Opened in 2022
New Year... New Tuscaloosa restaurants and businesses! 2022 welcomed in some great spots for shopping, good eats and business in the Druid City area.
Here are 18 restaurants and businesses that have opened since the start of 2022.
Top Stories from the Tuscaloosa Thread (11/21 - 11/28)
12 of the Top Stories published by the Tuscaloosa Thread during the week of November 21st, 2022.