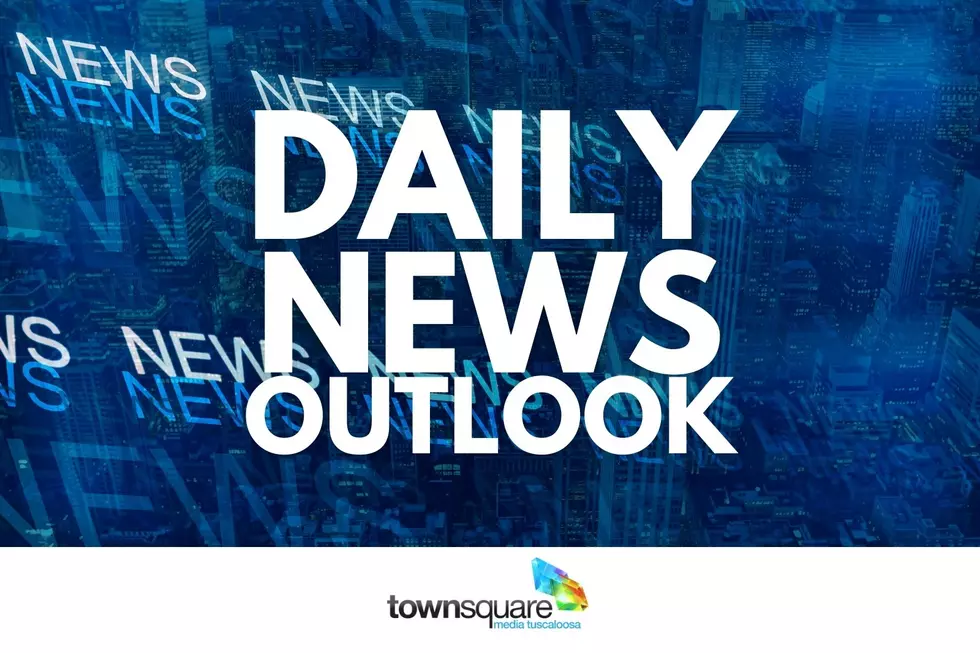 West Alabama Friday Briefing
Canva
It is Friday, September 22, 2023, the last full day of summer. The first day of autumn begins at 1:50am CDT tomorrow morning. It is beginning to look like fall as leaves yellow, and some are already falling but that is not because of season, it is the dryness. All of West Alabama us under abnormally dry conditions according to the National Drought Monitor.
There could be some help on the way for those of us having to put extra time into watering plants and yards. There are small chances for precipitation beginning Sunday night and running through all of next week.
The Forecast:
Today: Sunny, with a high near 88. Northeast wind around 5 mph.
Tonight's High School Football Friday: Mostly clear, with a low around 60. Northeast wind around 5 mph becoming calm in the evening.
Crimson Tide Football Saturday: Sunny, with a high near 89. Calm wind becoming north around 5 mph in the afternoon.
Saturday Night: Mostly clear, with a low around 61. North wind around 5 mph becoming calm.
Sunday and Sunday Night: Mostly sunny during the day with a high of 88. Sunday night there is a 20% chance of rain beginning after 1am with a low around 63 degrees.
The New Work Week: Small chances of rain each day with highs in the low to mid 80s and lows in the lower 60s.
---
---
Topping the News:
The U.S. Supreme Court is expected to soon rule on Alabama's request to let it keep new GOP-drawn congressional lines in place. The state is fighting a three-judge federal panel's plan to create a second majority-Black district, or something close to it, in the Deep South state. AG Steve Marshall and lawyers representing Black voters who challenged the map gave different interpretations in court fillings this week of whether Alabama blatantly defied justices' June decision in the case.
---
Eutaw's Mayor Latasha Johnson said a "Class Day Out" event held by Dangerous Divas Social and Saving Club, over the past weekend went great on the field, but she claims the after-party inside the city's community center got out of hand with a 10-dollar admission fee with all the drinks you wanted. She told news partner ABC3340 that is not legal Authorities say some minors were served alcohol.
---
David Ewing and his wife Dawn drive more than 12 miles to get water from a free flowing artesian well, spending two hours filling a 200-gallon tank because he can't get it from the City of Marion, in Perry County, even though they live in the city. Neighbor Vincent Smith told CBS affiliate WAKA that Ewing is a disabled veteran. Ewing claims to have made repeated attempts to contact Marion officials to no avail.
---
Tuscaloosa County District Attorney Hays Webb is asking Judge Daniel Pruet to rule, for an immunity hearing, on any evidence or testimony that should be excluded and not related to former Bama Basketball player Darius Miles's state of mind during a fatal shooting in January.
Miles and a childhood friend Michael Lynn Davis are charged with capital murder in the January shooting death of 23-year-old Jamea Harris on Grace Street, just off "The Strip".
---
Alabama ranks eighth in the nation in the number of car/train collisions at rail crossings. There were 87 last year and the state is on track to exceed that number this year. ALEA Trooper Sgt. Jeremy Burkett tells us Alabama is participating the national Operation Clear Track campaign to reduce the number of preventable crashes. Our neighbor, Mississippi ranks 25th in rail crossing crashes.
---
Earlier this week two Hillcrest students were charged with bringing unloaded guns to school, but the week ends on a high note for the Patriots. The school is the first recipient of the Excellence in Education Award. The award was presented by the nonprofit Britto Foundation at ceremonies conducted at the Northport Civic Center. Lt. Gov. Will Ainsworth was the keynote speaker.
---
Nearly 200 union employees at a Tuscaloosa automotive plant continue to strike in demand of higher wages and better healthcare. The workers at ZF Chassis Systems supply engine components to Mercedes Benz U.S. International in Vance and are members of the United Auto Workers union's Local 2083 chapter. This strike is not associated with the UAW strike against the big three automakers.
---
According to a notice from the City of Northport, next Tuesday 32nd Street in Northport will be closed for utility repair work. The closure will run from 8:00am until 1:00pm.
---
United Way of West Alabama has presented the Homer S. Butler, Jr. "Agency of the Year" award to Child Abuse Prevention Services of Tuscaloosa. The presentation was made by UWWA Board Chair Jheovanny Gomez.
---
---
In Sports: 
Alabama is a 6.5-point favorite to beat Old Miss tomorrow afternoon at Bryant-Denny Stadium. That is down a full point from the opening line of 7.5-points early in the week.
Many of the national sports talk shows are putting the Crimson Tide on upset alert for tomorrow's game.
---
There is a full slate of prep football action across the area tonight, including Holy Spirit at Lynn, TA traveling to Lamar County, Gordo visiting Tarrant, Northridge hosting Paul Bryant, Northside at Haleyville, undefeated Hillcrest on the road at Brookwood, undefeated Bibb County traveling to Sipsey Valley, Tuscaloosa County visiting Oak Mountain, Holt welcoming Dallas County, ACA visiting Hale County and Central home to Mcadory.
---
The Ole Miss at Alabama football game is on CBS tomorrow afternoon with kickoff at 2:30pm. Fortunately for many Alabama fans the contract dispute that has kept CBS 42 from airing on U-verse has been resolved.
For those still experiencing an outage on their carrier, there are several live streaming services available for download.
---
Have a ROLL TIDE Weekend!!