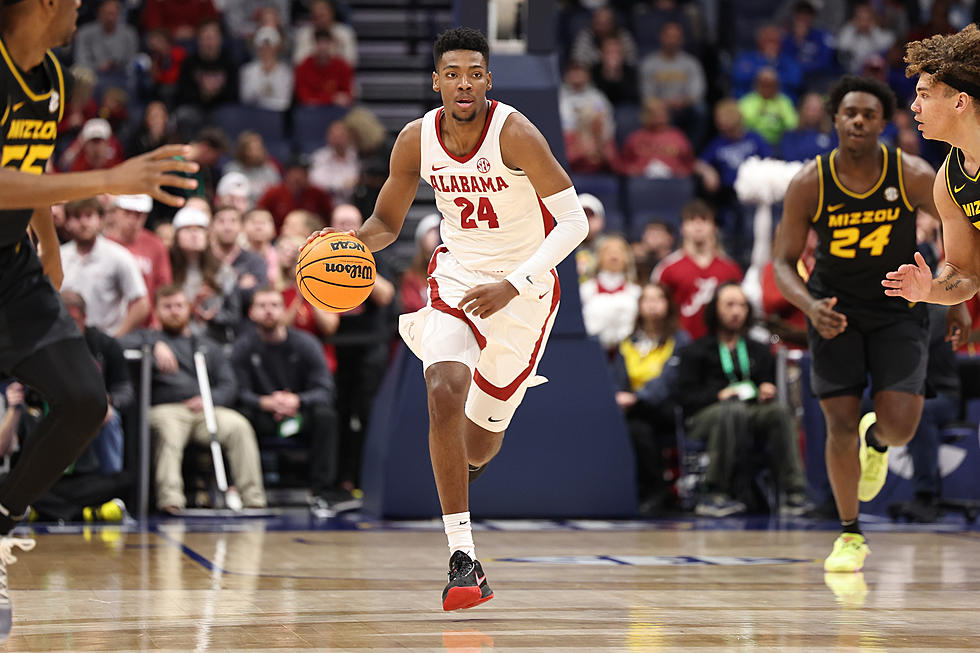 Alabama Advances to SEC Championship By Defeating Missouri Saturday
Crimson Tide Photos / UA Athletics
The Alabama Crimson Tide advance to the SEC Championship game on Sunday after defeating the Missouri Tigers 72-61. The Tide held the Tigers to just 34% from the floor and methodically handled its business on the offensive end to advance to the finals for the second time in three years.
The Crimson Tide was as usual led by freshman superstar Brandon Miller who scored 20 points and nabbed 12 rebounds. 16 of his points came in the second half as the Tide was working hard to maintain its lead over the Tigers.
Miller wasn't the only freshman playmaker to shine in the semifinals. Noah Clowney scored 19 points and was 3-of-6 from behind the arc to supplement Miller's scoring effort.
The Tide was 8-of-27 from behind the arc in the contest but shot a whopping 6-of-12 in the second half from deep, giving Alabama the edge it needed to advance to Sunday's championship game.
Bama's Charles Bediako went a perfect 5-for-5 from the field for 10 points and five rebounds for his second strong game in a row in Nashville.
It wasn't all perfect for Alabama as the Tide turned the ball over 17 times to the Tigers, allowing head coach Dennis Gates's squad to hang around.
Bama's 44-28 rebounding edge, 40-30 points in the paint edge and 18-10 edge in the assists category tells the story of how the Tide was able to maintain control of the contest, but there's still more work to do if Alabama wants to celebrate its second double championship in three seasons.
Alabama will take on the winner of No. 2 seed Texas A&M and No. 6. Vanderbilt on Sunday at 12 p.m. CT for the SEC Championship. The Crimson Tide defeated the Commodores in both regular season matchups this season but fell to the Aggies in the regular season finale.
Alabama falls to Texas A&M in College Station to Close Regular Season
Sights and scenes from Alabama's loss against Texas A&M
Alabama Men's Basketball's 2023 Recruiting Class
Pictures of Alabama Men's Basketball's 2023 Recruiting Class. Alabama's 2023 class is ranked 12th in the nation.
Alabama v. Arkansas - 2/25/23
Photos of Alabama's February 25th game against the Arkansas Razorbacks