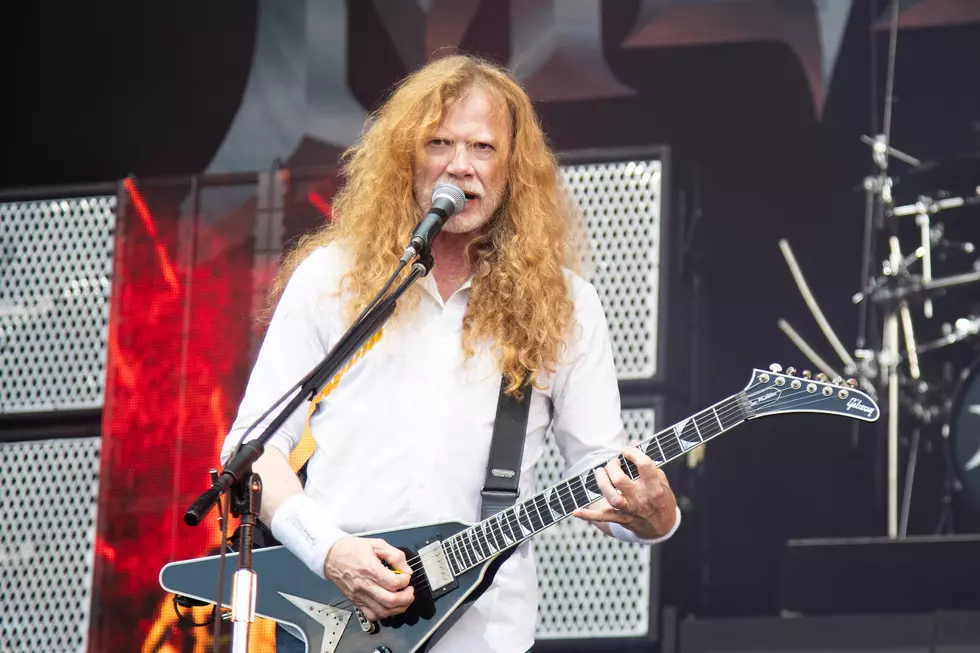 Dave Mustaine Says Only a Few Former Megadeth Members Have a Problem With Him
Joseph Okpako, WireImage/Getty Images
Megadeth have had many members since their formation in 1983, with founder Dave Mustaine being the only constant one ever since. Despite this, though, the frontman has said that only a few of his former bandmates have animosity toward him.
The current lineup of Megadeth consists of James LoMenzo, Dirk Verbeuren and Kiko Loureiro, in addition to Mustaine. Loureiro, however, recently had to take a leave of absence from the group to tend to personal matters at home with his family, so Teemu Mäntysaari is filling in for him on the current tour. Overall, though, Megadeth have had over 20 different musicians play in the group at one point or another, and Mustaine weighed in on the band's history of revolving members during an episode of Riff X's Metal XS.
"I think you've gotta look at the whole story because people that get fired are very rarely happy that they got fired. Sometimes they're happy they got fired because they didn't want to have to quit but they don't wanna work there anymore, and they needed a reason to quit," the rocker said.
"We've had a lot of people that have been playing with us over the years and we've maintained our friendships. And there are a couple that are very bitter, and usually the story has been played out in the press from when it happens in reality and then how long a person will keep bringing up those old stories," he continued.
Mustaine implied that the "bitter" ex bandmates most often talk negatively about him and Megadeth when they have their own endeavors going on that they're trying to promote, such as a new album or a tour with a different band.
"I just figure, a dog with no teeth barks the loudest, right? So, I don't really let people that complain about us or talk shit about our performance abilities or the songs that we write matter," he remarked.
The frontman said that with most of the former Megadeth members he's maintained a friendship with, they were able to have a conversation about why their position in the band didn't work out. He noted that he has or had a good relationship with and misses Gar Samuelson, Nick Menza, Chris Poland, Chuck Behler and praised Jeff Young skills as a performer. Furthermore, he acknowledged that he had Marty Friedman performed together recently.
"So, you have to look at the guys that are talking badly about me and say, 'Okay, there's more to this story.' 'Cause if you go up to Jimmy DeGrasso or to Al Pitrelli or any of those guys, I'm sure they'd say the same thing, that we had a good run together," Mustaine continued. "I got a get-well message from Shawn Drover when I had made the announcement that I had cancer. I only know of maybe one or two people from our past that have any problems with our band. And usually they won't say anything about the other guys, they'll say it about me."
READ MORE: The 10 Biggest Rock + Metal Bands With the Most Lineup Changes
Later in the episode, Mustaine touched a bit upon Loureiro's situation.
"What's best for Kiko is what's best for us right now. It's important that my guys... we care about him and we want to do what's right for him, as awkward as that is for us. I think the fans will understand too."
See the full video below. Megadeth's next show is Sept. 27 in Bloomington, Ill. You can see the rest of the dates on their website.
Dave Mustaine Says Only a Few Former Megadeth Members Have a Problem With Him
12 Awesome Rock + Metal Bands With No Original Members Left
No originals? No problem!