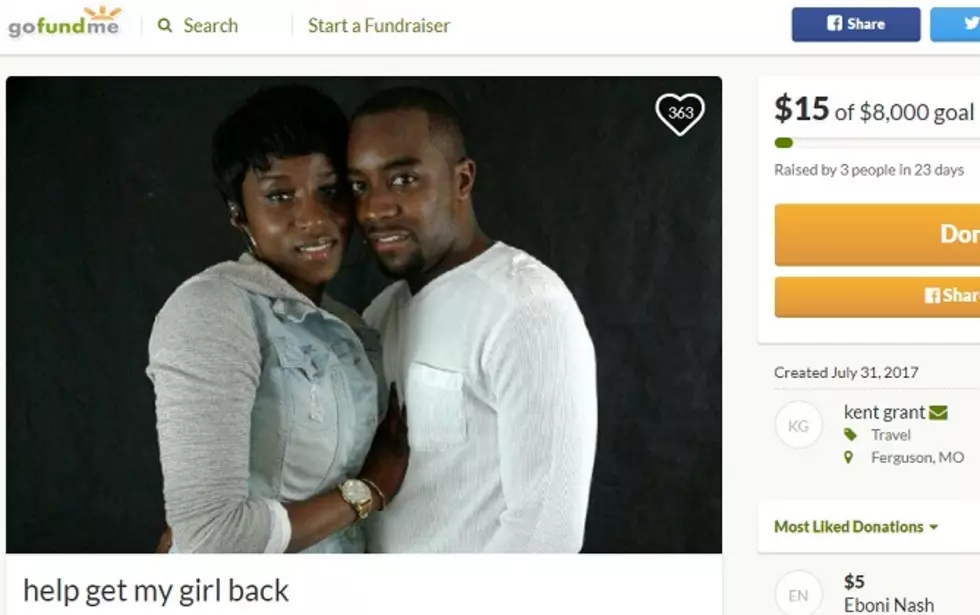 Guy's Campaign to Rekindle His Romance Backfires
(Credit: Kent Grant/Go Fund Me screenshot)
We've all seen crowdfunding campaigns that we thought were frivolous, ridiculous, or simply a lack of responsibility, but this one just might take the cake! And those who commented gave no mercy!
Hopefully, this was simply for the sake of researching the effectiveness of crowdfunding and seeing if people really care about the cause when making donations or the first step in kicking off a comedy career.
Kent Grant of Ferguson, Missouri writes:
I'm in the dog house once again. This time I really messed up and I don't know how to get out of this one. I would love to apologize to my girl with a couples trip. She never been outside of st.Louis and I will love to take her to another city and let her enjoy herself and in hopes of her taking me back as her man... I truly miss her and love her with all my heart. "She is my heart in human form and my best friend"
He was hoping to accumulate $8,000, which he said he planned to use to take "his girl" away on a couples trip.
Somehow, the comments on the post have disappeared.  Luckily, a few screenshots were grabbed before it happened.
Looks like he was successful in collecting $15 of the $8,000 goal in the 23 days since the campaign began.  He may not be able to take her on a trip out of St. Louis, but he can definitely take her to lunch to try to talk through their differences.