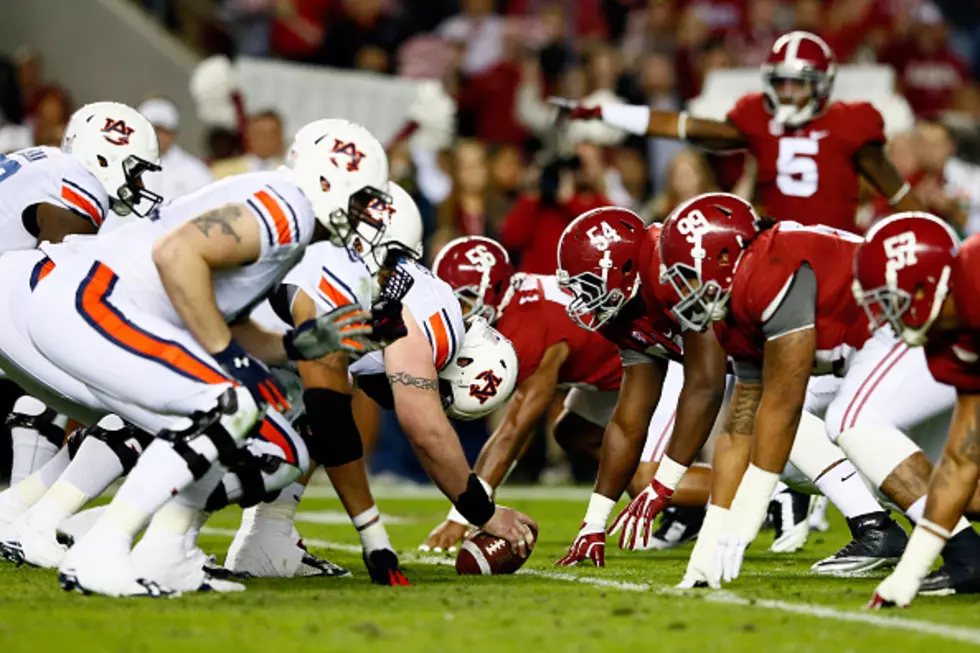 Even in 2020, Stakes Still High for Iron Bowl
Getty Images
Even in a year filled with drastic changes and uncertainties, one thing that has remained constant is the importance of the Iron bowl. 
With the release of the week 13 AP Poll, the Iron Bowl is confirmed to be a top 25 matchup when No. 1 Alabama and No. 22 Auburn meet in Bryant Denny Stadium this Saturday. Alabama sits atop the SEC West standings, with Auburn only two spots below them at third. 
A loss to Auburn could drastically hurt Alabama's chance to make the College Football Playoff, however a win here could solidify their playoff case even barring an unforeseen loss in the future. Auburn on the other hand needs to win out against Alabama, Mississippi State, and Texas A&M in order to earn a chance to make the SEC championship. 
Aside from the normal motivators like bragging rights and proving football supremacy, both teams have outside motivation to win this game.  This is a revenge game for the Crimson Tide who were upset 48-45 in Jordan-Hare stadium last year, effectively eliminating their playoff hopes. For the Tigers, Auburn is 2-3 against Alabama during the Saban era when the Crimson Tide is ranked as the No. 1 team in the country, and would like nothing more than to wreck their bitter rival's playoff chances.
Alabama stayed undefeated and ranked at No.1 nationally after their 63-3 drubbing of the Kentucky Wildcats yesterday The Crimson Tide are now the unanimous first place team, earning all 62 first place votes . Auburn improved to 5-2 after overcoming a slow start to beat the Tennessee Volunteers 30-17. The win pushed them one spot forward to No. 22. 
Auburn head coach Gus Malzahn has yet to beat Nick Saban in Tuscaloosa, and the record between the two coaches since Malzahn's hiring in 2013 is 4-3 in favor of Saban. 
The spread for the game is Alabama -25 points, the largest point spread since the 34 point spread back in 2012 that ended in a 49-0 Alabama victory. 
Yesterday ESPN College Gameday announced the Iron Bowl would be the site for the show in week 13, making it the second time this season Tuscaloosa was chosen for a Gameday broadcast. The game will be broadcasted on CBS at 2:30 C.T. , or listen in to Tide 100.9 for complete coverage.
Enter your number to get our free mobile app