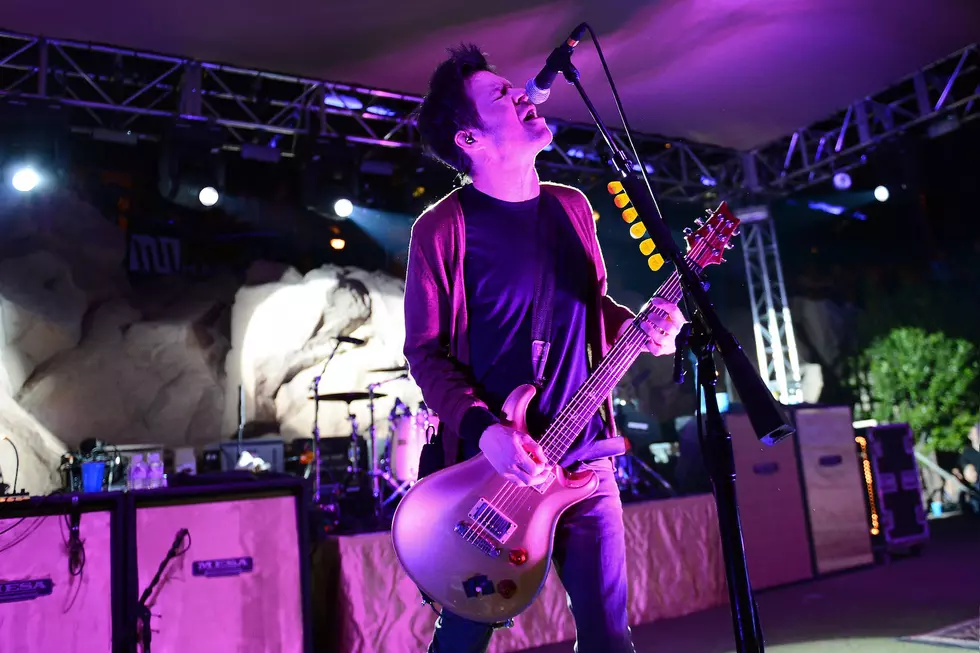 Chevelle Track Eight Songs for More Melodic New Album
Ethan Miller, Getty Images
Things are moving forward for Chevelle, who after getting down to business on a new record earlier this summer have a significant number of tracks being finalized for their upcoming follow-up to The North Corridor.
Singer Pete Loeffler spoke with KCAL 96.7's RadioActive Mike Z, sharing an update on their next disc. "We have eight songs tracked with our buddy Joe Barresi," stated Loeffler, who revealed the songs were in the process of being mixed for the new album. "We have a few more to do depending on how long we want to make it. There's some heavy stuff, there's some lighter stuff."
He went on to elaborate that he wrote about 25 songs, but Barresi, who is now working with the band for their fourth straight album, helped to narrow that number to the eight best.
"We went really dark on the last two [albums], really heavy and more metal," Loeffler stated. "That's personally where I like to be and I want to live onstage, but this record [Barresi] was like, 'Let's try to do some melodic stuff,' so I went down that road."
The singer continued, "There's about four songs I'm trying to pick between for the first single and they're on the melodic side, but there's one that comes out of the gate heavy as balls. It's got a working title called 'Mars' right now. It's all about jumping on board with Elon Musk and heading there. I'm fascinated with space travel and it's intoxicating the more you find out about it. There's a lot of that content on this album lyrically."
Earlier this year, drummer Sam Loeffler told us, "I know for Pete one of the things that was inspiring him was the idea of populating another planet, going to Mars. There's been a lot of talk about that and there's a lot of debate about whether we should do it and why would should do it and all of that is interesting to us. So there's a little bit of a theme, I'd say interplanetary or Earth vs. Mars or anything that goes into it, because it's so interesting to think that there are people signing up by as far as I know by the hundreds to get on a rocket ship and go to Mars and never come back to Earth or never have anything that they know from everyday life."
Chevelle just announced more dates that help them fill out the rest of the year touring. However, these dates will be the final shows for some time with bassist Dean Bernardini involved as the musician revealed over the weekend that he'll be taking a break from the group after their 2019 trek concludes. So be sure to get out to one of the shows and get your tickets taken care of here.
Check out more of Pete Loeffler's chat with RadioActive Mike Z., including discussion of skateboarding, La Gargola beer and the rocker's remembrances of Chris Cornell and Dimebag Darrell in the player below.