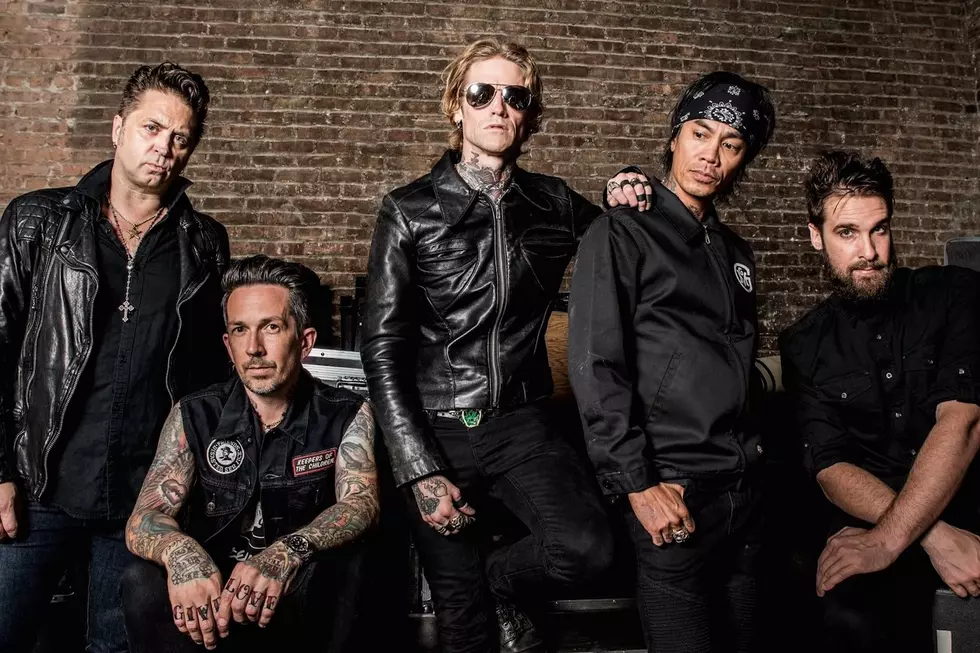 Buckcherry Announce 2019 North American Tour Supporting 'Warpaint' Album
Courtesy of Buckcherry
Buckcherry have set March 8 as the release date for their eighth studio album, Warpaint, and will hit the road on an extensive North American tour just before the record drops.
"After spending all fall recording our new album Warpaint, we are excited to play these new songs along with all of the Buckcherry favorites on the road throughout all of 2019," commented frontman Josh Todd.
The trek, which also features rising rockers Joyous Wolf, begins on March 6 in Sacramento, Calif. and will finish up two months later on May 5, circling the U.S. and parts of Canada before returning to California to close it out in Montclair.
See the full list of stops below and for information on VIP packages, head here.
"Good things come to those who wait and we have been very patient and thorough with the song writing for Warpaint, we took into consideration all the factors and what this record means to not only us but the great Buckcherry fans around the world," Todd said of the album. "This record takes the listener on an unforgettable journey and I'm very proud of it."
Buckcherry will also embark on a second leg from May through September, but those dates have yet to be revealed.
Buckcherry 2019 North American Tour Dates
Mar 06 - Sacramento, Calif. @ Ace of Spades
Mar 08 - Vancouver British Columbia @ Hard Rock Casino
Mar 10 - Edmonton Alberta @ Century Casino
Mar 11 - Calgary Alberta @ Palace Theatre
Mar 13 - Winnipeg, Minn. @ Burton Cummings Theater
Mar 15 - La Crosse, Wis. @ Brickhouse
Mar 16 - Effingham, Ill. @ Effingham Performance Center
Mar 17 - Chesterfield, Mich. @ Diesel
Mar 19 - Grand Rapids, Mich. @ The Intersection
Mar 20 - Dayton, Ohio @ Oddbodies
Mar 22 - Palatine, Ill. @ Dirty Nellies
Mar 23 - Lexington, Ky. @ Manchester Music Hall
Mar 24 - Pittsburgh, Penn. @ Jergel's
Mar 26 - Foxboro, Mass. @ Toby Keith's
Mar 28 - Jim Thorpe, Penn. @ Penns Peak
Mar 29 - New York, N.Y. @ Irving Plaza
Mar 30 - Hampton Beach, N.H. @ Wally's
Mar 31 - Poughkeepsie, N.Y. @ The Chance
April 02 - Newport News, Va. @ Boathouse
April 04 - Scottsdale, Ariz. @ Arizona Bike Week - Westworld of Scottsdale
April 07 - Jacksonville, N.C. @ Tarheel
April 09 - Atlanta, Ga. @ The Loft
April 11 - Greenville, S.C. @ Firmament
April 12 - Knoxville, Tenn. @ Cotton Eyed Joe
April 13 - Tampa, Fla. @ Fergs Live
April 14 - Jacksonville, Fla. @ Surfer Bar
April 16 - Pensacola. Fla. @ Vinyl
April 17 - Ft Lauderdale, Fla. @ Culture Room
April 19 - Memphis, Tenn. @ Graceland Soundstage
April 20 - Houston, Texas @ Warehouse Live
April 22 - St. Louis, Ill. @ Pops
April 23 - Springfield, Mo. @ The Complex
April 24 - Angola, Ind. @ The Eclectic Room
April 26 - Ft. Smith, Ariz. @ Temple Live
April 28 - Colony, Texas @ Lava Cantina
April 30 - Colorado Springs, Colo. @ Studio
May 01 - Denver, Colo. @ Harry's Hideaway
May 03 - Salt Lake City, Utah @ The Royal Bar
May 04 - Las Vegas, Nev. @ Brooklyn Bowl
May 05 - Montclair, Calif. @ Canyon Club
2019's Most Anticipated Hard Rock + Metal Albums