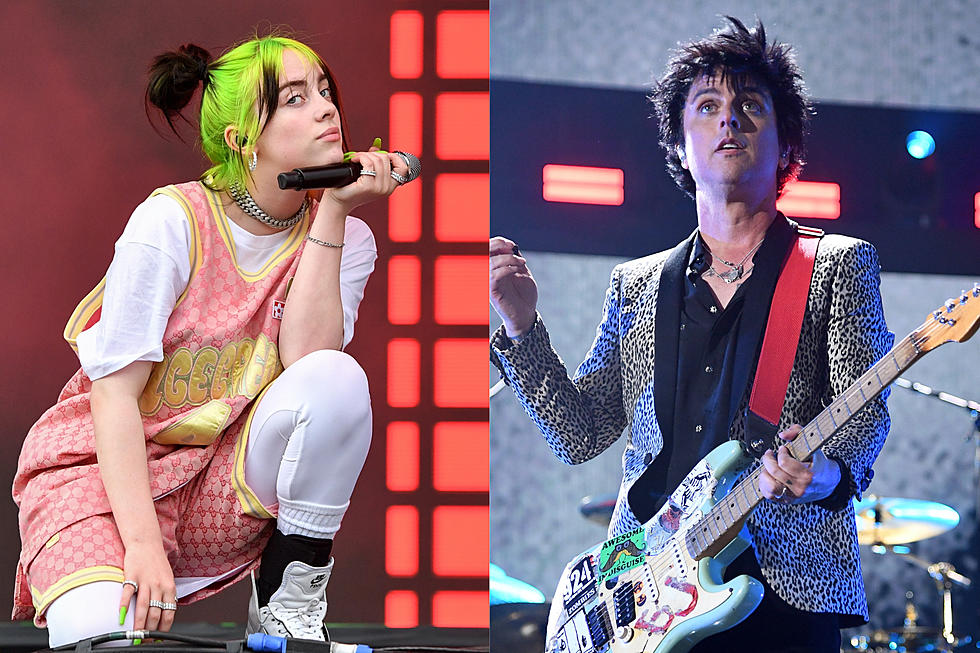 Billie Eilish's Favorite Green Day Song Isn't Sung by Billie Joe Armstrong
Erika Goldring / Kevin Mazur, Getty Images
Not only is pop star Billie Eilish's favorite Green Day song a hidden track — but it's also not led by the band's frontman and principal songwriter, Billie Joe Armstrong. That's just one of the exciting points revealed in a new sit-down interview between the "Bad Guy" singer and the veteran guitar slinger.
Indeed, Eilish cited "All by Myself" as her fave Green Day cut when Rolling Stone offered her the question in the "Musicians on Musicians" chat published Tuesday (Oct. 29). As longtime Green Day fans are aware, the secret song from 1994's Dookie (included as a hidden track on the original CD release) is a humorous, acoustic number penned and performed by drummer Tré Cool. Watch a video of one portion of Eilish and Armstrong's joint interview down toward the bottom of this post.
"Oh, that's Tré Cool!" Armstrong resounded when hearing the singer's choice of favorite Green Day song. "I know it is!" Eilish returned. Added Armstrong of the tune seemingly an ode to masturbation, "That's a dirty little song."
But Armstrong himself has still supplied Eilish with plenty of inspiration, it seems. Elsewhere in the interview, the 17-year-old singer told the 47-year-old rocker of her awe in witnessing a clip that shows the Green Day vocalist performing crowd control in a particularly aggressive manner.
"There's a video that's the hardest shit I've ever seen," Eilish recalled to Armstrong. "There was somebody in the crowd doing something, and you just jump on the person in the crowd. That was the hardest, most gangster shit. Like, what made you be so dope?"
To wit, Armstrong provided further vision to Eilish as the background image on her phone's lock screen at one point in time, as it's revealed in another section of the discussion among the pair.
Eilish: I can't believe I'm in the room with the guy who was my wallpaper.

Armstrong: I was your wallpaper?

Eilish: Yeah, on the lock screen on my phone.

Armstrong: Oh, that wallpaper. Awesome!
Billie Joe Armstrong + Billie Eilish, Rolling Stone Interview (Oct. 29, 2019)
Green Day, "All by Myself" (Dookie hidden track)