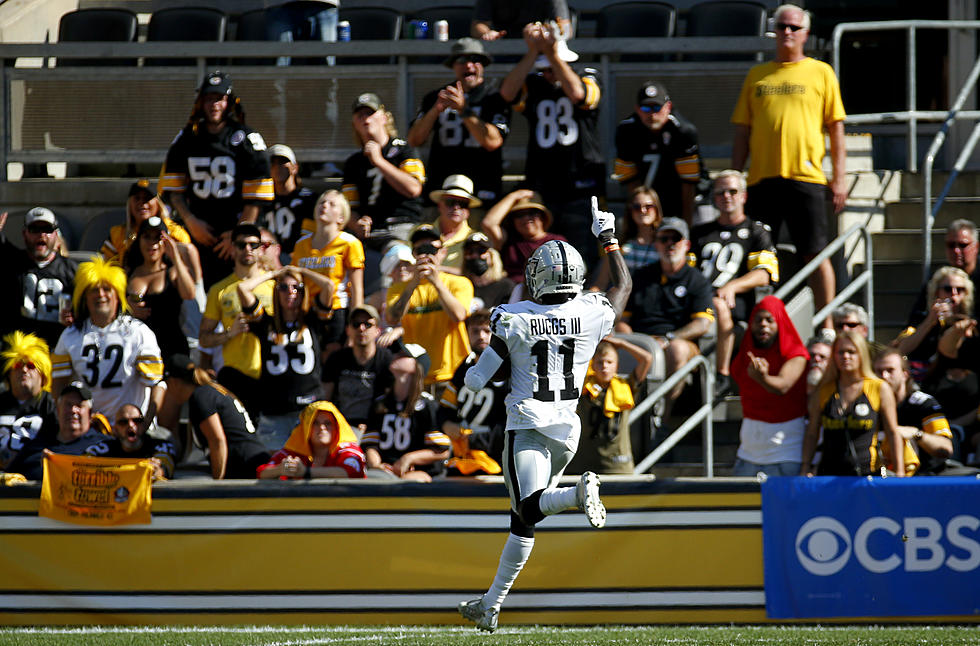 Best Crimson Tide Performances from NFL Week Two
Getty Images
NFL week two is in the books and with it came some incredible performances from Alabama's best. All around the league, the Crimson Tide made its mark.
From Anthony Averett and Marlon Humphrey forming one of the league's most feared cornerback duos in prime time, to Derrick Henry getting back to form in a comeback win, here are your best Crimson Tide performances from NFL week two.
Anthony Averett, CB Baltimore Ravens
As stated previously, Anthony Averett is a key piece to what is quickly becoming one of the NFL's top cornerback duos. On Sunday night in prime time against Patrick Mahomes and the Chiefs, Averett finished the night with five tackles and a pass deflection, but most importantly combined with fellow Ravens cornerback to hold the Chiefs' top receivers, Tyreek Hill and Mecole Hardiman, to just 79 receiving yards and no touchdowns in a win.
Levi Wallace, CB Buffalo Bills
Levi Wallace was a key piece in Buffalo's shutout of the Dolphins on Sunday, recording two tackles and two pass deflections and also adding an interception, his fifth of this career. The fourth year cornerback, despite going undrafted in 2017, has found his place in Buffalo and is emerging as one of the division's most respected at the position
Marlon Humphrey, CB Baltimore Ravens
Marlon Humphrey redeemed himself on Sunday night after a tough week one performance that saw him give up the game winning touchdown.  The fifth year corner finished the night with just four tackles and a pass deflection, but as mentioned earlier, Humphrey and his cornerback partner, Averett, held two of the NFL's fastest players to under 100 receiving yards in a winning effort, which, by all standards, is a performance worthy of this list.
Patrick Surtain II, CB Denver Broncos
Patrick Surtain, II in just his second game in the NFL, was excellent. The rookie cornerback helped to hold the Jaguars receiving core to just 118 yards as a unit and finished the game with four tackles and hauled in the first of many career interceptions, just like his father did in 1998 when he played in his second ever career game as a rookie. The future is extremely bright for this Broncos secondary which features another former Crimson Tide player that had a spectacular night.
C.J. Mosley, LB New York Jets
Although the Jets were shutdown on Sunday in a 25-6 loss to the Mac Jones led Patriots, C.J. Mosley was a dominant force in the middle of the field. The seventh year linebacker finished the game with an incredible 10 tackles and a pass deflection. Although this is a Jets team that will likely struggle this season, Mosley is a bright spot on an otherwise rough defense.
Kareem Jackson, SS Denver Broncos
As an eleven-year NFL veteran, Kareem Jackson continues to make plays and perform at an extremely high level. Jackson was all over the field against the Jaguars, daring their rookie quarterback, Trevor Lawrence, to throw into his coverage. He finished the game with six tackles, a pass deflection and an interception, making Lawrence pay for not finding him before throwing to the sideline.
Derrick Henry, RB Tennessee Titans
Derrick Henry, or King Henry as he is known, got back to form on Sunday, rushing the ball 35 times for 182 yards and three touchdowns in a come from behind win against the Seahawks who, going into the matchup, were 52-0 when leading by at least 15 at home. Henry and the Titans, down 24-9 at halftime, surged back in the second half behind Henry's rushing attack to beat Seattle in overtime.
Trevon Diggs, CB Dallas Cowboys
Trevon Diggs continues to be a star for the Cowboys at the cornerback position. He showed on Sunday, again, just what makes him so dominant in this league by racking up six tackles, a pass deflection and an interception in a win over the Los Angeles Chargers. Diggs, a second round pick in 2020, now has five interceptions in his first 14 games for the Cowboys.
Julio Jones, WR Tennessee Titans
Julio jones, after as disappointing debut in the two-toned blue, made his presence known against Seattle, hauling in six catches for 128 yards. Although the box score won't show, Jones did find the endzone on an acrobatic touchdown catch that was very questionably overturned.  Regardless, Jones put up a great performance as the Titans' leading receiver in a win to get the season back on track.
Jonathan Allen, DT Washington Football Team
Jonathan Allen had another huge week, disrupting the Giants offense and wreaking havoc on their offensive line. Allen put up big numbers for a defensive lineman, finishing the game with six tackles, three of which were for a loss, and two sacks, giving him three on the year. Allen's incredible defensive performance Thursday night helped his team avoid an 0-2 start.
Mac Jones, QB New England Patriots
While Jones did not do anything overly impressive in the Patriots' week two win over the Jets, he continued to show a calm demeanor and play extremely efficient football. The rookie quarterback finished the day 22/30 for 186 yards and zero touchdowns, with most of his completions coming on check downs and short routes. Although mundane numbers, keep in mind that fellow rookie quarterbacks, Zack Wilson, Trevor Lawrence and Justin Fields, combined for seven interceptions on Sunday, so Jones continues to be the most impressive of the bunch.
Henry Ruggs III, WR Las Vegas Raiders
Henry Ruggs put up the performance that Raiders fans have been waiting for and Alabama fans knew he was capable of. The second year wideout, or Ryde Out as he was known at Alabama, caught five passes for 113 yards and touchdown in just his second career game with over 100 receiving yards. His lone touchdown came at a crucial time in the game on a third and long in the fourth quarter with the Raiders trying to extend their two point lead as he blew by the Steelers secondary en route to a 61 yard score.
Najee Harris, RB Pittsburgh Steelers
Finally to wrap up our week two countdown, Najee Harris had a bit of a breakout game in a loss to the Raiders, picking up 81 combined yards on ten carries and five catches, and even scoring his first career touchdown. Harris also got a chance to channel his inner Derrick Henry, delivering a stiff arm for the ages to Raiders safety Jonathan Abram.
Alabama Football Players in the Hall-of-Fame
Time to Step Onto the Gridiron! All 32 NFL Home Jerseys Ranked!