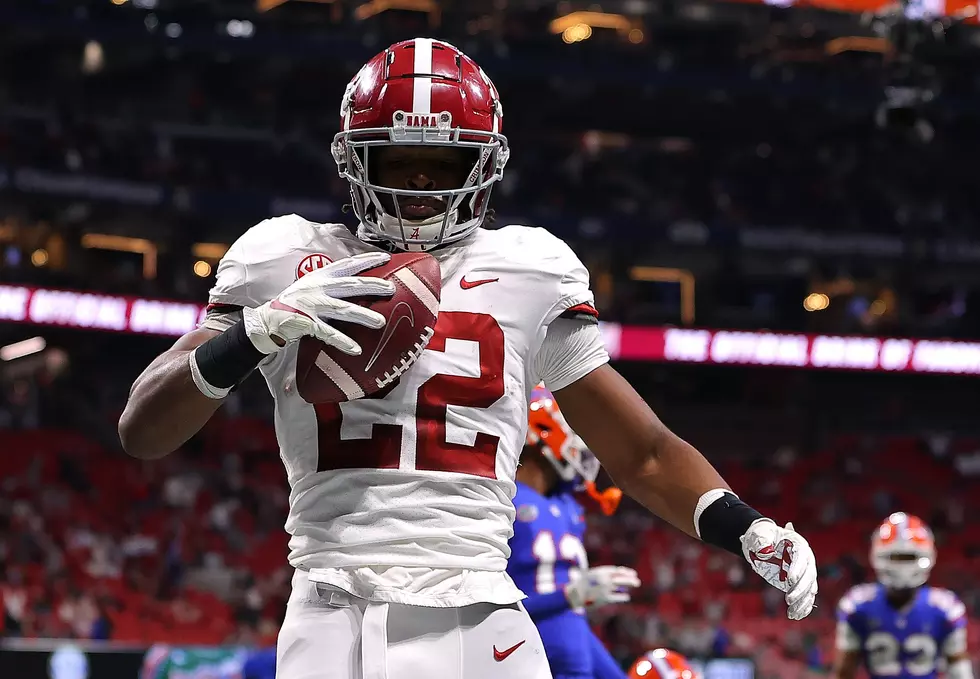 Bama Offense Blows Open Record Books in SEC Championship Win
Getty Images
If you thought this 2020 Alabama team couldn't break any more records than it already has, think again.
After their 52-46 nail-biting win against the No. 7 Florida Gators in the SEC championship, the No. 1 Alabama Crimson Tide are now 11-0, and the first team in the SEC to ever win 11 conference games in a single season. Their 35 points before half is the most by one team in the history of the SEC championship. 
A massive part of the Crimson Tide's offensive success in the SEC Championship game, as well as their historic year, is running back Najee Harris. Harris contributed five total touchdowns, two on the ground and three through the air on his way to setting the record for touchdowns accounted for in the SEC championship game and being crowned MVP. 
Harris also shattered three school records in his performance. His 178 rushing yards, two touchdown performance broke his tie with Heisman Trophy winners Derrick Henry and Mark Ingram, putting Harris at 44 touchdowns. Henry's career rushing record was also broken, with Harris now totaling 3,639. Additionally, Harris's five touchdowns vaulted him into being the Crimson Tide's all time career leader in total touchdowns at 54. 
Further down the line of scrimmage, wide receiver Devonta Smith broke an SEC championship record with 15 receptions in his 184 yard, two touchdown performance. Smith heads into the Heisman Trophy voting  tied amongst wide receivers in total touchdowns at 19, and leading the country in receptions (98) and receiving yards (1,511). According to several sports betting sites, Smith is currently the favorite to win the award.
Rounding out the record breakers on the Crimson Tide, Quarterback Mac Jones broke the SEC championship passing yards record with his 418 yard performance. Jones sits behind Florida quarterback Kyle Trask in passing yard leaders on the season.
Overall, this is an Alabama offense the likes of which Alabama fans had never seen until offensive coordinator Steve Sarkisian arrived in Tuscaloosa. The Crimson Tide currently lead the FBS in total points and points per game, averaging an astounding 50 points per contest. There is still, however, at least one more game to be played. 
The Notre Dame Fighting Irish will be the next to face this historic offense when they meet the Crimson Tide in the semi-final round of the College Football Playoff. The two squads will travel to Dallas, Texas to face off in the temporarily-relocated Rose Bowl game on January 1st at 3:00 p.m. CT.
Enter your number to get our free mobile app
2021 Alabama Crimson Tide Recruiting Class Signees