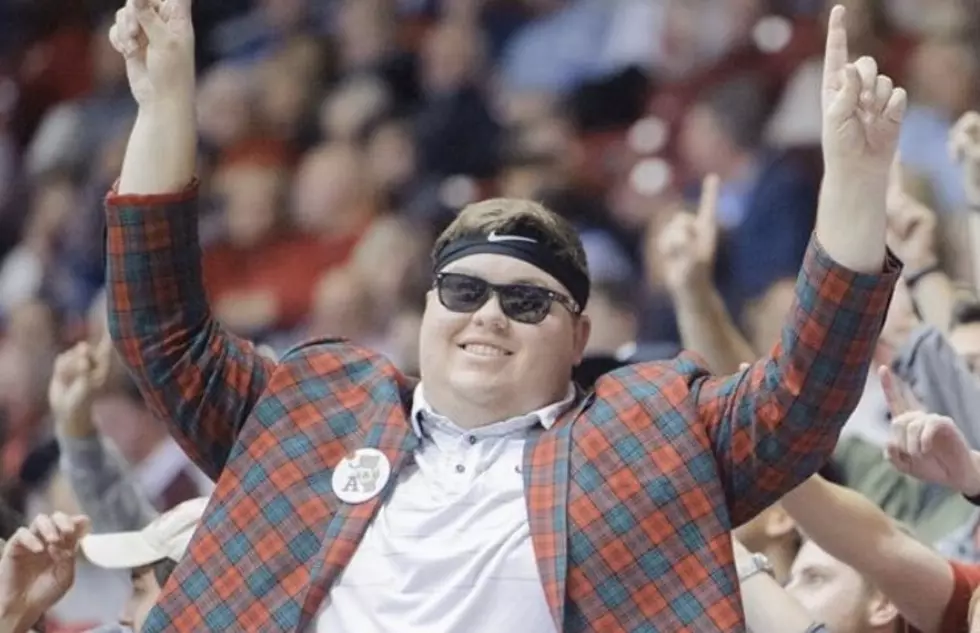 Auburn Honors Fluffopotamus Before Iron Bowl
Photo Courtesy of @Roger_Hoover on Twitter
In a move that even Alabama fans would admit is classy, Auburn honors the life of the late Crimson Tide basketball superfan, Luke "Fluffopotamus" Ratliff, on Tuesday night before the Iron Bowl tipped off.
The Crimson Chaos President, Blake Bullock, met with the Auburn Jungle President, Jacob Hillman, at half-court while holding a picture of Ratliff as the fans in Auburn Arena applauded them. They wore Ratliff's signature blazer that he wore to every Alabama game as they held the picture of him wearing it.
Ratliff tragically passed away in April of 2021 due to COVID-19 complications. He was the leader of the Alabama basketball student section, and was in attendance for nearly every single game in his blazer and hardhat.
Alabama honored him at Coleman Coliseum in the home opener this season, ending in a win against LA Tech. The Tide also placed a plaque in his famous seat, which is seat seven in row one of section S.
After honoring Ratliff, Alabama basketball took on No.1 Auburn, and fell to the Tigers 100-81.
Men's Basketball's Career Leaders in Made 3-Pointers
Alabama Basketball All-Time Scoring Leaders