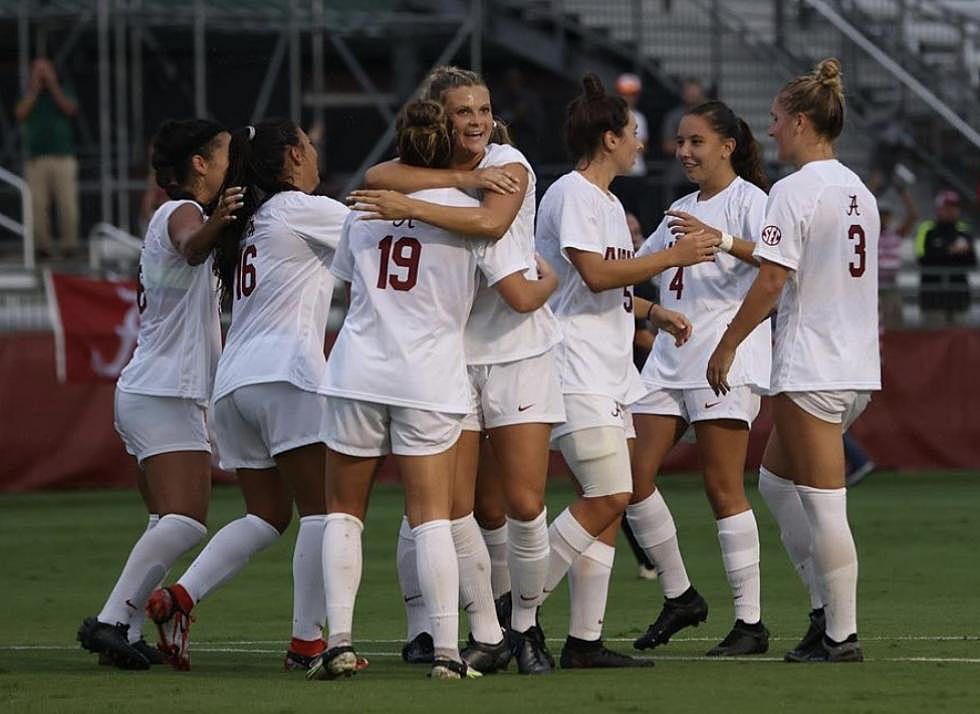 Alabama Soccer Gets Program's First Win In NCAA Tournament
Photo Courtesy of @alabamasoccer on Instagram
On Friday, the Alabama soccer team made its way into Clemson, SC, and earned the program's first win in the NCAA tournament over the Clemson Tigers, 1-0.
"We were aggressive and confident from the start and were rewarded with a great goal," said seven-year veteran Alabama coach Wes Hart.
"Second half, we hung on for dear life. Clemson threw everything at us. But credit to our players, we made huge plays when we needed them."
Alabama opened the match with a goal in the fourth minute of play from junior midfielder Allie Berk, her third goal since joining the club. Senior forward Riley Tanner earned her second assist of the season with the pass to Berk in the box.
However, the Tide offense wouldn't score again for the remainder of the match and put the brunt of its work on the Alabama defense. Graduate goalkeeper McKinley Crone recorded four saves and her sixth shutout of the season after fending off 20 shots from the Tigers.
Alabama soccer also earned their first program win over Clemson in the same match and move to 11-9-1 for the 2021 season. This year's appearance in the NCAA tournament is only Alabama's fourth in program history, their most recent tournament bid came in 2017.
The Tide finished 5-4-1 in SEC play this season and was bounced from the SEC tournament with a loss in the quarterfinals to Ole Miss, 1-0.
The Crimson Tide will see the BYU Cougars (14-4-1) in round two of the single-elimination tournament on Thursday, Nov. 18, and Alabama soccer fans will be able to watch the match on ESPN+.
The last meeting of the two clubs came in August of 2019 when the then No. 22 ranked Cougars made the trip to Tuscaloosa and defeated the Tide 1-0.
For more from J.R. and all the talented interns at Tide 100.9, make sure to tune in for Tide Tonight on Wednesdays and Thursdays at 6:00 pm. You can see all of our content at tide1009.com and on the Tide 100.9 app.
Alabama's Top 10 Athletes - Fall 2021
The Alabama Crimson Tide boasts an extremely successful athletic department with amazing athletes playing multiple sports. The top 10 athletes include national champions, an Olympic athlete, SEC champions and various record holders.
The 2021 Alabama Football Schedule in Photos